Rose Hill Center Receives Richard F. Huegli Award For Program Excellence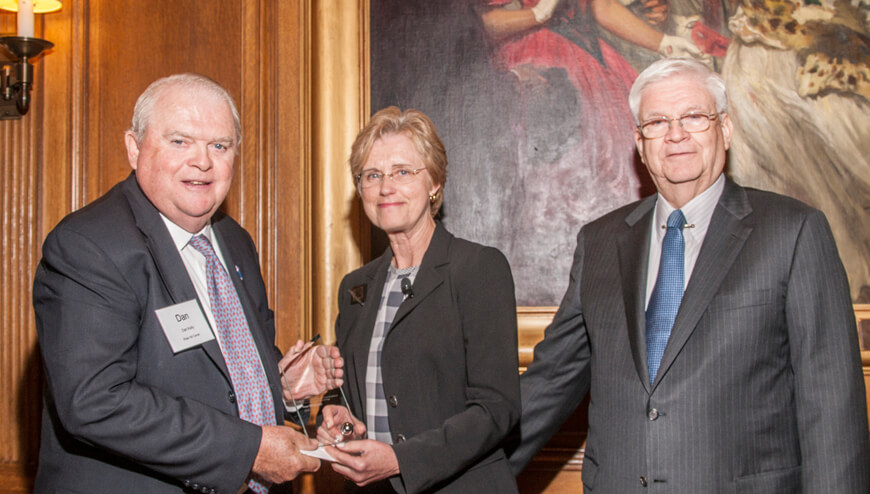 FOR IMMEDIATE RELEASE
DETROIT—The Community Foundation for Southeast Michigan selected Rose Hill Center as the recipient of the 2014 Richard F. Huegli Award for Program Excellence.
The Richard F. Huegli Award for Program Excellence recognizes a nonprofit organization in southeast Michigan that has a history of achieving excellence in human services delivery. It celebrates Mr. Huegli's legacy of high standards for programming excellence and belief in human potential. The recipient receives a one-time grant of $5,000 to support general operations.
Rose Hill Center opened in 1992 to provide a therapeutic residential program for adults with mental illness that would enable them to manage their symptoms, achieve their highest level of independence and lead rewarding lives. Their approach combines professional psychiatric care and meaningful daily activity. The Rose Hill campus includes a 10,000 square-foot Education and Therapy Center and a well-established horticulture program which is an essential part of its treatment mission.
"Rose Hill Center graciously accepts the Richard F. Huegli Award for Program Excellence," said Founder and Chairman of the Board, Daniel Kelly. "Having known Richard Huegli, for whom I had the utmost respect, it is a great honor to receive an award bearing his name. Receiving this honor is a testament to the great work of Rose Hill's board, staff and donors over the years and their commitment to finding better ways to help our residents engage with their own treatment programs and lead rewarding lives."
Huegli, who passed away in 1988, was an integral figure in the region's human services sector for nearly half a century, spending 42 years with United Community Services of Metropolitan Detroit, now part of the United Way for Southeastern Michigan. He later helped to establish the Community Foundation for Southeast Michigan and served as the Foundation's acting director in its first year of existence.
"Richard F. Huegli possessed a combination of concern for people's needs, innovation and professional dedication," said Mariam Noland, president of the Community Foundation for Southeast Michigan. "Rose Hill Center's staff and supporters embody these values everyday in their work with mentally challenged adults."
The Community Foundation for Southeast Michigan is a full-service philanthropic organization leading the way to positive change in our region. As a permanent community endowment built by gifts from thousands of individuals and organizations committed to the future of southeast Michigan, the Foundation supports a wide variety of activities benefiting education, arts and culture, health, human services, community development and civic affairs. Since its inception, the Foundation has distributed more than $598 million through more than 47,000 grants to nonprofit organizations throughout Wayne, Oakland, Macomb, Monroe, Washtenaw, St. Clair and Livingston counties. 
###
For more information, contact Karen Goldbaum at 313.961.6675 orkgoldbaum@cfsem.org.