Sheilah P. Clay Receives 2014 Mariam C. Noland Award For Nonprofit Leadership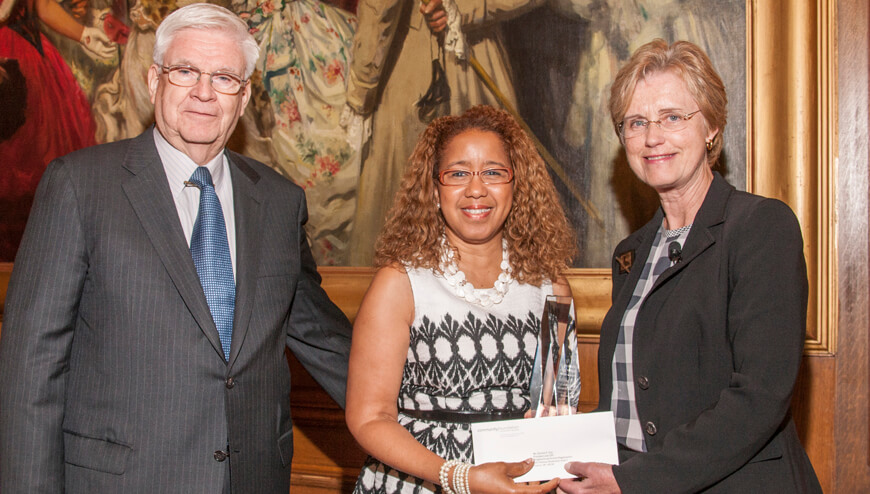 FOR IMMEDIATE RELEASE
DETROIT—The Community Foundation for Southeast Michigan announced that Sheilah P. Clay, president and CEO of Neighborhood Service Organization, was selected as the recipient of the 2014 Mariam C. Noland Award for Nonprofit Leadership. The award was presented at the Community Foundation's Board of Trustees meeting today.
Named after the Community Foundation's first and current president, this fourth annual award recognizes a nonprofit president or CEO in southeast Michigan whose service exemplifies the importance of nonprofit leadership, not only to his or her organization, but also to the wider nonprofit community.
As recipient of the Mariam C. Noland Award for Nonprofit Leadership, NSO will receive a grant of $10,000 from the Community Foundation with the preference that the funds be used for executive leadership development opportunities.
"We are pleased to recognize Sheilah P. Clay for her exemplary nonprofit leadership," said chair of the board of trustees of the Community Foundation, Allan D. Gilmour. "Under her direction, NSO provides critical mental health and human services to people in need and does so in innovative ways that have had an impact on the entire sector."
Clay joined NSO in 1996 and has served as the president and CEO of the $31 million Detroit-based, nonprofit agency since 2000. Since its inception in 1955, NSO has reached out to those in Oakland and Wayne counties for whom conventional approaches have not been effective, pioneering new approaches in such areas as mental health, addiction treatment, suicide prevention, homelessness, early childhood education, youth leadership and violence prevention.
One of Clay's signature achievements was leading the $52 million renovation of the former historic Michigan Bell Building, transforming it into the NSO Bell Building, a permanent supportive housing facility for 155 formerly homeless adults. The building, which opened in 2012, also houses NSO corporate offices and is a part of the Focus: HOPE Village neighborhood revitalization effort.
In addition to partnerships and collaborations throughout the region, Clay's expertise is sought on such issues as community mental health needs and homelessness.
Clay is immediate past president of the board of the Michigan Nonprofit Association and vice president of the Farmington Board of Education. She holds board positions at the Federal Reserve Bank of Chicago-Detroit Branch, Michigan League for Public Policy, Behavioral Health Professionals, Inc., ConsumerLink Network, Community Investment Support Fund, Southeastern Michigan Public Policy Task Force, Non-Profit Leadership Collaborative of the Michigan Harvard Business School Club, Detroit Economic Club, Community Advisory Group of the Southeast Michigan Partners Against Cancer Center, Alpha Kappa Alpha Sorority, Inc. and Word of Faith International Christian Center.
A graduate of Spelman College, Wayne State University College of Education and Leadership Detroit XXIV, Clay is a McGregor Fund Eugene Miller Fellow and member of the 2014 class of Leadership America, a national program of Leadership Women.
In 2014 she was a finalist in the Channel 7 Annual Detroit 20/20 Award and the recipient of the Farmington Multi-Cultural/Multi-Racial Community Award for establishing the Farmington African-American Parent Network. Clay also has received the 2012 and 2014 Woman of Excellence Award from Michigan Chronicle, 2013 Community Service Award from Ebenezer A.M.E. Church, 2013 Woman of Vision from Plymouth Church of Christ, 2012 Oakland County NAACP Hall of Fame Award and has been honored for several years in Who's Who in Black Detroit.
The Board of Trustees of the Community Foundation for Southeast Michigan established this award in 2010 to recognize Mariam C. Noland on her 25th anniversary as president of the Community Foundation. While Noland's accomplishments to date as president are many and noteworthy, the Board acknowledged her leadership in the broader philanthropic community and the many other charitable causes and entities that she has supported, nurtured and counseled. Previous recipients have included Midtown Detroit Inc. President Susan Mosey (2011), University Musical Society of the University of Michigan President Kenneth C. Fischer (2012) and Macomb Community College President Jim Jacobs (2013).
Under Noland's leadership, the Community Foundation has granted more than $601 million through nearly 47,000 grants. Assets have grown to more than $734 million and the Foundation now holds endowments for nearly 190 organizations and more than 1,000 funds from individuals and businesses throughout the country. The organization is now one of the 20 largest community foundations in the country.
The Community Foundation for Southeast Michigan is a full-service philanthropic organization leading the way to positive change in our region. As a permanent community endowment built by gifts from thousands of individuals and organizations committed to the future of southeast Michigan, the Foundation supports a wide variety of activities benefiting education, arts and culture, health, human services, community development and civic affairs. Since its inception, the Foundation has distributed more than $598 million through more than 47,000 grants to nonprofit organizations throughout Wayne, Oakland, Macomb, Monroe, Washtenaw, St. Clair and Livingston counties. 
###
For more information, contact Karen Goldbaum at 313.961.6675 or kgoldbaum@cfsem.org.