Sheilah P. Clay Receives 2014 Noland Award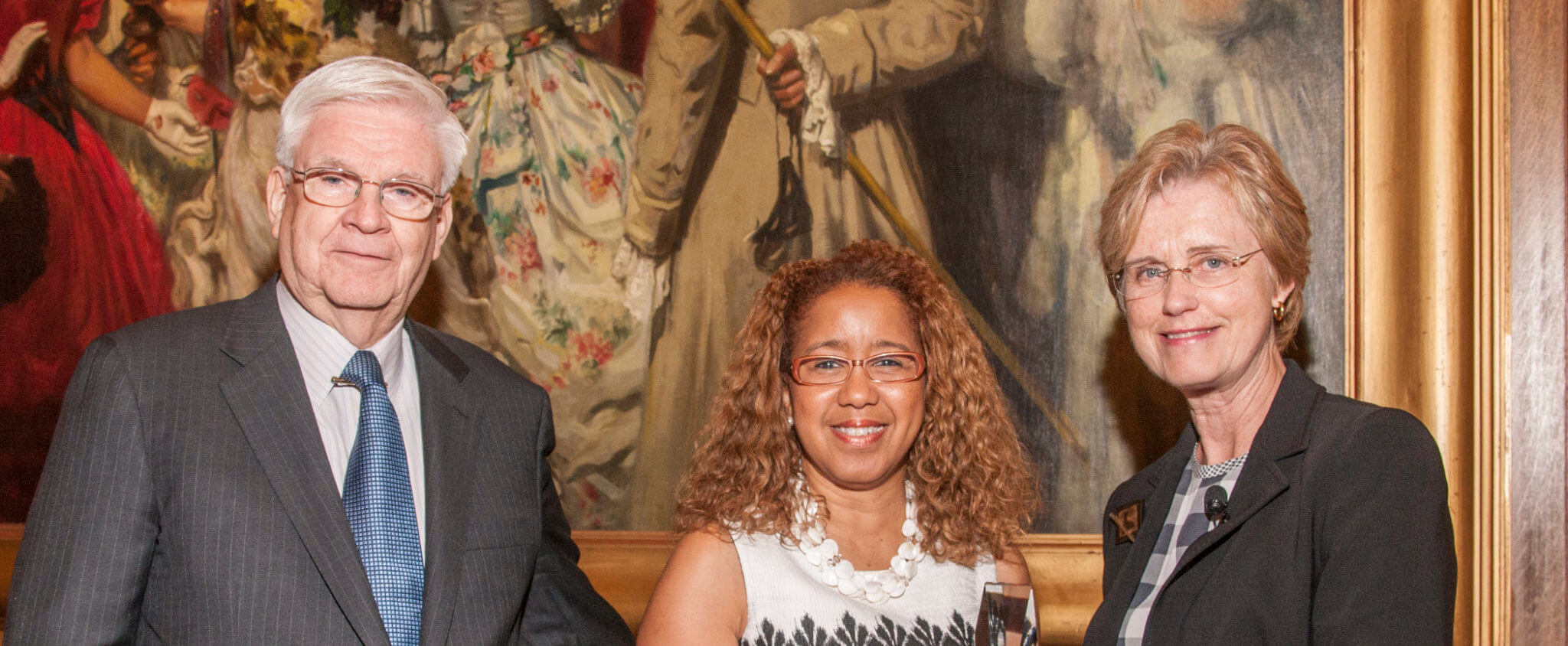 Sheilah P. Clay, president and CEO of Neighborhood Service Organization (NSO), received the 2014 Mariam C. Noland Award for Nonprofit Leadership at the Community Foundation's annual meeting. This annual award recognizes a nonprofit president or CEO in southeast Michigan whose service exemplifies the importance of nonprofit leadership, not only to his or her organization, but also to the wider nonprofit community.
Clay joined NSO in 1996 and has served as the president and CEO of the Detroit-based nonprofit agency since 2000. Since its inception in 1955, NSO has reached out to those in Oakland and Wayne counties for whom conventional approaches have not been effective, pioneering new approaches in such areas as mental health, addiction treatment, suicide prevention, homelessness, early childhood education, youth leadership and violence prevention.
One of Clay's signature achievements was leading the $52 million renovation of the former historic Michigan Bell Building, transforming it into the NSO Bell Building, a permanent supportive housing facility for 155 formerly homeless adults. The building, which opened in 2012, also houses NSO corporate offices and is a part of the Focus: HOPE Village neighborhood revitalization effort. In addition to partnerships and collaborations throughout the region, Clay's expertise is sought on such issues as community mental health needs and homelessness.
Clay is immediate past president of the board of the Michigan Nonprofit Association and vice president of the Farmington Board of Education. She holds board positions at the Federal Reserve Bank of Chicago-Detroit Branch, Michigan League for Public Policy, Behavioral Health Professionals, Inc., ConsumerLink Network, Community Investment Support Fund, Southeastern Michigan Public Policy Task Force, Non-Profit Leadership Collaborative of the Michigan Harvard Business School Club, Detroit Economic Club, Community Advisory Group of the Southeast Michigan Partners Against Cancer Center, Alpha Kappa Alpha Sorority, Inc. and Word of Faith International Christian Center.
A graduate of Spelman College, Wayne State University College of Education and Leadership Detroit XXIV, Clay is a McGregor Fund Eugene Miller Fellow and member of the 2014 class of Leadership America, a national program of Leadership Women.
In 2014 she was a finalist in the Channel 7 Annual Detroit 20/20 Award and the recipient of the Farmington Multi-Cultural/Multi-Racial Community Award for establishing the Farmington African-American Parent Network. Clay also has received the 2012 and 2014 Woman of Excellence Award from Michigan Chronicle, 2013 Community Service Award from Ebenezer A.M.E. Church, 2013 Woman of Vision from Plymouth Church of Christ, 2012 Oakland County NAACP Hall of Fame Award and has been honored for several years in Who's Who in Black Detroit.