We're Hiring: Project Director, Pontiac Funders Collaborative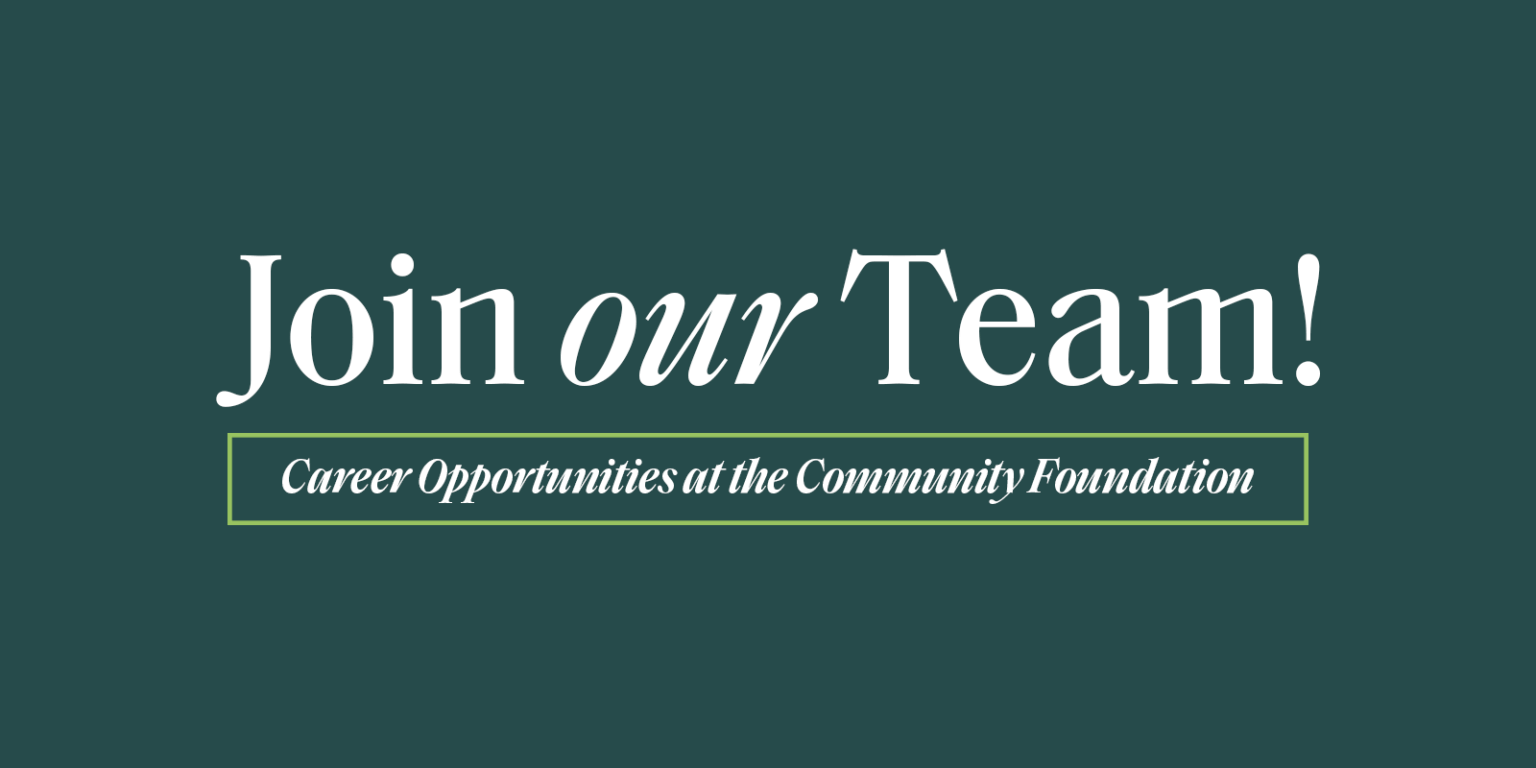 The Opportunity
The Project Director of the Pontiac Funders Collaborative (PFC) will provide leadership, management and guidance in support of this place-based initiative for a three-year period. The Project Director will be an employee of the Community Foundation and help the PFC to develop partnerships and fund projects that support organizations in Pontiac.
The Project Director will have the responsibility for implementing the mission/vision of the PFC, leading through continuous strategic thinking, managing implementation, projecting the distinct goals of the initiative, and measuring outcomes. The Project Director will supervise other consultants of the PFC to support Pontiac-based activities.
We are looking for a creative leader with a passion for community development, relationship building, and communication skills that build trust and inspire action with diverse groups. The candidate for the position must have a commitment to equity and authentic community engagement, in alignment with the Pontiac Funders Collaborative's purpose and values. Further, we are particularly looking for someone who can excel at working with partners to implement place-based investment strategies that leverage government funding streams.
About the Pontiac Funders Collaborative
The Pontiac Funders Collaborative is a collaborative of nine regional funders in southeast Michigan. The PFC is entering its second three-year phase of working with the community of Pontiac to support tangible change informed and co-created with the community and nonprofit organizations.
The successful candidate:
Will have tangible experience coordinating groups and funding sources for a shared outcome.
Will have experience working with community-based groups and government agencies at state, local, and federal levels to coordinate funding opportunities.
Understand government funding practices and how philanthropic dollars can be layered in for strategic impact.
Responsibilities
Strategy
Organize and convene collaborative tables to consider philanthropic investments in targeted, large-scale community efforts designed to leverage separate investments from government funds.
Provide leadership to the Funders Advisory Committee, Community Foundation staff, grantees and other partners in carrying out the mission; pursue the objectives that are established and develop responses to opportunities and challenges that arise.
Work comfortably with diverse philanthropic approaches, including strategic and proactive grantmaking, collaborative efforts, and capacity-building; explore new intellectual frameworks and innovative ways of addressing issues, cutting across traditional boundaries of thought and action.
Relationship management
Reach out to and engage diverse people and communities within Pontiac and surrounding areas.
Serve as an external presence and spokesperson, representing the mission and purpose of the Community Foundation and Pontiac Funders Collaborative.
Provide public leadership on critical issues related to the goals and objectives of the initiative.
Cultivate, network and solicit engagement with the initiative from public and private resources.
Fundraise/ Resource Development
Secure and steward needed financial resources in collaboration with the Community Foundation.
Manage external communication efforts in collaboration with Funders Advisory Council and the Community Foundation, assuring an appropriate level of public visibility for program aims by effective speaking and writing using both traditional media and new technologies.
Systems and Infrastructure
Manage annual narrative and financial reporting to funding partners, coordinating with project evaluators to regularly glean Impact.
Manage the grant processes for strategic investments of the collaborative.
Coordinate and manage the Funders Advisory Council and any subcommittees established.
Team Management
Supervise project consultants and ensure deliverables are met.
Collaborate internally with other members of the Community Foundation team to both utilize other Foundation assets (grants management, communications) and share information from Pontiac Funders Collaborative as an asset to other work.
Qualifications 
Bachelor's degree; relevant backgrounds may include planning, public administration, business, economics, etc.
Demonstrated domain expertise and ability to lead strategy development.
Ten years of progressively more responsible experience in philanthropy, the government sector, or related community-based field.
Extensive project management and program development experience, prioritizing multiple projects within tight deadlines.
Strong knowledge of the nonprofit sector, private/public partnerships and experience in leading and facilitating community coalitions.
Demonstrated ability to establish and maintain effective relationships with persons of diverse backgrounds and organizations throughout the Southeast Michigan community.
Experience in communicating in a persuasive, credible manner, in person, in digital settings, and in writing and presentations.
Experience in the management and supervision of staff.
Technology skills and the ability to apply software knowledge with computer proficiency in all Microsoft components.
Some travel required, primarily within Southeast Michigan. Some domestic travel may be required for job training and professional development.
Salary Expectation
The target salary range for this position is $104,000 – $130,000.
To Apply
Send your cover letter, resume and salary requirements to Livia Slebodnik, human resources generalist at: careeropportunities@cfsem.org.
To provide equal employment opportunities to all individuals, employment decisions will be based on merit, qualifications and abilities without regard to race, religion, creed, color, national origin, age, gender, marital status, sexual orientation, gender identity, height, weight, political or union affiliation, disability or any factor prohibited by law.