Community Foundation announces $102.8M in 2022 grants, welcomes Macomb County resident Paul Trulik to Board of Trustees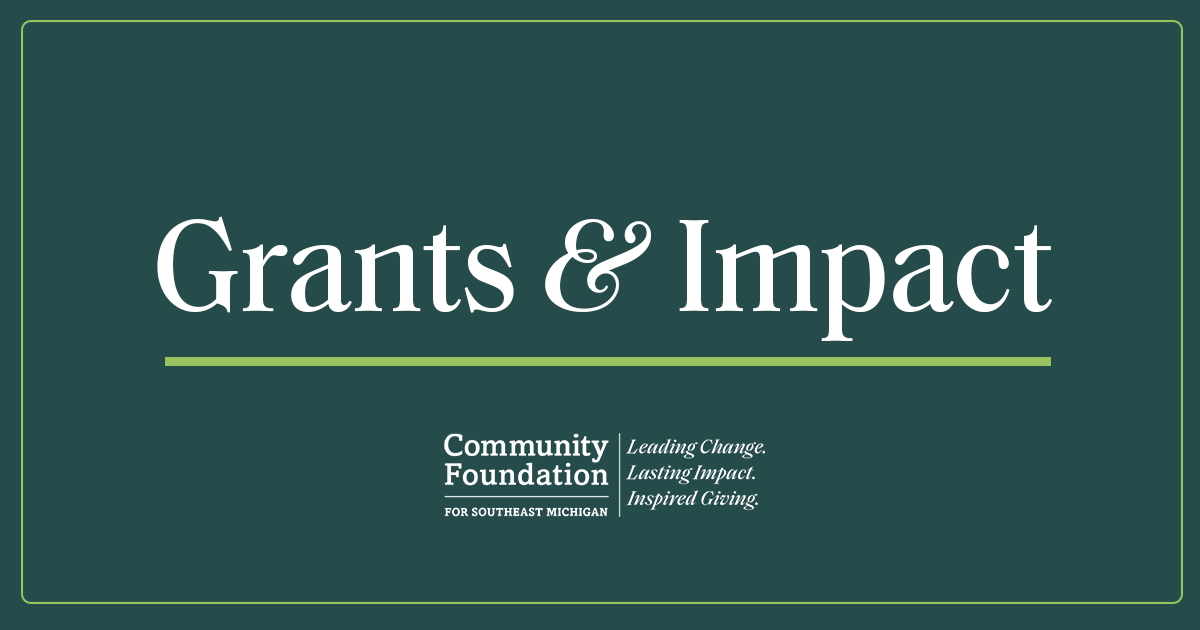 The Com
munity Foundation for Southeast Michigan and its supporting organizations provided combined grantmaking in 2022 of nearly $103 million.
Grants supported nonprofit organizations and local governments working to make a positive, permanent impact in our region. At its fourth quarter meeting, the Community Foundation's Board of Trustees approved more than $22 million toward that annual total and elected Paul Trulik as a trustee. 
Trulik, a Macomb County resident, brings a wealth of experience in financial management and civic leadership to the Community Foundation board. He founded and grew Apparatus Solutions, which provides accounting, finance and talent development services to nonprofits. He sold the company to Quatrro Business Services in 2022 with the expectation that it will continue expanding in metro Detroit.
Trulik also has played key roles in regional civic organizations including Business Leaders for Michigan, the Detroit Region Aerotropolis Development Corporation and several nonprofits.  
"Paul has had a long, successful career in finance and leadership. We believe he will be an incredible asset as we strive to create a sustainable, flourishing future for our organization and the communities we serve," says Community Foundation President Richard (Ric) DeVore. "We're hopeful that, as a Macomb County resident, Paul will leverage his relationships to deepen our reach and impact in this part of our seven-county service area." 
The Community Foundation also made $22.3 million in grants to organizations working to advance arts and culture, civil rights, economic development, education, environment and public spaces, and health and human services throughout southeast Michigan. The grants bring the Community Foundation's total grantmaking for 2022 to $102.8 million, including grants for supporting organizations. Fourth-quarter grant highlights include the following. 
CIVIL RIGHTS 
Michigan Roundtable for Diversity and

Inclusion

—

$20,000 for forming a Youth Council for Racial & Social Justice 

 

Non-Profit Enterprise at Work

—

$25,000 to promote inclusion of LGBTQ+ individuals within faith communities through a partnership between Michigan Unitarian Universalist Social Justice Network and Inclusive Justice 

 

Regents of the University of Michigan

—

$59,416 over two years to prepare a new generation of leaders to strengthen social justice and civil rights through increased collaboration across segregated boundaries in southeast Michigan 

 
CULTURE/ARTS 
Connect Detroit

—

$50,000 for research and data analysis as part of the Detroit Excellence in Youth Arts initiative 

 

CultureSource

—

$75,000 for the Concert of Colors: Detroit Diversity Festival and its goals of achieving organizational stability and extending reach and impact in the region 

 

Friends of Southfield Public Arts

—

$50,000 for placemaking through the creation of a connectivity and recreation corridor on Nine Mile Road 

 
Mosaic Youth Theatre of Detroit

—

$55,000 for the Young Artist Scholars program which develops skills and provides support for youth ensemble members as they explore college and career pathways 

 

The Purple Rose Theatre Company

—

$75,000 for the development and presentation of new plays 

 

University Musical Society

—

$150,000 over 18 months for the activation of the Ypsilanti Freighthouse for arts learning, community-based projects, and small-scale performances 

 

Wayne State University

—

$35,550 to increase the reach of southeast Michigan's Radio Information Service for people with visual disabilities

 
ECONOMIC DEVELOPMENT 
Arab Community Center for Economic and Social Services (ACCESS)

—

$75,000 to strengthen a "whole family" approach to service delivery 

 

Venture for America

—

$50,000 for expansion of a program in Detroit for entrepreneurism fellows 

 
EDUCATION 
Brilliant Detroit

—

$50,000 for the development of a community-led early childhood data dashboard in three communities in Detroit 

 

LAHC-Leaders Advancing and Helping Communities

—

$45,000 to offer the Youth Leadership Bridge to College Program for high school students at Banaat Academy, Robichaud High School

,

and Universal Academy 

 

Lawrence Technological University

—

$25,000 to conduct a community design/informed study to help build and grow LGBTQIA+ student services, provide a designated space on campus, and develop needed resources 

 

Michigan Education Excellence Foundation

—

$70,000 for creation of a pilot program for the Community of Promise Student-Detroit Promise 

 

Model-T Automotive Heritage Complex, Inc.

—

$50,000 for restoring and expanding educational programming at the Ford Piquette Avenue Plant, the birthplace of the Model T 

 
Oakland Literacy Council

—

$45,000 for the Oakland Center for Career and College Readiness (Oakland 3CR) program 

 

The Arc of Northwest Wayne County

—

$35,315 to provide educational advocacy for families whose children receive special education services 

 
ENVIRONMENT/PUBLIC SPACES 
Huron River Watershed Council

—

$75,000 over two years for collaborative data collection and water quality monitoring in partnership with the Lake Erie Volunteer Science Network 

 
Huron Waterloo Pathways Initiative

—

$75,000 for outreach to communities along the Washtenaw County-wide Border to Border Trail to inform future engagement and programming 

 

Give Merit, Inc.

—

$50,000 for costs associated with Merit Park and its transformation into a hub with a variety of community assets 

 

Michigan Interfaith Power & Light, Inc.

—

$65,000 over three years for developing a model of neighborhood-level climate resilience hubs at places of worship 

 

NW Goldberg Cares

—

$50,000 for the completion of Curtis Jones Park, which will provide an accessible gathering place for the public to enjoy 

 
HEALTH/HUMAN SERVICES 
American Indian Health and Family Services of Southeastern MI., Inc.

—

$75,000 for revisions to an established health curriculum for Native American youth 

 

Crossroads of Michigan

—

$75,000 for organizational capacity building related to volunteer engagement and program data collection 

 

Hands Across the Water

—

$21,800 to convene multiple child welfare agencies in southeast Michigan to better serve LGBTQ+ youth and families who are involved in the child welfare system 

 

Macomb County Rotating Emergency Shelter Team

—

$50,000 to coordinate services for children at a new homeless shelter in Mt. Clemens 

 
South Oakland Shelter

—

$50,000 to restructure program management and operations 

 

Wayne State University

—

$75,000 for the development of a virtual support center and camp for children who have experienced the death of a parent or family member from drug overdose 

 
CHELSEA COMMUNITY FOUNDATION 
The Purple Rose Theatre Company

—

$5,000 for Chelsea Area Players to produce an original musical by a local artist on the founding of Chelsea 

 
The Purple Rose Theatre Company

—

$13,672 for the commission and production of script readings in partnership with the Chelsea District Library

 

Silver Maples of Chelsea

—

$5,000 for increased awareness of gallery space and art-related activities within a senior living center

 
COMMUNITY FOUNDATION FOR LIVINGSTON COUNTY 
Gleaners Community Food Bank of Southeastern Michigan

—

$10,000 for Livingston County Hunger Council for Mission Nutrition Livingston, a program that conducts mobile food distribution each month to provide groceries to families in four school districts

 
Trinity Health-Michigan

—

$10,000 for community health workers as they address gaps in care to improve individual health and well-being

 

VINA Community Dental Center

—

$5,000 for the Prevention Incentive Program which provides reduced-cost appointments for members of the community

 
### 
About the Community Foundation for Southeast Michigan
The Community Foundation for Southeast Michigan is a full-service philanthropic organization leading the way to positive change in our region. As a permanent community endowment built by gifts from thousands of individuals and organizations, the foundation supports a wide variety of activities benefiting education, arts and culture, health, human services, community development, and civic affairs. Since its inception, the foundation has distributed more than $1.4 billion through more than 85,000 grants to nonprofit organizations throughout Wayne, Oakland, Macomb, Monroe, Washtenaw, St. Clair, and Livingston counties. Visit www.cfsem.org to learn more.