Community Foundation's Michigan Justice Fund initiative announces more than $2.8M in grants to support returning citizens, advance justice reform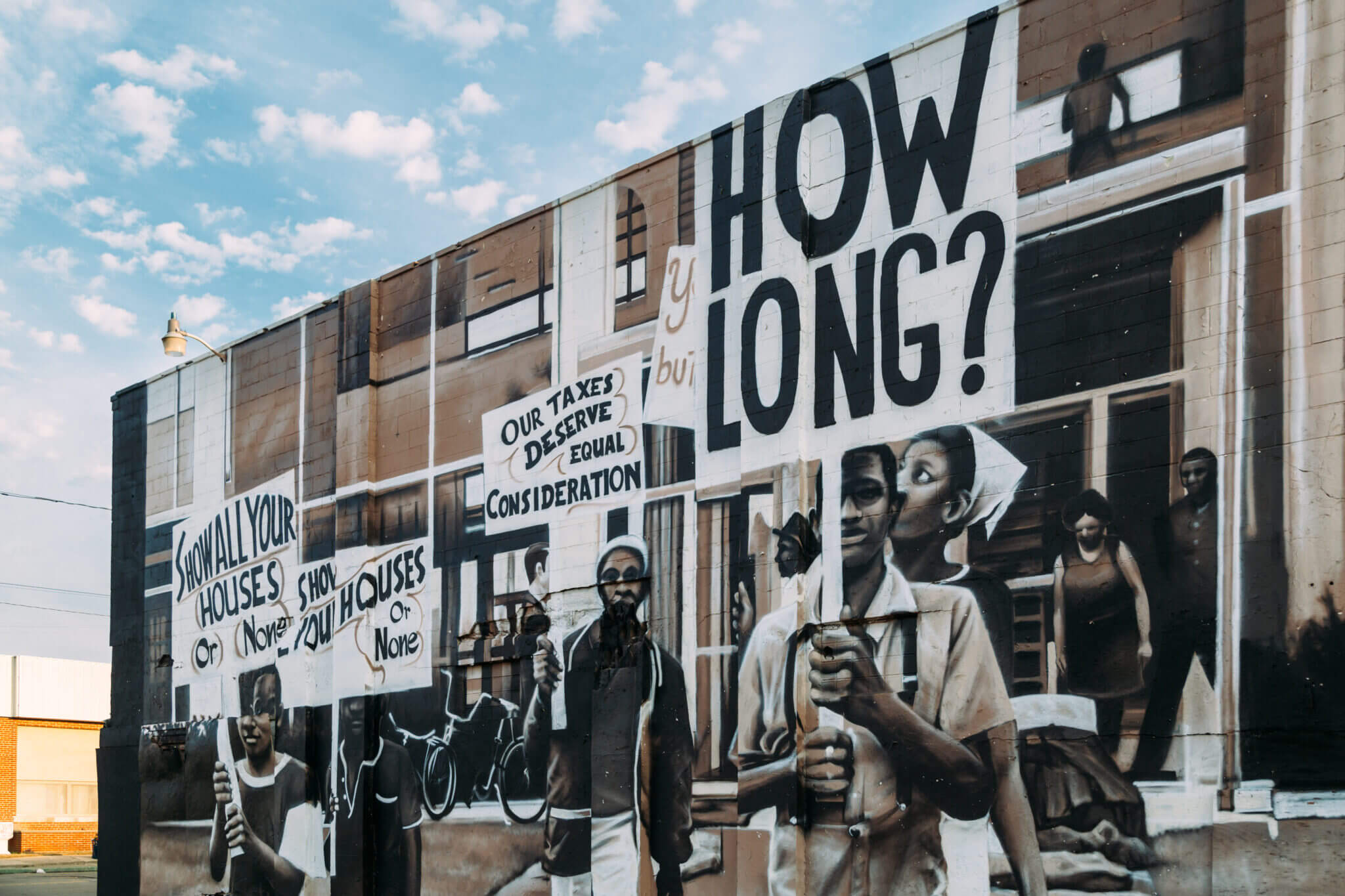 The Michigan Justice Fund, an initiative of the Community Foundation for Southeast Michigan, today announced more than $2.8 million in grants to improve the economic mobility of individuals with criminal convictions and to support grassroots organizations working to advance justice reform throughout the state. 
"The Michigan Justice Fund is committed to justice and equity in our grantmaking," MJF Director Ashley Carter says. "We must invest in innovative ideas and strategies so we can transform the way our society prioritizes and addresses these issues."
The Michigan Justice Fund (MJF) is a collaborative of statewide and national funders that makes investments to promote the dignity and prosperity of Michigan residents by stemming the flow of individuals into the criminal legal system, supporting the investment of public dollars into community-driven alternatives to incarceration, and ensuring people who are returning home after incarceration receive the support they need to flourish. Since its inception in 2020, $18.3 million has been committed to the Michigan Justice Fund and more than $9 million has been deployed to organizations throughout the state. 
The Community Foundation for Southeast Michigan – which creates permanent, positive change through thoughtful philanthropy – manages the fund and convenes its funders and organizations working toward justice reform. 
"We would like to thank our partners in Grand Rapids, the Upper Peninsula, the city of Detroit and throughout Michigan," Community Foundation President Richard (Ric) DeVore says. "The work they're doing to advance justice reform and support returning citizens is fantastic — and imperative to creating a brighter future for our entire state. We hope this significant round of grantmaking demonstrates our commitment to these organizations and the work they're doing." 
 The $2,800,300 of grants was made to support two key areas of MJF's strategic vision — supporting returning citizens and building capacity for grassroots organizations. The full list of grant recipients follows.  
RE-ENTRY GRANTS
These grants prioritize advancing innovative, scalable strategies that increase opportunities for formerly incarcerated Michiganders to achieve increased economic mobility.
Planning
Berrien-Cass-Van Buren Workforce Development Board, Inc

—

$100,000

to develop the Shifting Gears program, designed to create a pathway to employment for formerly incarcerated people through the creation of a foundational manufacturing credential in Southwest Michigan

 

Goodwill Industries of Greater Grand Rapids, Inc.

—

$45,300

for adding skills training plus coordinated wraparound services to existing reentry programs

 

Michigan Job Training Partnership Association (Michigan Works!)

—

$100,000

for

Michigan Works! Workforce Re-Entry Services Innovation Planning

 

 

Neighborhood Defender Services

—

$100,000

for development of a reentry program offering comprehensive social services and workforce training to formerly incarcerated Michiganders

 

Oakland County Workforce Development

—

$100,000

for Oakland Upward, a program designed to increase workforce development services to justice-impacted residents

 

Safe & Just Michigan

—

$100,000

for a Re-Entry and Workforce Development Planning collaboration focused on removing barriers to entry to licensed professions for formerly incarcerated people

 

Self Help Addiction Rehabilitation (SHAR)

—

$100,000

for the creation of pathways to employment and professional development for returning citizens pursuing careers in recovery coaching

 
Implementation
A Brighter Way

—

$400,000 to develop organizational infrastructure for mentorship programming for returning citizens, and to support the development of programming for the organization to serve an entry point for professional careers for formerly incarcerated individuals

 

Center for Employment Opportunities (CEO)

—

$300,000 to address persistent employment gaps, enhance the mobility of justice-impacted people, and strengthen peer-led reentry efforts by expanding advanced training and leadership development programs

 

Detroit Hispanic Development Corporation

—

$300,000 to prevent recidivism and support re-entry programming in primarily Latinx communities located in Southwest Detroit and Downriver

 

Here to Help

—

$50,000 to support formerly incarcerated individuals' access to transportation for improved access to employment and other resourcing essential for economic mobility

 

MADE Institute

—

$300,000 to provide returning citizens in the Greater Flint area with construction skills training, certification and job search assistance while also removing barriers to participation including housing, basic needs, transportation, and health and wellness

Women's Resource Center

—

$200,000 to expand a program, primarily located in Muskegon and Ottawa counties, that provides formerly incarcerated women with education and employment services and support

 
GRASSROOTS ADVOCACY GRANTS
In 2022, the Michigan Justice Fund conducted a statewide landscape scan of grassroots organizations doing work around justice and safety. Their input was used to inform MJF's grantmaking strategy. These grants support work focused on grassroots organizing, organizational capacity, and innovative approaches to addressing issues across the criminal legal system. Recipients range from small organizations of concerned citizens to larger organizations with advanced infrastructure. 
Coalition for Re-Envisioning Our Safety (CROS)

—

$50,000

for training responders and staff with a comprehensive unarmed crisis response plan for community-determined public safety Washtenaw County

 

Detroit Heals Detroit

—

$150,000

over two years for continuing the Healing Justice for Detroit Youth program

 

LINC-UP

—

$100,000

over two years for educating the public about achieving civic priorities and developing alternatives to the current budgetary priorities in Grand Rapids

 

Nation Outside

—

$230,000

over two years for a political and legislative process program for directly impacted communities

 

Voting Access for All Coalition (VAAC)

—

$75,000

over two years to provide voter education to people impacted by the criminal legal system

 
There are myriad opportunities for Michigan to reform its criminal legal system and address many of the root causes of crime: 
Michigan is 10th in the U.S. for the most people incarcerated. 

 

Racial disparities are significant. Black people make up 14.1 percent of Michigan's population, but about 46 percent of the state's prison population and make up 64 percent of Michigan's population serving life or long sentences. 

 

Upward of 2 million people are directly impacted by a criminal record in Michigan. The state has a chance to rethink how it allocates funds to effectively support this population.

 

Overwhelmingly, persons who are incarcerated enter the penal system with complex mental health issues, low levels of secondary and postsecondary degree or credential completion, and a lack of work history. Consistent exposure to trauma while incarcerated leads to further declines in mental health and wellness, while lacking educational and vocational opportunities results in skill decline.

 

Barriers persist upon release, where the formerly incarcerated people must contend with new challenges that include employer bias, housing discrimination, and the continued lack of adequate, accessible health and mental health supports, making the pursuit of economic mobility even more challenging.

 
Working, becoming financially secure, and achieving increased economic mobility are essential to sustained success and reduced recidivism rates. But, more than anything, secure employment is critical to disrupting intergenerational poverty and allowing those who have lived behind bars the opportunity to feel that they belong in society and can make a positive contribution to the future of their communities.  
"The Michigan Justice Fund is proving to be a vital vehicle for funders to resource grassroots organizations and innovative initiatives that advance economic mobility for justice-impacted populations across Michigan," says Melanca Clark, president and CEO of Hudson-Webber Foundation and Steering Committee Chair of the Michigan Justice Fund. "This work is essential to moving our state forward."