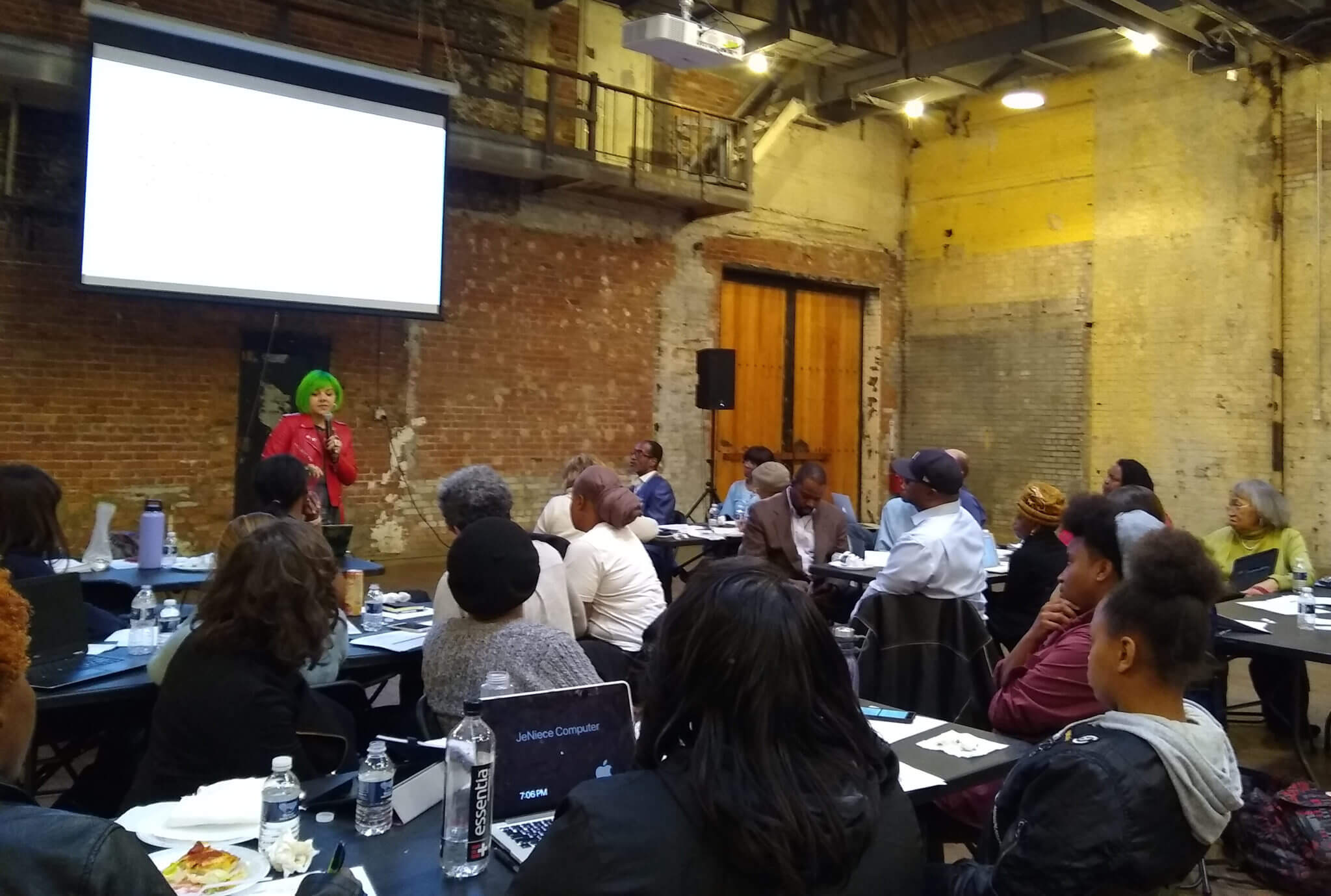 Riverwise Magazine – Riverwise Magazine held multiple workshops as a part of its Riverwise Writing Workshops series. Its workshops train citizens to share stories from Detroiters' perspectives in a formal way. This prepares the participants to share stories on a larger platform, which led to the publishing of an excerpt of a piece written at a workshop in the latest edition of Riverwise Magazine. The excerpt of "Battle Royale," the story of a young adult nurse navigating the challenges of early adulthood in a post-recession Detroit setting, was written collectively by the workshop attendees. Read More
WDET, City Bureau, and CitizenDetroit – WDET has hired a civic reporter who will be responsible for researching and investigating details collected by the Documenters program. The Documenters program trains Detroit residents to attend public meetings, take notes and share them online with the community. Since its first training session in March, dozens of citizens have been involved in training and documenting public meetings from school board decisions to meetings with the Detroit Charter Revision Commission. Read More
DPTV and Community Development Advocates of Detroit – DPTV and CDAD held two community meetings in Corktown/Southwest Detroit to learn what residents and stakeholders care about and want to see covered. Community members shared views on immigration, commercial development in the area, environmental justice issues, and the census. The subjects and issues discussed at the meeting will drive the topics of stories and video content DPTV will develop for its weekly news and public affairs program, One Detroit. In the fall, these community meetings will move to the neighborhood around Livernois and Dexter. Additionally, a community liaison who produces stories that serve residents of the Islandview neighborhood was hired as the second phase of this relationship-building news strategy.
Detour Detroit – Detour has selected their six Emerging Voices fellows who are receiving journalism training and skill-building opportunities.  The fellows have been tasked to write stories that highlight and address the needs of their own communities. Detour hired a project coordinator to manage the education and editing process. Detour is also using events and virtual community forums to strengthen the value of engaging as a paid member. In turn, members have helped to shape the content of the outlet by providing sources, story ideas, tips and other information.
ARISE Detroit and the Michigan Chronicle – Since January, the Neighborhoods section of the Michigan Chronicle has featured nearly 20 stories about Detroit's neighborhoods by focusing on people, places and things that make them special. Stories have highlighted the commonalities and uniqueness of people, businesses and experiences in the city from hair salons and barbershops to celebrations to hidden gems. There are three correspondents for the Neighborhoods section. The coverage is focused on the neighborhoods they live in, so they are telling their own stories and, in the process, stories that reflect the revitalization of Detroit.
Tostada Magazine – Tostada has brought on six new contributors, brining to total to 13, who provide stories that explore the cross-sections of food, race, culture and justice. In May, Tostada partnered with local businesses to sponsor stories in the three-part Ramadan in Detroit storytelling series, which highlighted Ramadan experiences in metro Detroit. The outlet is looking to expand this sponsorship model to highlight other experiences and financially sustain the work of the magazine.
Michigan State University School of Journalism and Grandmont Rosedale Development Corp. – MSU and GRDC held four free videography sessions to train community-based reporters how to frame, capture, edit and publish high-quality videos using only their cellphones. Ten people from seven different organizations joined the sessions. They ranged from residents to block clubs to community development organizations all seeking to better tell the stories of their neighborhoods. The participants will reveal their work at a showcase in September.
The Detroit Free Press and Michigan Community Resources – So far, the Free Press and MCR held two Freedom of Information Act (FOIA) workshops, with two others scheduled throughout the summer. The workshops combined journalistic and research skills of the Free Press reporters and the legal professional resources of MCR to help participants learn how to find answers about issues and concerns in their communities. In August, the Free Press published How to Use the Michigan Freedom of Information Act to further promote the skills, tips and strategies that anybody can use to access public information. Additionally, though the program Detroit residents and community groups with current FOIA requests are working with the reporters and legal professionals for support in obtaining information though individualized counseling.
Detroit Equity Action Lab – Through the Race and Justice Reporting Initiative, DEAL supports independent journalists of color to cover racial justice issues and their impact on Detroit's Black, immigrant, and low-income communities. So far, two cohorts – a total of five stories- have produced stories have focused on the environment and sustainability, as well as equitable development. The reports have been published in a variety of outlets, including Detour Detroit, Energy News Networks, Detroit MetroTimes and WDET and others. The next cohort, which is currently accepting applications, will focus on arts and justice. Click here for more information or to apply for the fall cohort.
To support this initiative, please use the form below to donate to the Detroit Journalism Engagement Fund. If you'd like to learn about other ways you can support permanent, positive change in the region, click here.