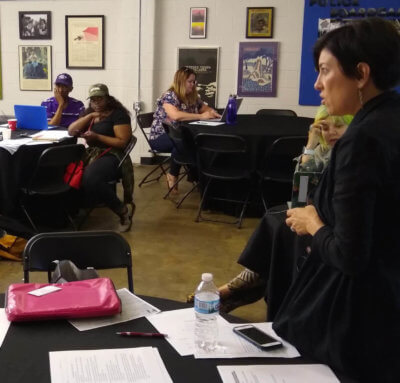 Documenters program hires WDET Civic Reporter
Decisions made at public meetings shape the future of our communities, but too often, residents are not aware they are taking place.
Previously covered by local journalists, a decline in budgets and dedicated beat reporters have left a void at community meetings. These meetings steer the future of the city, yet too many of those impacted are not even aware of when, where or why they are taking place.
In response, WDET has partnered with City Bureau to expand its "Documenters" program from Chicago to Detroit. The program is supported by the Detroit Journalism Engagement Fund, a $1 million initiative started in 2017 by the Community Foundation for Southeast Michigan, the John S. and James L. Knight Foundation and the Ford Foundation. The Fund aims to increase the quality, outcomes and reach of journalism in the region, with an emphasis on engagement, innovation and the equitable recovery of Detroit.
Focused on arming a diverse city with information, the Documenters program trains Detroit residents to attend public meetings, take notes and share them online with the community.
"I think it's important for the community to know what their rights are," said WDET News Director, Jerome Vaughn. "I think it's important for people to know that they can have this active role of what's going on in democracy."
Documenters attend training with CitizenDetroit and are taught their rights to information and how to properly report the facts from the meetings before attending.
When a Documenter is sent to a meeting, they provide live updates on Twitter and submit meeting notes to Documenters.org.
Since its first training session in March, dozens of citizens have been involved in training and documenting public meetings, producing so many reports that WDET created a position to sort through the vital information.
The new civic reporter for WDET will be responsible for combing through the meeting notes from the Documenters and pursuing larger stories that originate in these public meetings. From school board decisions to meetings with the Detroit Charter Revision Commission, WDET found the information captured by the Documenters led to formal stories.
As a liaison between the Documenters program and the on-air and digital branches of WDET, the civic reporter will connect the two sides to important developments in Detroit's public hearings.
Diversity among Detroit's Documenters
While each of the 15 to 25 attendees at any given Documenters meeting choose to be engaged citizens, they vary widely in age, race, and background.
Documenters have been as young as their early 20s and as old as their mid-80s, with an average age in the upper-30s.
Althea Jackson is a semi-retired baby boomer who sees the Documenters program as a way to remain involved in the democratic process.
Originally from Detroit before spending her college years in Atlanta to attend Spelman College, Jackson worked in public administration with the Atlanta City Council and the Detroit City Council.
"I think it's a very noble thing to do," Jackson said. "If you have an interest in public policy, there's no greater thing to do.
"Disseminating information to the public is great, because you're helping the public stay informed in a time when people want to control what the public knows."
Jacinda Cason lives a mile outside the city in Lincoln Park, but was so moved by the program that she signed up to become a Documenter for Detroit meetings.
A mother and dedicated public policy enthusiast, Cason jumped at the opportunity to share information from Detroit's public hearings with the city's residents and its neighboring communities.
"You cannot be laser-focused on one issue," Cason said. "You have to be all over the place to combat all the things happening in your community."
Cason believes that becoming a Documenter has developed her into a more engaged citizen in her own community.
"When people have access to information, it sparks them to action," Cason said. "It gets them to start asking questions and to start putting pressure on people to do the right things."
Amanda Beyer recently moved to Detroit to attend Wayne State University as she pursues a doctorate in political science.
After attending public hearings as a Documenter, Beyer was amazed at what residents could miss during a meeting.
"I pay taxes and I didn't have any idea about these meetings," Beyer said. "Even with my friends, I bring it up and take them to the website so that they can be informed about more things.
"It seems like the perfect thing for people studying urban planning or public administration," Beyer continued. "It's great if you're in college, need some extra cash and want a great learning experience.
What's next for Documenters?
The Documenters program looks to expand on the base it has been building over the past year to facilitate engaged citizens to share public information with the public on a larger scale.
With the new civic reporter, more of the information captured by the Documenters will be formed into content that is easier for residents of Detroit to consume.
But the most coveted goal for the Documenters program is to continue growing, training more and more citizens to cover a wide range of public hearings on a scale similar to its sister program in Chicago.
"My hope is that as more people know about it and more people hear about it, it's going to have a lot larger impact on what's going on here in town," Vaughn said.
"They are interested in making sure these issues get out to people — things that are not being heard get heard or seen or read. They're really playing an important role in how democracy is working."
To support this initiative, please use the form below to donate to the Detroit Journalism Engagement Fund. If you'd like to learn about other ways you can support permanent, positive change in the region, click here.