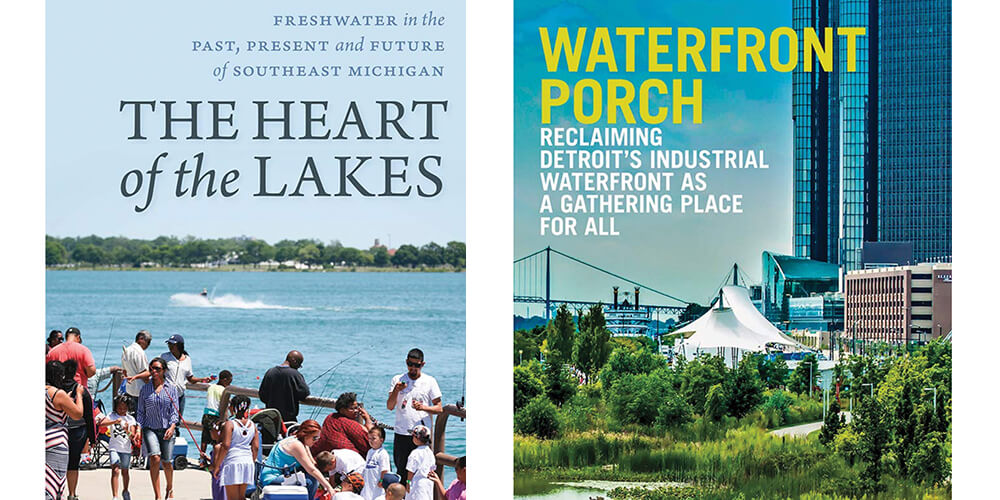 This story originally appeared in our Winter 2019 REPORT Newsletter.
Throughout the year, the Great Lakes and their shorelines are bustling with freighters, boaters, and other signs of life in Michigan. But in the not so distant past, the Great Lakes — the world's largest freshwater ecosystem — have often gone overlooked by policymakers, city planners, and the general public as unique social, natural, and economic resources.
In two new Community Foundation-supported books, authors Dave Dempsey and John Hartig explain how residents of southeast Michigan can learn from a history where the Great Lakes were filled with pollutants, industrial waste, and environmental mistreatment, and how we should define the region as a global freshwater hub.
Heart of the Lakes
In his book, The Heart of the Lakes: Freshwater in the Past, Present, and Future of Southeast Michigan, author and conservationist Dave Dempsey explores the settlement, development, abuse, recovery, and preservation of the Great Lakes in southeast Michigan. Dempsey, who has helped shape Great Lakes policy for more than 30 years, suggests that the southeast Michigan community, with its rich history of freshwater management, is poised to serve as an international leader regarding water use.
The book "travels down the water trail that defines southeast Michigan, occasionally paddling upriver in place and time, tracing history's ebb and flow, leading to the confluence of past and future." Having witnessed several waves of environmental degradation and neglect, Dempsey demonstrates that southeast Michigan has an opportunity to learn from the misuse of its natural resources and "become a hub for dealing with humanity's water challenges — if it acts now."
As Dempsey writes in the preface to the book, the story he tells is one of "development, exploitation, decline, and rebuilding — and a fateful choice in the immediate future. That choice: allow events to control southeast Michigan's water destiny or harness a community vision and energies to catapult the region to international water resource leadership."
Waterfront Porch
In Waterfront Porch: Reclaiming Detroit's Industrial Waterfront as a Gathering Place for All, Dr. John Hartig, an award-winning Great Lakes scientist and visiting scholar the University of Windsor, documents the history of Detroit's riverfront and examines its recent revival as a crucial component of the city's social and economic revival.
Hartig has spent decades championing the Detroit River as an American Heritage River and an International Wildlife Refuge, while also penning numerous books on the Great Lakes on conservation in urban environments. The rebirth of Detroit's waterfront, Hartig shows, serves as a success story in sustainable redevelopment, waterfront revitalization, and place-making for all.
Both books, published by Michigan State University Press, were financed by grants from the Community Foundation for Southeast Michigan.