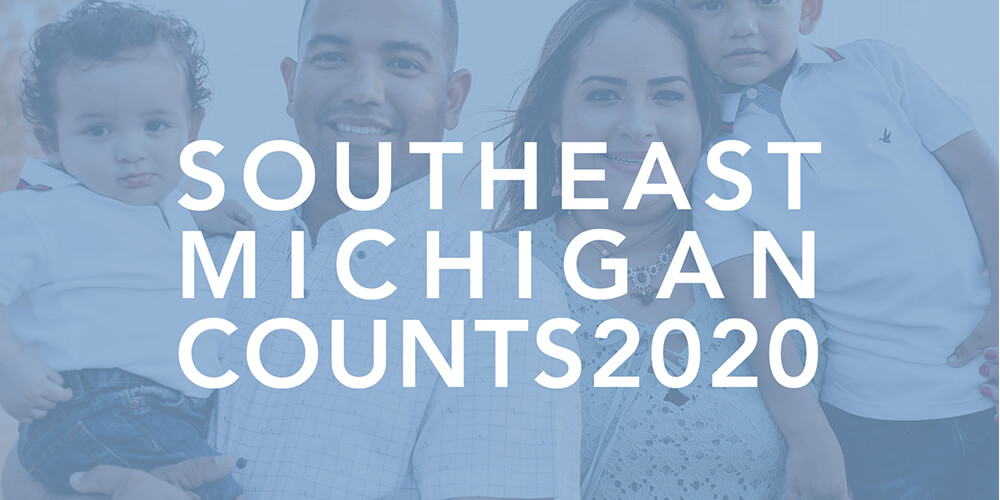 Over the past year, through the Southeast Michigan Counts campaign, the Community Foundation has worked to promote and prepare for one of the most complex and critical projects impacting our community: the 2020 census.
This year's census is especially important as it will be the first to collect data primarily online, which may make it more difficult for historically undercounted communities to participate — especially those without reliable internet access.
Census undercounts can have a detrimental impact on both individuals who benefit from federal programs and organizations (government, businesses, nonprofits, etc.) that rely on census data to make decisions about investments, resources, and community needs. A recent study estimated that, on average, for every person who goes uncounted, a state will lose $1,800 in federal funds. Since census counts are conducted just once every decade, an undercount can have long-lasting effects on the future of our communities.
To help support a fair and accurate count in southeast Michigan, especially among historically undercounted groups, the Community Foundation distributed grants to more than 30 organizations that are educating residents on the census, familiarizing communities with the census process and new changes, and developing and implementing effective strategies to boost participation and support communities beyond the life of the project.
Examples of recent grantee activities include:
As the most populous county in Michigan (and one of the most diverse), Wayne County faces an array of challenges surrounding the 2020 census. Wayne United — an initiative launched by the Wayne County Executive's office — is working to address those challenges by implementing a 2020 #BeCounted Campaign, consisting of social media outreach and county events that are designed to educate and engage historically underrepresented Wayne County communities including Highland Park, Hamtramck, Detroit, River Rouge, and Ecorse. The Community Foundation distributed $75,000 to Wayne County for its census outreach program, helping to equip the county with the resources to serve as a central hub for information, resources, and communication about the census.
To boost representation of Chinese Americans and other communities that rely on their services in the 2020 census, the Community Foundation granted $30,000 to the Association of Chinese Americans (ACA). The grant will help the ACA leverage its long-standing history and prominent position within the community to implement a targeted outreach program with four major program components:
A promotional campaign leading up to the census that centers on spreading the word through social media, large-scale community events, and festivals;
Educational and training workshops at each of ACA's four service locations (Detroit, Wayne, Oakland, and Macomb counties) that serve people from many racial/ethnic backgrounds;
Workshops at senior apartments, schools, churches, and visiting local businesses and restaurants to reach immigrants; and
Open access and assistance at ACA's centers for anyone who needs it during the census.
With recent changes around immigration and citizenship status in the country, the census is understandably a complex subject for many members of the Hispanic community. To help address those changes and articulate the risks of both census participation and census non-response, Centro Multicultural La Familia in Pontiac (CMLF), is using a $30,000 grant from the Community Foundation to train local leaders on the importance of census participation.
CMLF's leaders will provide bilingual census presentations at communal sites, such as schools, religious institutions, social and recreational sites and shopping centers to educate and engage individuals about the benefits of being counted. CMLF will also facilitate monthly discussions of the Pontiac Latino Leadership Group to monitor any challenges experienced by partner agencies or volunteers, develop a census fact sheet in Spanish describing why it's important to answer the survey and answer questions about the confidentiality of the census, and help the leaders feel confident about advocating for census participation.
To learn more about census participation and how you can help, visit cfsem.org/census.