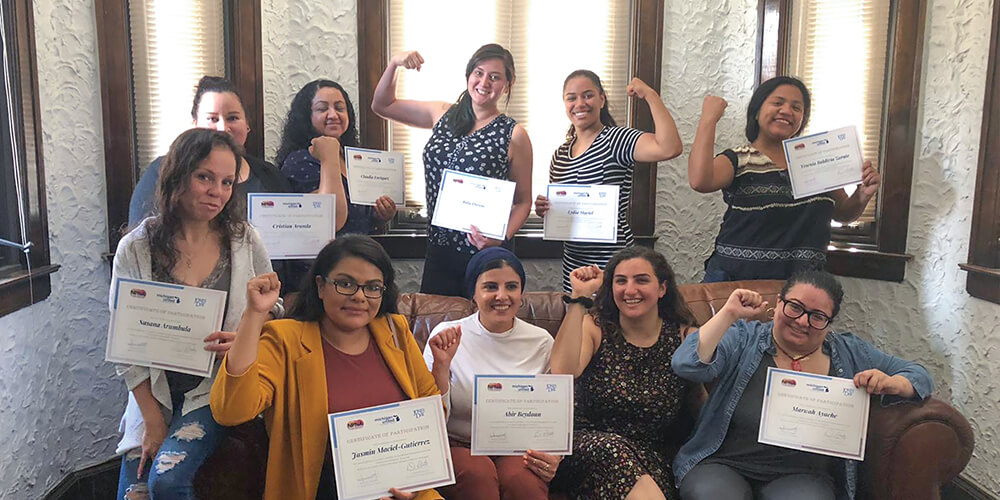 This story first appeared in our Winter 2019 REPORT Newsletter.
Earlier this year, the statewide nonprofit Michigan United — a group that focuses on social, racial, and economic justice — came to the Community Foundation with a goal: to expand an existing program to help immigrant women obtain positions of leadership. Through the program, Michigan United had already helped several women receive their Department of Justice accreditation, attend law school, participate in professional internships, and volunteer to provide legal services at the border.
Knowing the group's success — and the need for more female representation in law and immigration services, especially in southeast Michigan — the Community Foundation chose to provide support. A portion of the funding has come from the Women's City Club of Detroit Endowment Fund, a fund that has helped the Community Foundation support women in cultural, educational, and civic endeavors in southeast Michigan for more than 25 years.
With an original gift of $123,000 to the Community Foundation, the Women's City Club Endowment Fund was established in 1993. Since then, the fund has grown, thanks to investments, to about $200,000, and has supported approximately $210,000 in grants.
Among the 12 grantees that have received funding from the Women's City Club Fund are Vista Maria in Dearborn Heights, which provides transitional living and other support for youth — especially young women — who are homeless or have aged out of foster care; the Wayne County SAFE Program, which provides comprehensive services for those affected by sexual violence; and Zaman International in Inkster, which works to address the basic needs of and encourage empowerment among marginalized women.
While many of the Women's City Club Endowment Fund grantees have helped women create positive change in their communities, Michigan United's grant comes at a particularly relevant time. According to a recent Community Foundation scan (A Landscape Scan of Immigrant- and Refugee-Supporting
Organizations in Southeast Michigan), more than 600,000 foreign-born individuals live in southeast Michigan. Over 70 percent of those individuals live in Wayne, Oakland, Macomb, Washtenaw, and Genesee counties. The ultimate mission of the Michigan United program is to put as many women as possible on a path to accreditation with the Department of Justice. Equipped with the proper education and credentials, they can perform immigration filings here in southeast Michigan.
By equipping immigrant women in their communities with training and professional development, Michigan United hopes that women who have firsthand experience with the country's immigration system will be able to assist fellow community members with a variety of immigration services.
Participants in the program receive intensive biweekly training in the following areas:
Community outreach
Conducting know-your-rights training
Counseling parents on their options
Immigration 101
Conducting intake and assessment for basic forms of immigration relief
Giving referrals to external agencies for additional social services that Michigan United cannot provide
Providing more advanced legal services.
As the needs in our communities change over time, gifts like the Women's City Club Endowment Fund enable the Community Foundation to make tremendous impact. Learn how you can assist other organizations supporting leadership and creating positive change among women in your community.