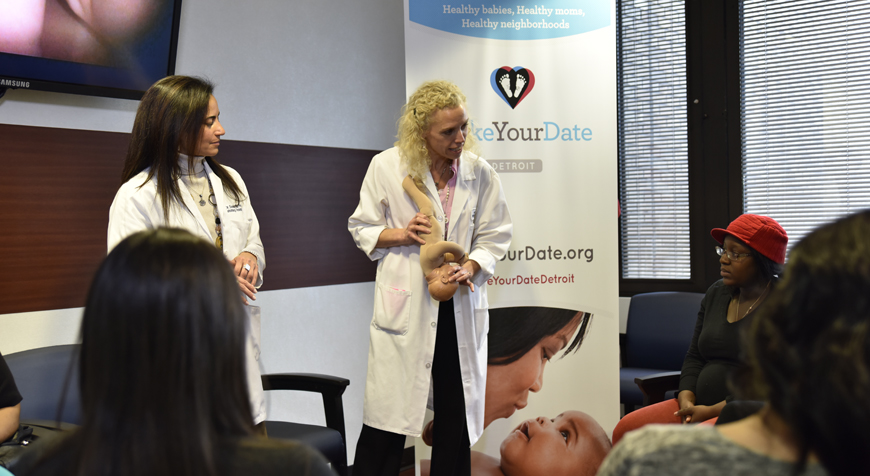 Infant mortality, measured as infant deaths before the age of 1 year per 1,000 live births, is higher in the United States than in most developed countries. The problem is particularly acute in Detroit, which has the highest infant mortality rate in the nation. Pre-term births and low birth weight are the leading causes of infant mortality, which disproportionately affects African-American women.
A new program called Make Your Date brings together an impressive arsenal of information, outreach strategies and prenatal care to support Detroit mothers in carrying their babies to full term. The program received $100,000 from the DMC Foundation to pilot a city-wide strategy and evidence- based interventions to work toward solving a
complex, endemic problem.
Make Your Date was created by a consortium of health care providers, universities, the City of Detroit, and the March of Dimes. It is led by Dr. Sonia Hassan, Associate Dean for Maternal, Perinatal and Child Health at Wayne State University School of Medicine and Director of the Center for Advanced Obstetrical Care and Research with the National Institute of Health's Perinatology Research Branch (PRB), housed at WSU and the Detroit Medical Center. The team at PRB has conducted research in the prediction and prevention of pre-term birth, including strategies that can reduce a woman's risk by up to 45%. Furthermore, members of the consortium reviewed and researched an array of socio-economic, health and lifestyle factors that lead to premature birth, and studied the most up-to-date medical strategies for extending in-utero time for fetuses.
"Pre-term births cost lives and contribute to a host of major health issues such as breathing complications, cerebral palsy and difficulty in school," said Dr. Hassan. "Fortunately, research being done here at the Perinatology Research Branch, Wayne State University, the Detroit Medical Center and around the country has uncovered effective ways to address this challenging problem. The DMC Foundation grant is helping us to share information, increase access to services and begin to reduce Detroit's high rate of pre-term births."
Dr. Hassan notes that the program's comprehensive outreach and social media campaign targets health care providers, insurance companies and policy makers, and expectant mothers and their families. Changes are needed in doctors' practices, women's health habits and their access to care to implement what has been learned about bringing more babies closer to full term. "We are using the Make Your Date program and related activities to raise everyone's level of awareness and commitment," she added.