Training Program To Help Increase Detroit Nonprofit And Public Sector Capacity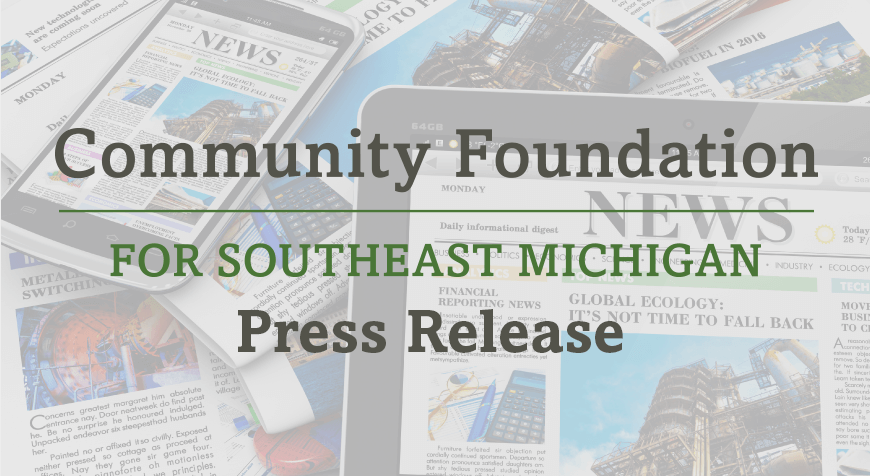 $400,000 from Knight Foundation Added to Fund at the Community Foundation Will Support Professional Development For Nonprofit, Public Sector Staff
For Immediate Release
DETROIT — (April 9, 2014) — The Community Foundation for Southeast Michigan will subsidize training and professional development for Detroit public sector and nonprofit staff tackling economic development, land use, city systems, planning and neighborhood development. The capacity training program is supported by $400,000 from the John S. and James L. Knight Foundation.
The commitment represents an increase from the $250,000 Knight investment announced in September for the same purpose. The September announcement included a $5.75 million Knight investment in the economic revitalization of Detroit as part of a partnership between federal and state government and local leaders to spur citywide transformation.
Twenty-six 501(c)(3) organizations and city of Detroit agencies will share $400,000 in grants to support education, training and conference attendance for key staff with hands-on responsibility for Detroit revitalization efforts. The Community Foundation for Southeast Michigan will administer and manage the capacity training program.
The two foundations decided to increase the amount of funding due to the volume and quality of the applications received in last few months.
"This is a unique opportunity to support on-the-ground efforts in Detroit by investing in talent at organizations that are engaged in strengthening the city," said Katy Locker, Knight Foundation program director in Detroit. "Skilled civic leadership is integral to bringing about a more vibrant future for our community."
Professional development has been unaffordable for many of Detroit's cash-strapped nonprofits and the bankrupt city government. Yet increasing the knowledge, skills and expertise of staff in organizations that are working to help overcome challenges in the city has never been more important, according to Mariam C. Noland, president of the Community Foundation for Southeast Michigan.
"We were very impressed by the proposals and the compelling cases that were made by organizations about how their work would benefit from an investment in their people," Noland said. "We know education and training are critical for success in every sector, so we try to ensure that nonprofit and public sector employees do not fall behind when times are lean and budgets for professional development dry up. Those are the times when the performance of staff means the most and can have the greatest impact. Our region depends upon high-quality public and nonprofit talent."
The organizations selected to receive grants are:
Belle Isle Conservancy,
the City of Detroit,
Community Development Advocates of Detroit,
Detroit Creative Corridor Center,
Detroit Economic Growth Corp.,
Detroit Hispanic Development Corp.,
Detroit Riverfront Conservancy,
Detroiters Working for Environmental Justice,
Downtown Detroit Partnership,
Eastern Market Corp.,
EcoWorks,
Excellent Schools Detroit,
Focus: HOPE,
Grandmont Rosedale Development Corp.,
Greening of Detroit,
Invest Detroit,
Jefferson East, Inc.
Michigan Community Resources,
Michigan Nonprofit Association/D3,
Midtown Detroit Inc.,
MOSES,
Southwest Detroit Business Association,
Southwest Solutions,
Urban Neighborhood Initiative,
Warren/Conner Development Coalition, and
Wayne State University's TechTown.
The program will fund professional development opportunities up to $5,000 per employee. Examples of eligible expenses include attendance at local and national professional training events, meetings, workshops and conferences, as well as tuition and fees for executive education programs. Professional topics range from land use planning, and design, to economic development, community development, executive and leadership training, business, nonprofit management and public administration. Organizations are eligible to apply for support for up to 10 staff members.
About the John S. and James L. Knight Foundation
Knight Foundation supports transformational ideas that promote quality journalism, advance media innovation, engage communities and foster the arts. We believe that democracy thrives when people and communities are informed and engaged. For more, visit www.knightfoundation.com
About the Community Foundation for Southeast Michigan
The Community Foundation for Southeast Michigan is a full-service philanthropic organization leading the way to positive change in our region. As a permanent community endowment built by gifts from thousands of individuals and organizations committed to the future of southeast Michigan, the Foundation supports a wide variety of activities benefiting education, arts and culture, health, human services, community development and civic affairs. Since its inception, the Foundation has distributed more than $615 million through nearly 48,000 grants to nonprofit organizations throughout Wayne, Oakland, Macomb, Monroe, Washtenaw, St. Clair and Livingston counties. For more information, please visit www.cfsem.org.