$1 Million in Grants for Census Projects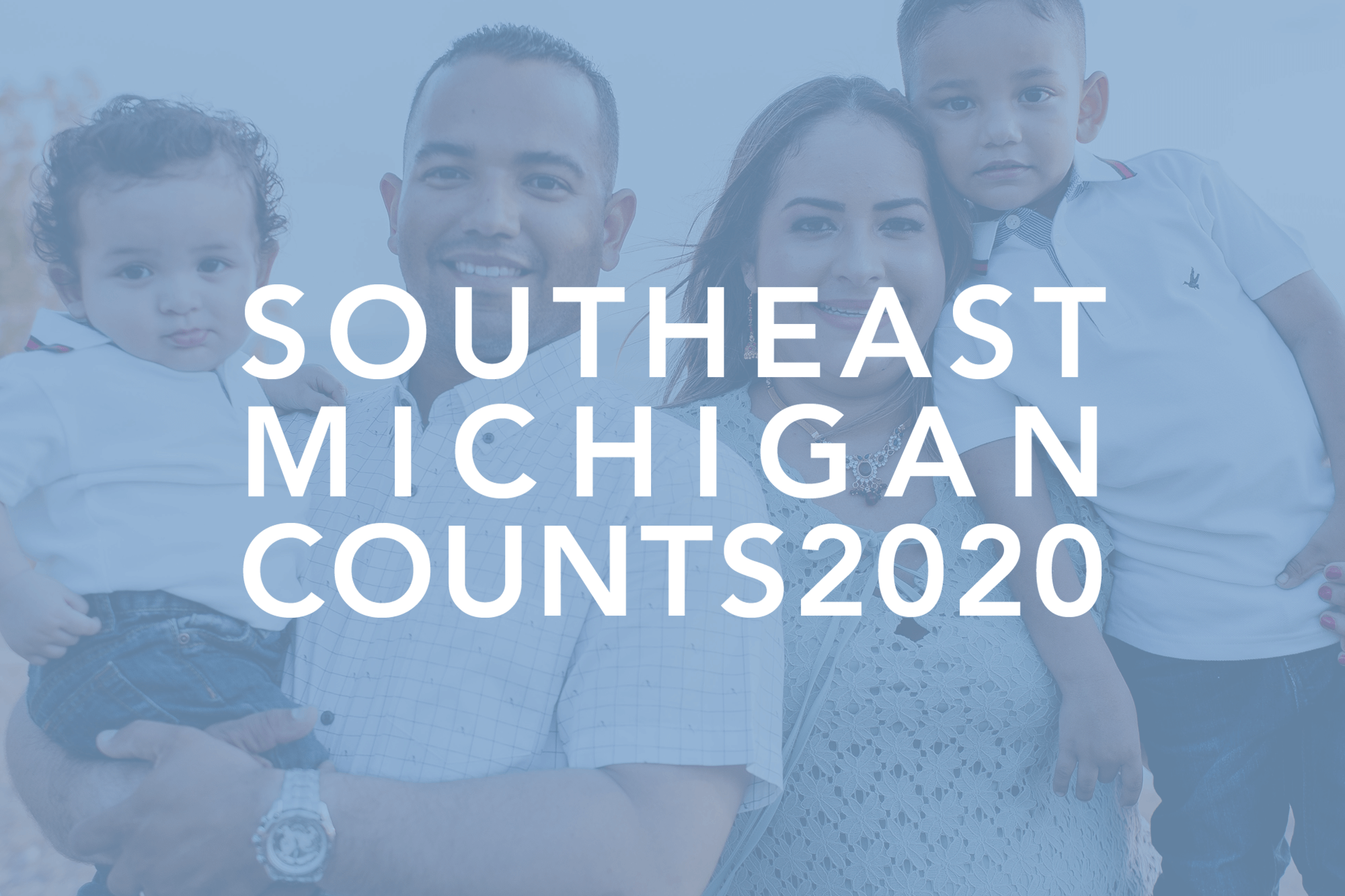 The Community Foundation announces nearly $1 million in grants for projects promoting an accurate 2020 census count
The Community Foundation for Southeast Michigan has announced nearly $1 million in grants to organizations seeking to promote and support a fair and accurate count in the 2020 United States Census. Grants ranged from $7,000 to $75,000 depending on the project's scope and geographic coverage. Funding will run from July 2019 through August 2020. The Census count begins in April 2020.
"The Community Foundation is proud to support local organizations that are educating residents and encouraging census participation in communities across Southeast Michigan," said Mariam C. Noland, President, Community Foundation for Southeast Michigan. "An accurate census is essential for federal funds that support education, infrastructure and services for our communities."
The United States Census occurs every 10 years and is the source of important information for communities, businesses, and governments. Census data is used to allocate federal funds that support education, infrastructure, and human service expenditures that are vital to our communities. A recent George Washington University study shows that on average, states lose about $1,800 per year in federal support for every person missed in the census. Forty percent of Michigan's funding comes from the federal government, according to Grassroots Solutions.
Governments, nonprofits and businesses routinely mobilize to ensure complete and accurate census counts, especially in areas that are at risk of being undercounted. The 2020 Census will be conducted primarily online, which poses the risk of greater undercounts among populations without internet access
The Community Foundation's Southeast Michigan Counts is a strategic effort to foster regional participation in the 2020 census. As part of this effort, the Community Foundation awarded grants to organizations in Wayne, Oakland, and Macomb counties that are working to promote awareness and action by historically undercounted populations such as communities of color, low-income households, immigrants, and young children. For several organizations, these projects are a part of a larger plans to ensure their constituents are appropriately represented through the census.
The grant opportunities were available to organizations who work with historically undercounted communities in Oakland, Wayne and Macomb counties. The Community Foundation is working in partnership with the Michigan Nonprofit Association and its statewide Be Counted Michigan 2020 campaign, which received seed money from the W. K. Kellogg Foundation and support from the Council of Michigan Foundations, as well as the Ballmer Group.
Grants announced include:
$15,000 to 482Forward to educate Detroit residents and students about the census and promote participation
$62,654 to Allied Media Projects for Data Driven Detroit to leverage existing programs and technology and apply them to support 2020 Census organizing with disengaged populations in the city of Detroit
$28,453 to Arab American and Chaldean Council to educate key communities across the tri-county region, assist individuals with the filling of the census and hold special events to promote the complete count
$30,000 to ACCESS to promote census participation among its clients, particularly in Dearborn and Dearborn Heights
$30,000 to Area Agency on Aging 1-B for educating older adults in Macomb and Oakland counties on important changes to the 2020 Census and being accurately counted
$30,000 to Association of Chinese Americans Inc. to offer census education workshops and a targeted outreach program for the Chinese American community in the tri-county region
$10,000 to Bridging Communities Inc. for Unity in Our Community TimeBank to promote census participation in historically undercounted communities in southwest Detroit
$20,000 to Center for Popular Democracy for Good Jobs Now to promote census participation to homeless, low-income and transient metro Detroiters through canvassing and educational activities
$30,000 to Centro Multicultural La Familia to increase census participation among the Latino community in Oakland County with a focus on Pontiac
$20,000 to United Community Family Services for efforts to increase participation among immigrants and refugees in Oakland and Macomb counties in the 2020 census
$30,000 to Chaldean Community Foundation for a 2020 Census awareness campaign targeted towards immigrants and the Chaldean community across the tri-county region
$20,000 to CitizenDetroit Action Group for events and products that educate underengaged Detroit residents and motivate them to complete the 2020 Census
$30,000 to Cody Rouge Community Action Alliance, CDC for the Cody Rouge Counts project, targeting residents and community members of neighborhoods on the west side of Detroit to participate in the 2020 Census
$23,000 to Community Development Advocates of Detroit to promote participation in the 2020 Census, especially to underserved populations, through community outreach
$20,000 to Detroit Association of Black Organizations for Barton McFarlane Neighborhood Association to conduct a census awareness-building campaign to achieve a fair and accurate count of westside Detroiters
$30,000 to Detroit Hispanic Development Corp. for an outreach and communications program that is culturally and linguistically appropriate for the Latino community in Downriver communities and southwest Detroit
$7,000 to Evangelical Homes of Michigan (EHM Senior Services) to increase census participation with education presentations and direct census form assistance in three senior housing facilities in Madison Heights
$20,000 to City of Flat Rock for ensuring that every resident in Flat Rock is counted for the 2020 Census, especially in historically undercounted areas
$40,000 to Focus:HOPE for census education and outreach activities in neighborhoods surrounding the organization's Detroit headquarters
$30,000 to Grace in Action Collectives to promote census participation in the southwest Detroit through outreach and increased access of the online census form
$15,000 to Helping Hut to engage and educate the residents of the Banglatown neighborhood of Detroit and Hamtramck for greater participation in the 2020 Census
$20,000 to International Institute of Metropolitan Detroit Inc. to promote an accurate census count of Detroit's Banglatown and Warrendale neighborhoods
$20,000 to Mack Avenue Community Church Community Development Corporation for resident-led 2020 Census awareness and education in the Islandview and Pingree Park neighborhoods on the east side of Detroit
$20,000 to Macomb County for 2020 Census participation strategy targeting underserved populations and marginalized communities in Macomb County
$30,000 to Marygrove Conservancy for Everyone Counts at Marygrove, a collaborative project to increase census participation in undercounted populations in four zip codes surrounding the campus
$30,000 to Matrix Human Services to engage and educate historically undercounted populations to increase participation in the 2020 Census in Wayne, Oakland and Macomb counties
$20,000 to Michigan United for community navigators to assist key communities across the tri-county region with census awareness and participation
$30,000 to North End Woodward Community Coalition to promote census participation in the North End neighborhood and Highland Park through outreach and increased access of the online census form
$45,000 to Oakland Livingston Human Service Agency for the Pontiac Policy Council to boost census participation in the city of Pontiac through education and outreach
$15,000 to Piast Institute to increase 2020 Census participation in Hamtramck through education, building trust with immigrant groups, and increased accessibility
$20,000 to Southwest Detroit Business Association for Congress of Communities to engage low-income and immigrant parents to promote census participation among families in Southwest Detroit
$30,000 to Southwest Detroit Business Association for bilingual census outreach to the business community, employees and customers in southwest Detroit
$20,000 to Soulardarity to conduct door-to-door outreach, educational events, and coordination of community organizations in Highland Park to increase census participation
$20,000 to Eastside Community Network for education and outreach services to encourage lower eastside Detroit residents to participate in the 2020 Census
$75,000 for Wayne County for 2020 Census programming and outreach in Wayne County
$40,000 for Wayne-Metropolitan Community Action Agency to maximize the number of persons from undercounted populations in Wayne County completing the census by engaging them with electronic and in-person communication
For more information, contact Sherrie Arb at sarb@cfsem.org or Heather George at hgeorge@loviogeorge.com