Foundation To Develop Greenspace Hub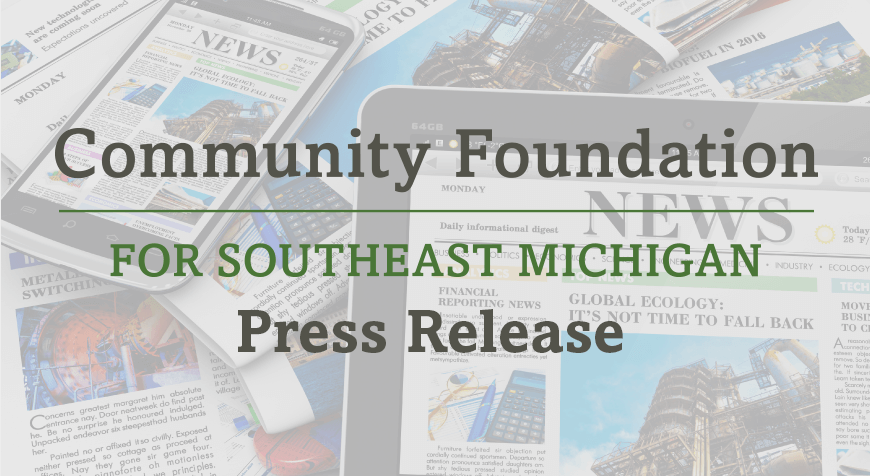 Digital Resource Encourages Use and Stewardship of Land and Resources
For immediate release
DETROIT – The Community Foundation for Southeast Michigan will develop a digital information hub to inform and mobilize residents to be good stewards of the region's land and natural resources and promote communities that are more livable.
Support for the "GreenSpace" project comes from a recent grant of $352,000 awarded to the Community Foundation from the John S. and James L. Knight Foundation, as part of its Knight Community Information Challenge.
The GreenSpace project will bring together available information and data of a seven-county region with an interactive map – benefitting anyone from a family searching for a place to hike or bike, to a resident advocating for more parks and recreation, to a government official developing new land use policies.
GreenSpace will also encourage users to produce and share new information, stories and links in order to expand the range and quality of information available, helping to nurture leadership and action on these issues that are so important to southeast Michigan.
"Information is as important to a thriving democracy as clean air, jobs and schools. As leaders, local foundations are taking the initiative to meet those information needs," said Trabian Shorters, Knight Foundation's vice president for communities, who leads the challenge. "This project and others like it help ensure that everyone has the information necessary to make decisions about their governments and their lives."
The Community Foundation has 25 years of grantmaking experience and almost a decade of regional leadership in promoting green communities. The Community Foundation's GreenWays Initiative, launched in 2001, is just one example of the Foundation's long-term regional vision to improve and enhance the quality of life in southeast Michigan. By leveraging grant dollars and bringing together individual cities, counties and funders, the GreenWays Initiative has resulted in an investment of more than $100 million for the planning and construction of a greenways network that links together communities in southeast Michigan. When all of the projects funded through the GreenWays Initiative are completed, there will be more than 100 miles of new trails and pathways connecting more than 80 municipalities across southeast Michigan.
The Knight Community Information Challenge is a five-year, $24 million initiative to help community and place-based foundations find creative ways to use new media and technology to keep residents informed and engaged. Knight Foundation launched the Community Information Challenge to spur forward thinking community and place-based foundations to meet an important and growing need in our democracy – the need for quality, reliable local news and information.
The John S. and James L. Knight Foundation advances journalism in the digital age and invests in the vitality of communities where the Knight brothers owned newspapers. Knight Foundation focuses on projects that promote community engagement and lead to transformational change. For more, visit www.knightfoundation.org.