NEI Initiative Awards More Than $700,000 In Grants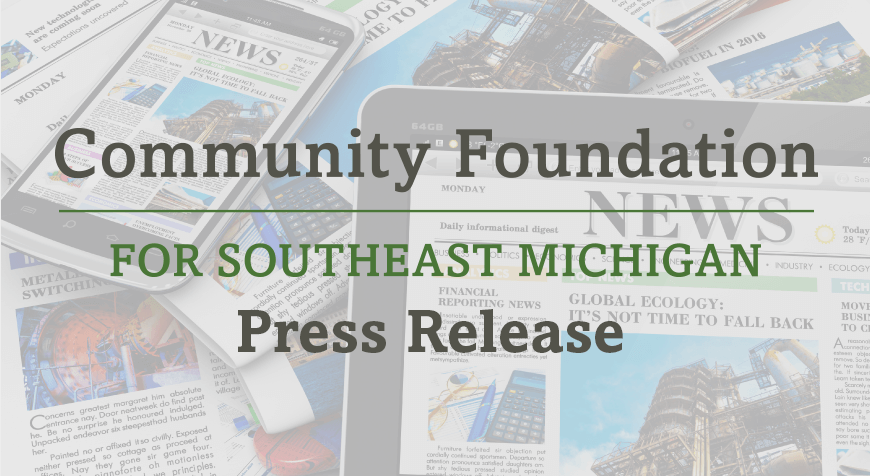 Southeast Michigan's Economic Transformation Continues
For immediate release
DETROIT – Southeast Michigan is struggling to successfully prepare, retrain and place those displaced by the recent recession and the auto industry. The New Economy Initiative for Southeast Michigan is supporting organizations and programs addressing these needs and creating new opportunities for these individuals.
"To help move the region's economy forward in a meaningful way, NEI is working with a number of groups in the region to develop strategies around important sectors, including advanced manufacturing, alternative energy, defense and homeland security, healthcare, and transportation distribution and logistics," said David O. Egner, executive director of NEI. "It is essential that we capitalize on southeast Michigan's existing assets and resources to help build a stronger economy in our region."
Recent NEI grant awards, totaling $716,360, include two grants that support NEI's strategy to help grow opportunities in the defense and homeland security sectors. Both grants were made to institutions in Macomb County, which is home to approximately 65 percent of the defense businesses in the state.
* A grant of $35,110 was awarded to Macomb Community College to support research opportunities to grow defense industry-related businesses in Macomb County. Ultimately, Macomb Community College will identify opportunities to retrain displaced college trained technical workers, primarily from the auto industry, so their talents can be utilized by the defense industry in the community. Macomb Community College will provide the qualitative and quantitative data needed to guide Macomb Community College, along with its workforce partners, in developing the appropriate training and outreach programs to link this group of college trained technical workers to jobs in this expanding industry.
This grant will also help Macomb Community College continue to build its partnerships with key defense businesses and ultimately lay the groundwork for Macomb County to be a training ground for new employees in this industry.
* A grant of $300,000 was awarded to the Michigan Security Network (MiSN), based in Oakland County. MiSN has developed an approach to homeland security business recruitment that concentrates on the key sectors of bio defense, cyber security, and border security. Strategic alliances with Michigan companies and universities with key skill sets and technologies in the security sector has allowed MiSN to position itself to become a "general contractor" with the ability to provide optimized solutions for U.S. security projects.
With the support of an initial NEI grant of $150,000 in July 2009, MiSN has already made significant inroads towards establishing Michigan as a national leader in cyber security technology and training.
* Also related to its workforce development strategy is a NEI grant of $25,000 to the Brookings Institution for support for an initiative that helps reposition the future of the nation's auto communities through the development of a framing paper and of a peer-to-peer learning network.
* A recent grant related to NEI's strategy around developing entrepreneurism includes a grant of $356,250 to the Michigan Opportunities and Resources for Entrepreneurs Program (MORE) for support for the Statewide Entrepreneurship Support System (SESS), a comprehensive catalogue and delivery system of resources available to entrepreneurs.
In Michigan, there are many assets that could be extremely useful to entrepreneurs, but they remain largely unknown or are difficult to access for most. MORE and its partners will inventory and index available data and will design a web service to allow this information to be more readily accessed.