$23 million in grants announced during Community Foundation's annual board meeting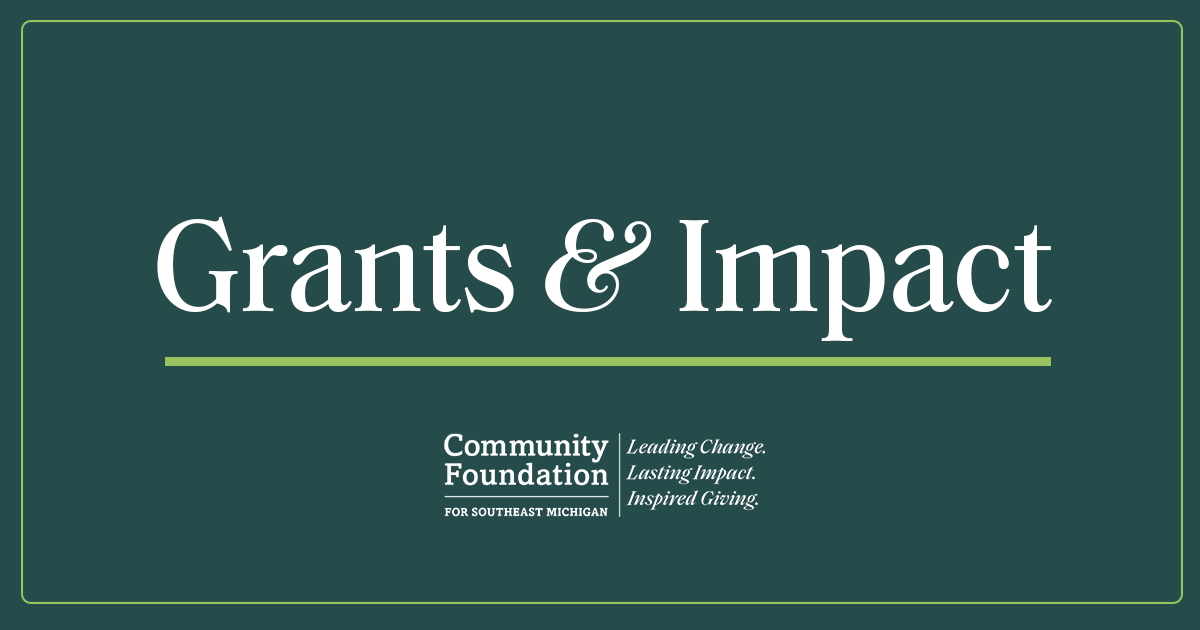 The Community Foundation for Southeast Michigan approved more than $23 million of grants in support of nonprofit organizations working to make a positive, permanent impact throughout the region during its annual Board of Trustees meeting at The Henry Ford.
The historical venue – where gifts from the endowed Raymond C. Smith Foundation Fund at the Community Foundation supported the new Detroit Central Market attraction – showcased a legacy of thoughtful philanthropy in southeast Michigan.
The annual meeting included a keynote address – "What Will It Take to Make Southeast Michigan a Top-10 Region?" –  delivered by Jeff Donofrio, president and CEO of Business Leaders for Michigan.
It also featured a panel discussion to mark the 50th anniversary of Title IX, as the Community Foundation works to address disparities for girls' options in sports.
Alana Glass, director of the Project Play: Southeast Michigan initiative at the Community Foundation, moderated the conversation. It featured Erika Swilley, vice president of Community & Social Responsibility at the Detroit Pistons, and former WNBA President Laurel Richie.
"We're proud to build on our shared history, with an eye toward creating a brighter future for southeast Michigan," Community Foundation President Ric DeVore said. "Our community partners are doing the work today to ensure that the next generation will live in a vibrant, thriving region that's diverse, equitable, and inclusive."
During the annual meeting, the Community Foundation Board of Trustees approved $23,059,234 million in grants for the second quarter of 2022.
The funds will support organizations primarily in southeast Michigan working on issues including animal welfare, arts and culture, civil rights, community development, education, and the environment.
Grant highlights include the following.
ANIMAL WELFARE
Friends for Animals of Metro Detroit – $57,560 (over 18 months) for an organization-wide diversity, equity, and inclusion assessment and strategy development
Michigan Humane Society – $75,000 for a program that provides career pathways for Detroit students to increase diversity in the veterinary and animal welfare industries
ARTS/CULTURE
Communities First, Inc. – $35,000 for a program to connect low- and moderate-income families to educational opportunities in the arts, culture, and environment
CultureSource – $75,000 for a research agenda and operational strategy that advances arts and culture in southeast Michigan
Detroit Symphony Orchestra, Inc. – $150,000 for the Education Concert Series and Detroit Harmony program
InsideOut Literary Arts Project – $60,000 (over 2 years) to restructure arts education programming
CIVIL RIGHTS
Neighborhood Defender Service – $75,000 to address multiple challenges faced by clients fighting a criminal case by expanding holistic legal representation
COMMUNITY DEVELOPMENT
Community Development Advocates of Detroit – $50,000 for East Warren Development Corporation's creation of a public square to encourage community and economic development
EDUCATION
Regents of the University of Michigan – Grants – $40,000 for a K-12 arts education program that advances equity and inclusion
Wayne State University – Grants – $96,500 (over 3 years) for music technology education and the professional development of teachers in that field throughout southeast Michigan
ENVIRONMENT
Green Living Science – $25,000 for the expansion of a student ambassador program to promote recycling and sustainability in Detroit
National Wildlife Federation – Great Lakes – $100,000 (over 2 years) for the Early Childhood Health Outdoors program in Detroit