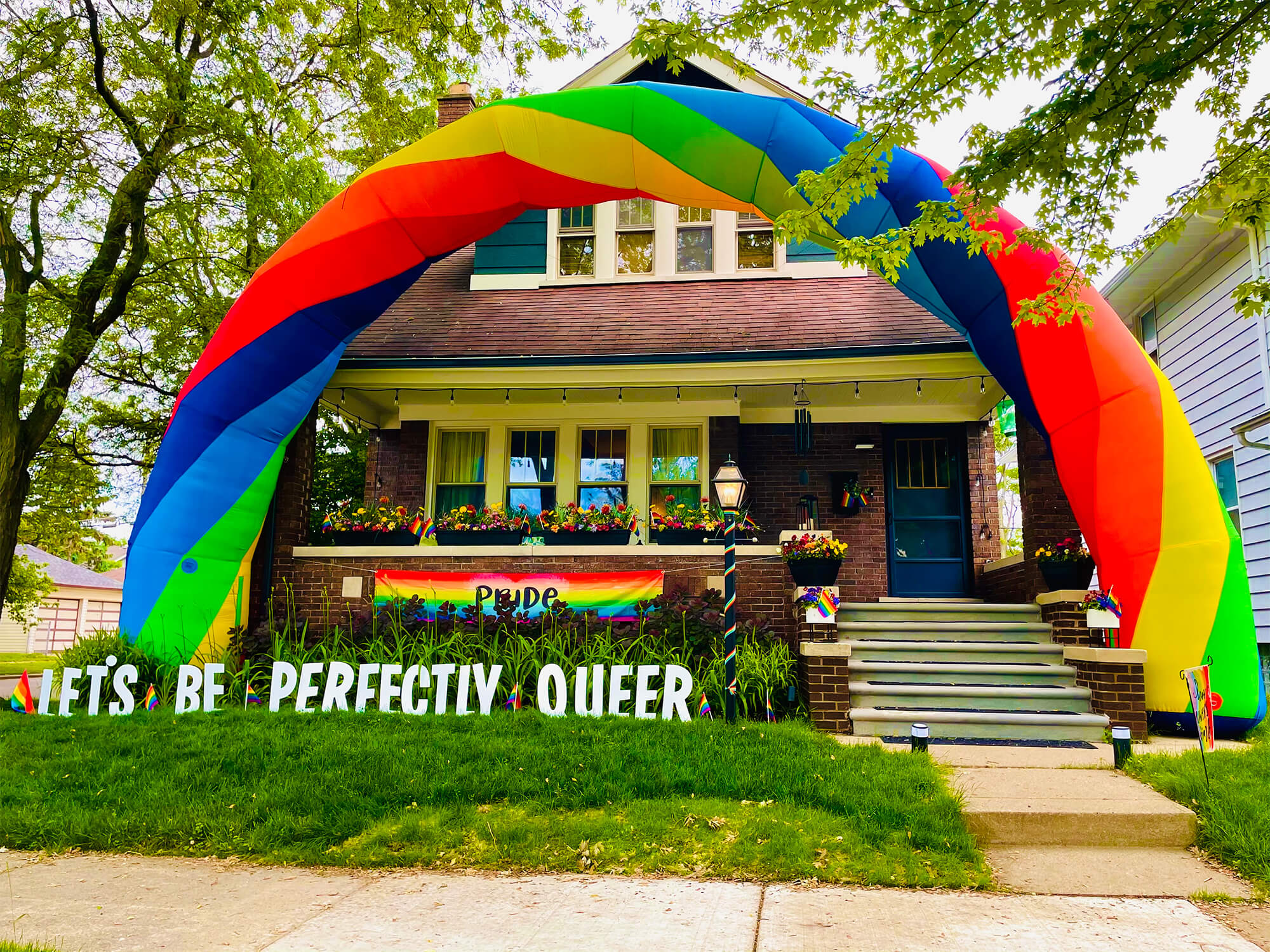 By Ashley Collins, Digital Communications Officer
My husband and I have a reputation for being a bit "extra" with our outdoor decorations during holidays and special events.
At Christmas time, our home turns into a giant gingerbread house complete with custom built larger-than-life-sized candies and a spectacular light display. (Think "Willy Wonka.") At Halloween, the house transforms into a three-eyed, purple-tentacled monster with gnashing teeth ready to eat up all the trick-or-treaters. During June, we celebrate Pride in the only way we know how: our home is adorned with an array of Pride flags, and a unique lawn message with large letters staked into the ground. To make this Pride 2021 even more unique, we added a giant 40-foot-wide by 20-foot-tall inflatable rainbow that spans the façade of our home. It is quite the spectacle.
Most of our decorations are loved and appreciated in the neighborhood, but as you can imagine, our Pride décor gets us a few jeers alongside the cheers. While we have come a long way as a society in fully accepting the LGBTQ+ community, there is still a long way to go. In the middle of writing this post, for example, I was confronted by someone in my neighborhood about the rainbows in my yard and made to feel like celebrating who I am, after years of suppression and fear, was wrong and offensive. This conversation was followed by someone rearranging our lawn letters that celebrated Pride to make a vulgar phrase that same day.
While this was disheartening, I know that my family and I have incredible support from the neighbors, friends and colleagues who have come into our lives since moving to the area five years ago. When I joined the Community Foundation for Southeast Michigan, I was encouraged by how the organization was working with local nonprofit organizations to ensure that my LGBTQ+ community will always have the funding it needs to address issues and opportunities to make the region more inclusive, safe, and welcoming for LGBTQ+ people.
Looking to Future LGBTQ+ Needs
When my husband and I began setting down roots in southeast Michigan, we found incredible LGBTQ+ support organizations like Equality Michigan advocating for civil rights, LGBT Detroit hosting events like Hotter than July, the Corktown Health Clinic providing LGBTQ+ focused healthcare, and the Ruth Ellis Center mentoring queer youth and young adults.
At the Community Foundation for Southeast Michigan, I found a different sort of LGBTQ+ support: endowment.
The HOPE Endowment Fund of The Community Foundation is a growing fund that ensures that resources will be available for whatever needs and challenges the LGBTQ+ community faces for generations to come.
In 1994, I was an 8-year-old, and few nonprofit agencies in southeast Michigan offered LGBTQ+-friendly programs, LGBTQ+-led organizations were few and far between and underfunded/understaffed. In response, local leaders and the Community Foundation created The HOPE Fund as a fund for programmatic support and an endowment focused on strengthening organizations and projects that serve the LGBTQ+ community.
The HOPE Fund now makes grants each year while building endowment in order to provide resources for the future.
25 years after The HOPE Fund's inception, I grew up and moved to the area. During this time, support for the LGBTQ+ community in southeast Michigan had grown along with me. The HOPE Fund has grown from an idea to a $3 million fund supporting projects that are helping organizations meet today's challenges as with the crisis of COVID-19 and its impact on local charities.
Moving Gaily Forward Beyond Pride 2021
When giving directions to a friend once, I said, "Walk straight down this street and make a left at the next light." They laughed and told me, "Gurl, there's nothing straight about me… I can only go gaily forward!"
During Pride 2021, parades, marches, and flags will remind us of the ongoing struggle for LGBTQ+ rights while celebrating the progress made in the 50 years since Stonewall. Outside of June, organizations across our seven-county region are constantly working to support LGBTQ+ persons who are both "out of the closet" as well as those struggling with or discovering their sexuality. As The HOPE Fund helps our regional LGBTQ+ community move gaily forward – we hope you will consider a gift to the Fund and join us on this journey.
To all who have donated to The HOPE Fund and to the members who have served on its committees, I want to express my sincerest appreciation. Your dedication to and vision for a bright and sustainable LGBTQ+ future in our region is a model for grantmakers across the country.
You can learn more about the impact of The HOPE Fund and donate to support LGBTQ+ efforts in our region here. Your contribution ensures that organizations may continue to offer safe spaces, guidance, and a vision for an inclusive and welcoming southeast Michigan for future generations of the LGBTQ+ community.
I had no idea of the struggles that coming out would entail. I had to quit a job out of fear. I lost friends. I was unable to "defend" my "lifestyle" along with countless other stressors and difficulties. It has been a bumpy journey that has led to a fulfilling life with a loving husband and two beautiful daughters. Now that I'm a father, I sometimes wonder what our children might face in the future if they identify as queer.
As with most aspects of parenting: I cannot see what is coming but I am proud that my work at the Community Foundation is providing for a better future, whatever shape their lives may take. One thing is for certain, the Community Foundation and The HOPE Fund will be here, ensuring that southeast Michigan can meet those needs. My youngest daughter is here as I write this post asking me question after question, never pausing for an answer "What are you doing? What are you writing?"
"It's for you," I tell her. 
Happy Pride 2021 from
The Community Foundation for Southeast Michigan