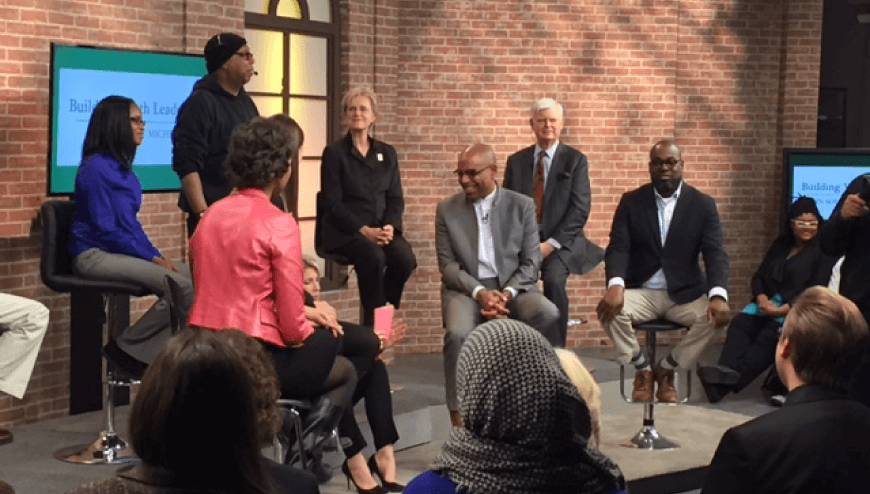 Few things are as fundamental to a healthy, vibrant region as interested and engaged citizens. Encouraging civic participation among new generations of young people in southeast Michigan has long been a core part of the Community Foundation's mission.
One formal avenue for getting youth involved in their communities is by applying for grants from our Youth Leadership Fund — a permanently endowed fund that makes grants for youth-led projects. Teens from across the region serve on the Youth Advisory Committee, which reviews the proposals and makes grant recommendations. Many former youth grantees now hold leadership positions at nonprofits in southeast Michigan, both as staff and as volunteers.
Several years ago, the Community Foundation dramatically increased our efforts to promote youth leadership. We consulted with experts at the University of Michigan and invited them to work with us to create an entirely youth-driven program that would increase the number, quality and diversity of young leaders in our region.
That was the origin of YOUth Voice for Social Justice. The program kicked off in 2013 with a year of training for youth and adult nonprofit leaders on nonprofit management, fundraising, storytelling and how organizations can do more to include the voices and viewpoints of youth in their work.
Next, we commissioned the Metropolitan Youth Policy Fellows to undertake one of the largest surveys ever conducted of young people by other young people. Based on the responses of 1,000 youth, grant proposals were solicited for projects that would address the key issues most in need of attention.
Grants totaling more than $500,000 were made to eighteen groups of young people to implement their projects. They received support over the next year from adults trained to facilitate youth-led initiatives.
"Through YOUth Voice for Social Justice, many community organizations have learned how to meaningfully engage youth in their work, and many youth have learned how to create change on issues that they care about," said Dr. Katie Richards-Schuster, assistant professor in the School of Social Work at the University of Michigan and consultant to the YOUth Voice program. "Not only has it been a great experience for the cohort of young people who participated in this journey with us, but it is also something the organizations can take forward in their future work. We believe this will have a lasting impact on our region."