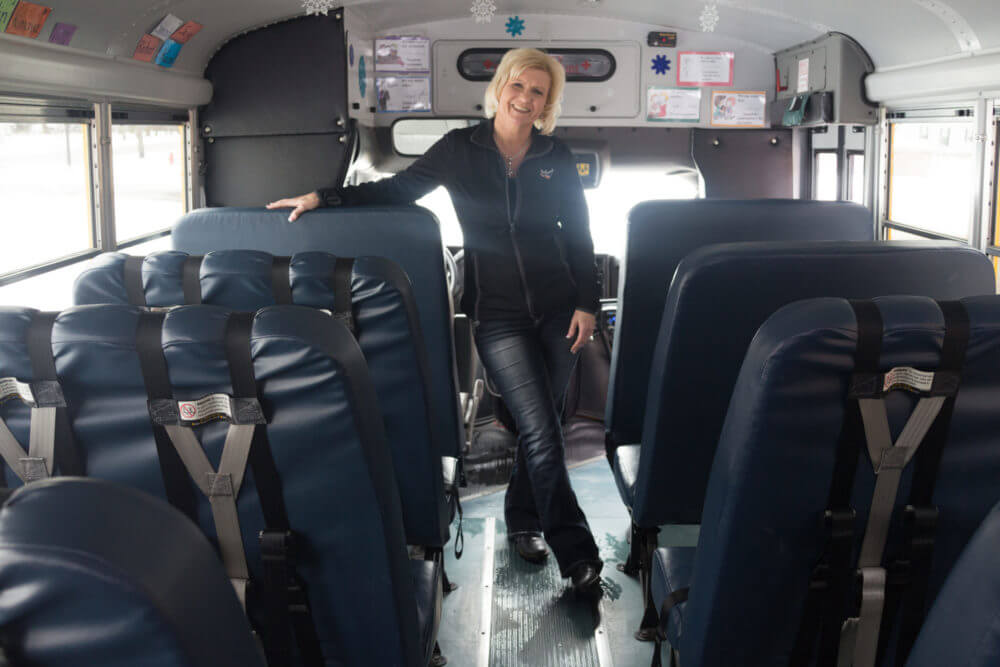 Social-emotional support for kids, families and agency staff has been a key focus on Head Start Innovation Fund investments. Several key agencies, including the two that serve all of Macomb and Oakland counties, chose to apply for funds to implement TraumaSmart, a program to train and support all of their staff in methods to better support social-emotional needs of kids.
On many school busses and over many years, Miss Chrissy has seen a lot, including an all-out assault by one boy on another.
But until she started on bus #219, a mini-bus in Macomb County, Chrissy Rogers had not seen what she recognizes now as the trauma of poverty on the face of a child.
"It's hard for me to grasp," says Chrissy, who grew up in one house, with dinner at the table each night, church every Sunday and parents still together after 50 years. Now, she drives 13 young children to and from Head Start, five days a week, and knows many of them don't have much to count on. She's seen the symptoms, up close and in her rear view mirror – tears, fears, acting up.
Now, she and every other person in Macomb Community Action's Head Start program are being trained in Trauma Smart, a nationwide mental health program, funded by the Head Start Innovation Fund. A grant funds the same program for Head Start workers at the Oakland Livingston Human Service Agency.
Behind the wheel, rolling through her kids' neighborhood of small lots and 800-square foot bungalows, Chrissy is a small, energetic woman who talks fast, describing what she has learned from Trauma Smart: While some children are traumatized by violence, even murder, around them, far more are traumatized by the realities of poverty. Even babies' emotional landscapes are marred by chaos and fury around them.
And this: Some people get to drive the car. Others are content to ride along. But many are consigned to the trunk, cowering anxious and afraid. They are the victims of trauma, yesterday or long ago. They are unnoticed unless they make noise.
"We had one little girl who really tested our patience," Chrissy remembers, speaking of herself and the teacher's aide who rides along every day. "The girl would cry and scream, one day the whole way home," and thrusting toys at her to distract her did no good. "Come to find out she was in foster care, taken from her dad. I'm don't know if Mom was even in the picture. But she was living with Granny, who had four or five other kids to watch over."
The next time the child stumbled to the bus screaming, Chrissy used her Trauma Smart intelligence. She got out of her seat and embraced her. "Come here, honey, and I held her head to my chest. It's OK, there's nothing to be afraid of. It's OK, honey. You're safe with me. I love you."
She stepped up and sat in the back and she hasn't had a meltdown since.
"It's hard for me to realize, but oh my gosh, all she needed was somebody to love her. She had so much upheaval in her life, she didn't feel safe anywhere."
Miss Chrissy's small yellow bus is a haven of peace.
The Head Start Innovation Fund is an $11 million effort, launched in 2013, aimed at improving the quality of Head Start services and outcomes for children and their families in Detroit and the tri-county region of Wayne, Oakland and Macomb counties. Collectively, this geographic area serves nearly 9,000 children through Head Start and Early Head Start. The Innovation Fund is supported by a group of 10 regional and national foundations.