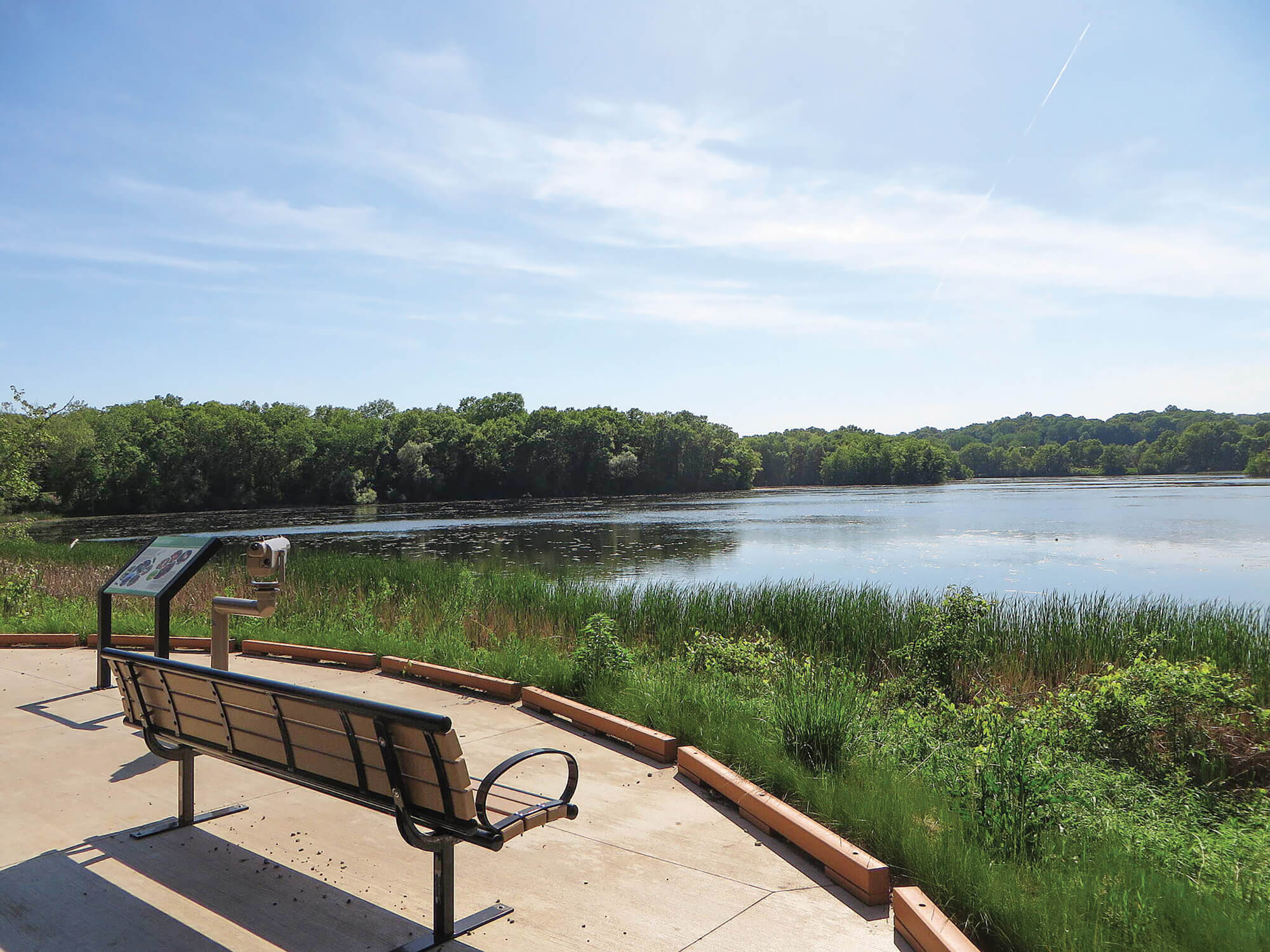 This story was originally published in our Spring 2022 REPORT Newsletter.
Public spaces are powerful.
They unite people from diverse backgrounds and inspire community. They provide opportunities for healthy activities and relaxation. They give young people safe places to play and explore. They improve our mental and physical well-being. During the COVID-19 pandemic, public spaces became a popular escape from isolation and anxiety. While many people poured into parks and playgrounds, trails, and waterways, the pandemic also highlighted a disparity in access for low income residents, communities of color, and people with disabilities. The need to create equitable, inclusive public spaces grew more urgent than ever.
For the past 30 years, the Community Foundation has been a leader in developing and maintaining public spaces that improve the quality of life in the region. Understanding both the needs of the community and endowment-building uniquely positions the Community Foundation to manage transformational public space projects from start to finish and beyond.
The Greenways Initiative is a prime example of a long-term Community Foundation public spaces  program. The far reaching endeavor began in 1999. It was funded through $33 million in foundation and private contributions. The initiative leveraged another $125 million of matching investments from government and other sources to establish more than 100 miles of connected greenways throughout southeast Michigan. The trails now stretch across more than 80 cities and towns, from the Dequindre Cut in Detroit to the Clinton River Trail in the heart of Oakland County to the Kensington Trail in Brighton.
Because the Community Foundation serves seven counties, and since natural trails don't know where city and county lines are, projects require that people and communities work together. The Community Foundation's history of convening and engaging people has been critical for some of this work.
Public space projects often need support for construction as well as maintenance. Because the Community Foundation is focused on short and long-term solutions, funds are used in perpetuity for their intended purpose.
Like many construction projects, public spaces can have unexpected delays and legal hurdles. Often, Community Foundation funds provide the leverage to keep projects moving.
A dozen years ago, the Community Foundation's Fund for Downtown Public Spaces was endowed to ensure that public spaces in and around downtown Detroit were protected, preserved, and maintained. The Kresge Foundation and others that supported this fund saw the opportunity to provide support to organizations that maintain parks and public spaces. The Community Foundation has provided more than $8.5 million to the Downtown Detroit Partnership, Midtown Detroit Inc., and the Detroit Riverfront Conservancy to assist with maintenance of spaces enjoyed by many every day.
Another example is The PARK Program Endowment Fund, which was established by The Detroit Pistons Foundation in 1995. The Fund provides support to maintain more than 20 parks in the city of Detroit. The Community Foundation tracks the parks and helps with maintenance and improvements through grants to organizations like the Greening of Detroit and the City of Detroit.
During the past five years, the Community Foundation's work in public spaces has continued to grow — in large part thanks to our continued partnership with the Ralph C. Wilson, Jr. Foundation.
The Community Foundation holds the Wilson Foundation's permanent endowment funds to foster public spaces in urban, suburban, and rural communities throughout southeast Michigan. For example, the Ralph C. Wilson, Jr. Fund for Design and Access supported a project in Marine City. Funding is providing a universally accessible kayak launch, an ADA compliant walkway system, and adaptive seating to allow park-goers of all mobility levels to access the waterfront.
And in 2021, the Community Foundation received $1.5 million from the Wilson Foundation to support activities at the Vernor Viaduct in Detroit. This is a unique partnership between Ford Motor Co. and the community surrounding the Michigan Central Station. The project aims to revitalize and create programming for public space around the viaduct, which connects Greater Corktown to Southwest Detroit. The Community Foundation will work with Southwest Solutions and other nonprofits to support these new activities.
The Community Foundation has additional funds for public spaces as well. In another project funded in 2021, support will help provide a beautification project at Shadyside Park in Mount Clemens. This grant will be used to create vibrant murals and continue construction on a children's splash pad at the park. The Community Foundation is working with the Anton Art Center to support the work as it progresses.
These are just a few examples of how the Community Foundation is supporting greenways, parks, playgrounds, and wildlife habitats — all of which are part of what make this region thrive. We encourage you to explore these places where all people can engage with each other or where, individually, one can enjoy beauty and quiet.