$20 Million in Grants to Support COVID-19 Relief Efforts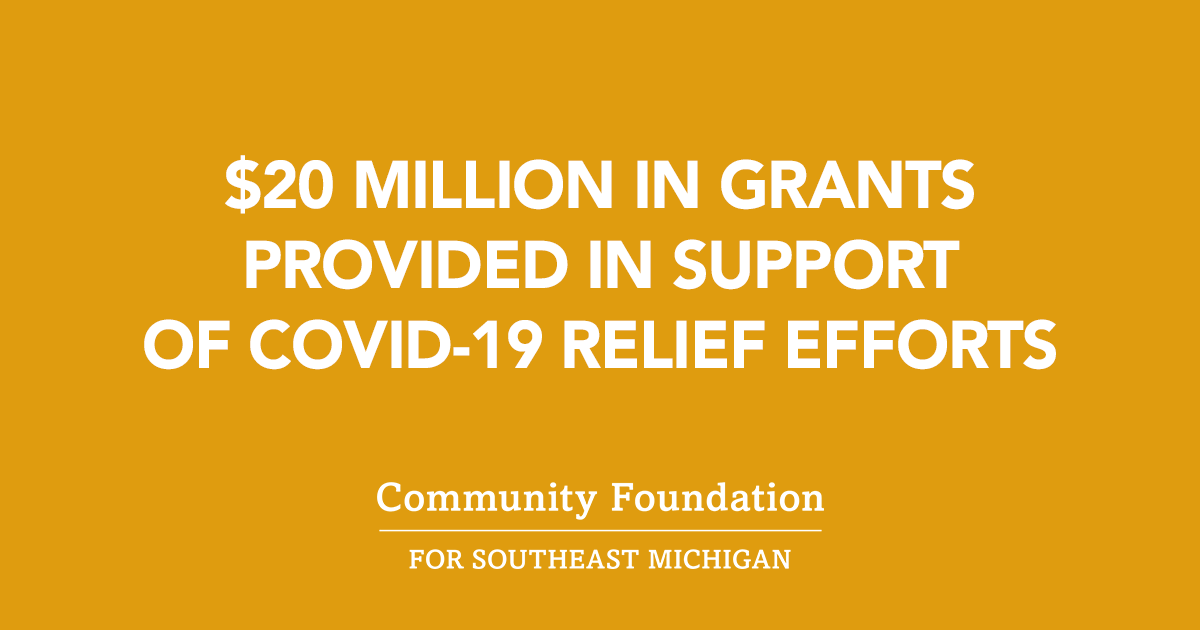 This is a brief update about where we have provided immediate grants to the community during this challenging time. Our goal is to support the necessary and vital services the community is providing to those in need.
The Community Foundation continues to closely monitor the events over the last few days, following the death of George Floyd. The systemic inequities that African-Americans have been subjected to are now being elevated and exposed nationwide. Our most recent response focuses on the economic and health disparities that we continue to see, both as a result of COVID-19 and more importantly, historically. We will be working in the coming days to talk to our partners across the community and identify what actions we can take to be most helpful as we move forward.
For COVID-specific work, the Community Foundation has raised $11.4 million and distributed $9.7 million to date. With an additional $10 million in grants provided by our donor advisers, the Community Foundation and its donors have provided nearly $20 million in grants since mid-March.

Support for Health Initiatives
The generosity of this community has resulted in a wide range of impacts. When COVID hit, testing was – and still is – an immediate need. In addition to providing grants to testing efforts for first responders, homeless and other key populations, we have also supported local Area Agencies on Aging, county health departments, and community-based health clinics. Most recently, we provided matching funds for 12 community health clinics across the region, leveraging FEMA funds. We also provided grants to frontline workers at three hospitals on behalf of the Detroit Pistons. 

We have also been turning our attention to the significant mental health needs of the community during this time. The advisors of our Raymond C. Smith Fund recommended an urgent grant to support the Detroit Wayne Integrated Health Network's launch of the Virtual Therapy Collaborative, a program designed to provide emergency, short-term mental health services for Detroiters.

Support for the Arts and Creative Community
Through the COVID-19 Arts and Creative Community Assistance Fund, which is supported by a group of local funders and housed at the Community Foundation, 50 grants of $10,000 each were recently approved. They are being deployed to Arts & Culture organizations that range in size from large to small and in location from St. Clair to Hamtramck. The team is shifting its focus to recovery and will be working on how to innovate within the sector, while also determining what long-term planning will be required to ensure the success of these important cultural treasures in our community. 

Small Business Relief
Our New Economy Initiative team has been working with small business grantees to activate a dozen new programs via the COVID Small Business Relief Fund, representing $5.2 million in funds for 22 organizations that are helping about 2,700 small businesses with rent relief, loan relief, technical assistance, general capital support in lieu of federal dollars, and much more. These programs touch small businesses across Detroit neighborhoods as well as other communities like Pontiac, Dearborn, Ypsilanti and Milan. 

More COVID-19 Work 
Through the broad COVID Relief Fund that was established, the Community Foundation team has been working to deploy funds for organizations and issues that have been uniquely impacted during this time. We were pleased, for example, to provide grants to nine domestic violence organizations across the seven counties for increased demand for services, as well as eight senior living facilities in the region to support staff capacity expansion and Personal Protection Equipment (PPE).

And, we've been doing much more in response to feedback about needs. 

We made the decision to convert our general grant program to support recovery efforts for the remainder of year. We will be looking for innovation and recovery plans to assist nonprofit organizations. We recently received once group of applications which is under consideration now. The deadline for the next round of grant applications is August 15. 
We are inspired by all that our nonprofit partners do and grateful for our community of donors.