Grants Made to Support Local Arts and Creative Community during COVID-19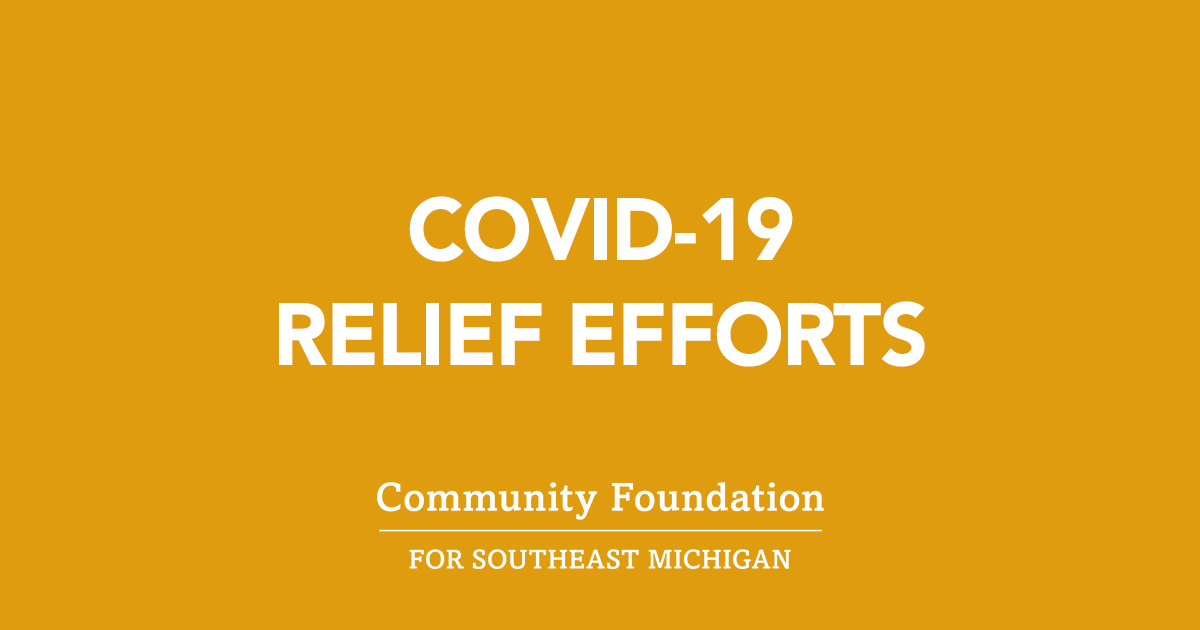 Through the COVID-19 Arts and Creative Community Assistance Fund, which is supported by a group of local funders and housed at the Community Foundation, 
50 grants of $10,000 each

 were recently approved.

In partnership with CultureSource, the grants are being deployed to Arts & Culture organizations that range in size from large to small and in location from St. Clair to Hamtramck. The Community Foundation program team is shifting its focus from recovery to innovation within the sector, while also determining what long-term planning will be required to ensure the success of these important cultural treasures in our community.

The COVID-19 Arts and Creative Community Assistance Fund is supported by the Community Foundation for Southeast Michigan, John S. and James L. Knight Foundation, DeRoy Testamentary Foundation, Ford Foundation, Kresge Foundation, Leinweber Foundation, Max M. and Marjorie S. Fisher Foundation, Peck Foundation, and William Davidson Foundation.
Arts and Creative Community Assistance Fund Grantees
826michigan
Ann Arbor Hands-On Museum
Anton Art Center
Arab American National Museum
The Ark
The Art Experience
Arts & Scraps
Birmingham Bloomfield Art Center
Black & Brown Theatre
Carr Center
Carrie Morris Arts Production
The CASOE Group
Charles H. Wright Museum of African American History
COMPAS
Deaf Professional Arts Network
Detroit Historical Society
Detroit Symphony Orchestra
Detroit Public Theatre
Detroit Sound Conservancy
Downriver Council for the Arts
Enter Stage Right
FAR Therapeutic Arts and Recreation
Garage Cultural
Heidelberg Project
Holocaust Memorial Center
InsideOut Literary Arts
Living Arts
Macomb Center for the Performing Arts
Matrix Theatre Company
Mexicantown Development Corp.
Michigan Science Center
Mosaic Youth Theatre of Detroit
Motown Museum
N'Namdi Center for Contemporary Art
Neutral Zone
Paint a Miracle
Paint Creek Center for the Arts
Pewabic Pottery
Popps Packing
Power House Productions
Riverside Art Center
Scarab Club
Shakespeare in Detroit
Shua Group / Andy
Signal-Return
St. Clair Art Association
Troy Historical Society
WDET
We Are Culture Creators
Youth Arts Alliance
Would you like to support the Arts and Creative Community Assistance Fund?