2018 NEIdeas Winners Announced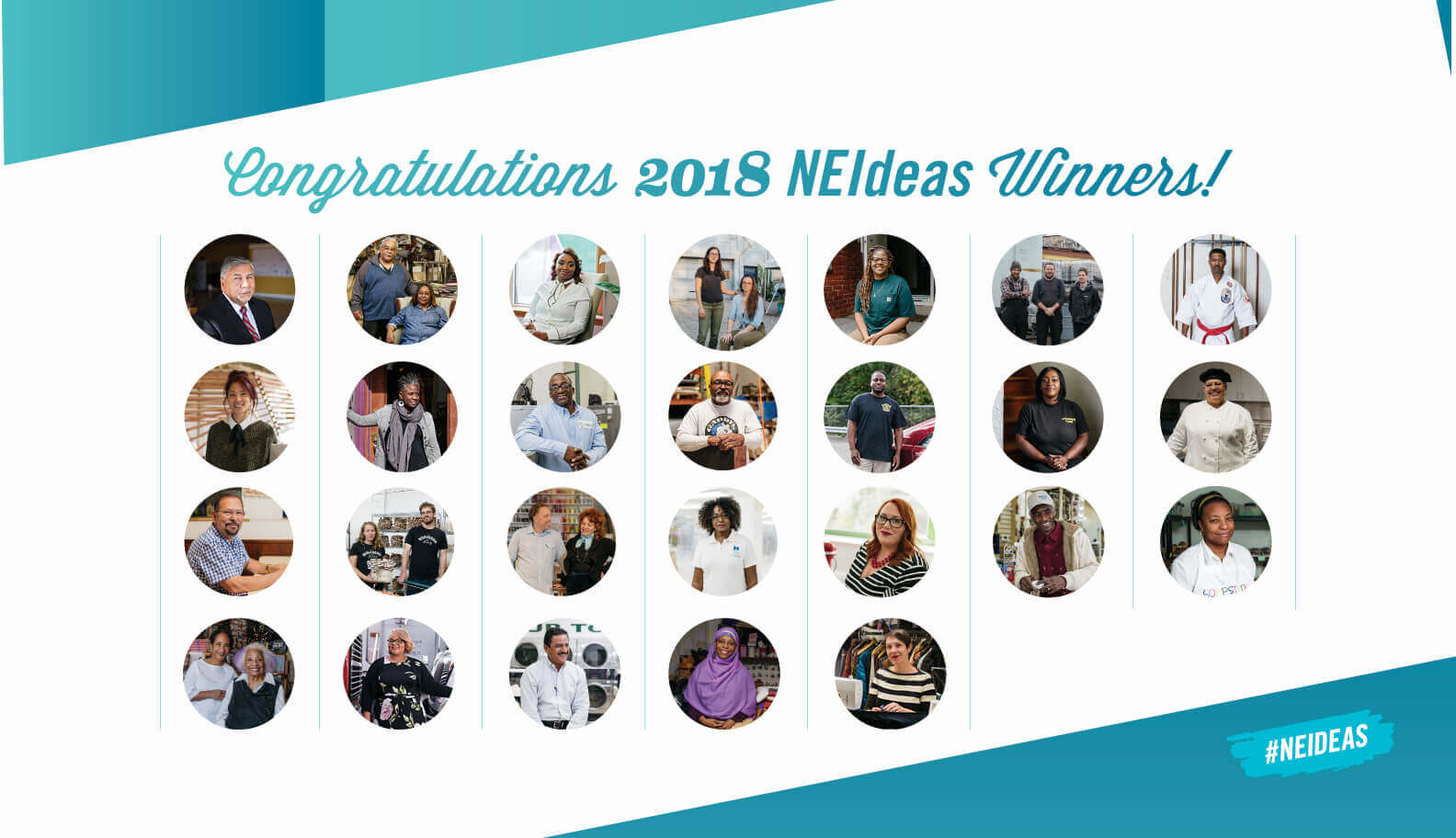 New Economy Initiative Awards $260K to Small Businesses Across Detroit, Hamtramck, and Highland Park – NEIdeas Program has Awarded $2.16M to 144 Businesses since 2014
In its fifth year, the NEIdeas small business challenge is awarding 26 businesses $10K grants Winners to be celebrated at Nov. 8 gala at the Fisher Building in Detroit
A program of the New Economy Initiative, NEIdeas has awarded a total of $2.16M to 144 businesses across Detroit, Hamtramck, and Highland Park since 2014
DETROIT (8 November 2018) – Today the New Economy Initiative (NEI) announced $260K in awards to small businesses in Detroit, Hamtramck and Highland Park. This is the fifth year of the NEIdeas Small Business Challenge, one of the first grants programs geared specifically toward existing "been-up" businesses in southeast Michigan. See below for names and images of the 2018 winners.
NEI launched the NEIdeas: Rewarding Ideas for Business Growth challenge in 2014, asking existing businesses—those that are at least three years old—to share their ideas for growth for a chance to win cash grants to realize those ideas. To date, NEIdeas has awarded a total of $2.16 million to 144 businesses – one business for every square mile of Detroit, Hamtramck, and Highland Park. Thatnumber includes this year's 26 winners, who will be recognized at a special gala event this evening atthe Fisher Building in Detroit. (See below for a full list of 2018 winning businesses and their ideas for growth.)
"Though they might lack capital and connections to resources, neighborhood small businesses have no shortage of great ideas for growth,'' said Pam Lewis, NEI's director. "The NEIdeas challengeaccomplished what we set out to do—connecting been-up businesses to a network of support that canhelp them realize their ambitions and thrive. We're thrilled to honor another group of neighborhood entrepreneurs and businesses who mean so much to their communities."
In 2018, 77 percent of NEIdeas winners are minority-owned businesses, and 65 percent are women- owned businesses. They represent a variety of sectors, including service, retail, manufacturing, entertainment, food, creative, medical, and more.
"NEIdeas was designed to engage community partners to reach people and business owners who don't necessarily have access to resources," says James Feagin, outreach director for NEIdeas. "We'veworked diligently over the years to establish relationships with organizations across Detroit, Hamtramck, and Highland Park and have them serve as our ambassadors – a critical part of oursuccess. They serve as our evangelists, encouraging businesses in their communities to apply. We'vesucceeded in building connections between neighborhood businesses and resources that will endurefor years to come."
NEIdeas has a network of 29 ambassador organizations that make themselves available to applicants, providing encouragement and guidance on how to write a strong application. For a full list of ambassadors, visit NEIdeasDetroit.org/ambassadors.
During this year's month-long NEIdeas application period (May 1-June 1), NEI held eight information sessions across Detroit, Hamtramck, and Highland Park, including a bi-lingual session for Spanish speakers. An NEIdeas street team distributed thousands of flyers printed in five languages (English,
Spanish, Arabic, Bengali, and Polish) to businesses along commercial corridors in the three cities. Global Detroit, a nonprofit dedicated to fueling robust economic growth in southeast Michigan through immigrant inclusion, helped spread the word about NEIdeas to immigrant and non-English speaking business owners.
"We have an inclusive process for attracting applicants who ultimately have the opportunity to receive $10K for their business," says Paula Gonzalez, a program officer with the New Economy Initiative whomanages the NEIdeas challenge. "The NEIdeas application process was specifically designed with thesmall business owner in mind, and we are proud of the diverse collection of winners throughout theyears."
At the close of the application period, more than 600 businesses had submitted ideas for growth. The application pool was then narrowed by NEIdeas staff and evaluated by a jury of past NEIdeas winners, small business advocates, journalists, and community development professionals. The jury ultimatelyrecommended this year's winners to the Community Foundation for Southeast Michigan, NEI's parentorganization that awards NEIdeas grants.
To date, NEIdeas has received more than 2,800 applications from businesses representing every ZIP code in Detroit, Hamtramck, and Highland Park. All applicants are invited to business growthopportunities in NEI's larger network of resources, including capital programs like Motor City Match andMotor City Re-Store and entrepreneur training programs.
"We're proud of the ways we've made this challenge accessible to everyday business owners in our community," said Lewis. "When you look at our cohorts of winners, they truly represent the cities ofDetroit, Hamtramck, and Highland Park. More important than making grants, we've connected hundreds of neighborhood businesses to a wider ecosystem of support."