Community Foundation Board Approves $48 Million in Grants for Second Quarter, Recognizes Zaman International, Two Community Leaders for Service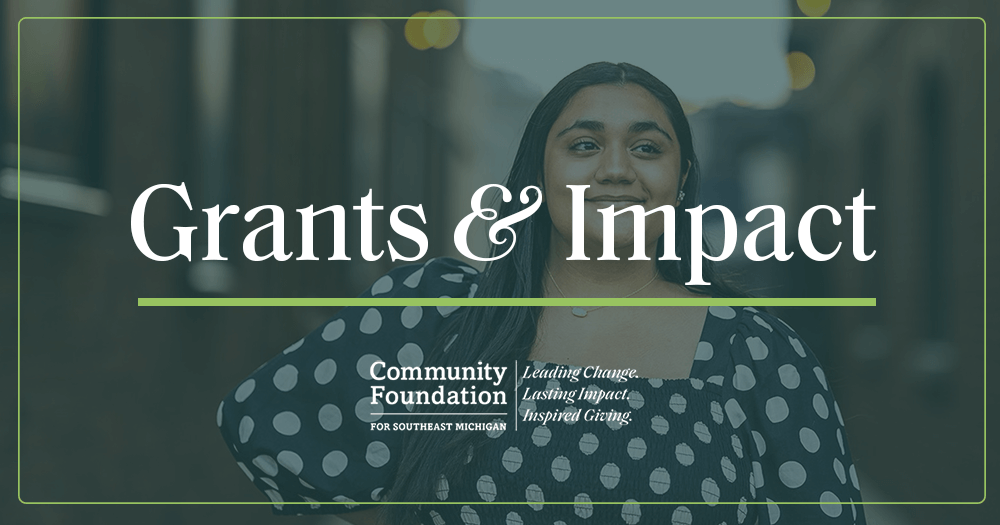 The Community Foundation for Southeast Michigan and its supporting organizations provided combined grantmaking of more than $48 million during the second quarter to support nonprofit organizations and local governments. In addition to approving the grants to support arts and culture, community development, education, environment, health and you, the Board of Trustees also presented three leadership awards during its recent annual meeting.
"We are honored to provide funding to organizations in our region for initiatives that genuinely make a difference for everyone in southeast Michigan," says Richard (Ric) DeVore, president of the Community Foundation for Southeast Michigan. "These organizations are the true heroes, on the frontlines of a robust network creating positive change. It is a privilege to support their work."
Grants approved include:
ARTS AND CULTURE
Ann Arbor Symphony Orchestra, Inc. – $50,000 to collaboratively produce concerts and educational workshops to promote diversity and equity in the region
Arab Community Center for Economic and Social Services (ACCESS) – $100,000 for the Arab American National Museum and its neighborhood touring program, which explores local communities and their contributions to the region
Automotive Hall of Fame – $50,000 for a museum exhibition to educate the community about African American contributions to the automotive industry
Birmingham Bloomfield Art Center, Inc. – $40,000 over two years for a visual arts program for both patients with Alzheimer's or other dementia and their caregivers
College for Creative Studies Grants – $32,150 for the Community Arts Partnership program to redevelop their Teaching Artist training
G1 Impact – $35,000 for developing the art landscape in southeast Michigan and growing capacity for artist development and regional arts programming
Hospice of Michigan, Inc. – $50,000 over 18 months for a music therapy program for end-of-life care for adult and pediatric hospice patients and their caregivers
Regents of the University of Michigan – Dearborn – $30,000 for a series of documentaries made in collaboration with visiting filmmakers and Dearborn's Arab American community
Services to Enhance Potential – $59,986.54 for the Progressive Art Studio Collective and professionalizing a program for artists with developmental disabilities and mental health needs
Signal Return, Inc. – $65,000 for community engagement and letterpress printmaking programs
Sphinx Organization, Inc. – $100,000 for programming and education to advance diversity, equity, inclusion, and accessibility in the field of classical music
COMMUNITY DEVELOPMENT
Isaac Agree Downtown Synagogue – $60,000 for providing shared workspace to serve as a Detroit hub for mission-driven organizations throughout the region
EDUCATION
Diploma Equity Project – $55,000 for a student-designed support system to eliminate the degree completion gap at Eastern Michigan University
Neutral Zone, Inc. – $50,000 to expand a career and college exploration high school program
Oakland University Grants – $50,000 for the Pontiac Math Corps program expansion leveraging the OU-Pontiac Initiative
Siena Literacy Center – $69,970 to develop a community resource pilot program for adult learners in Detroit
Eastside Community Network – $30,000 for an after-school college and career readiness program for student athletes in Detroit
Wayne State University – $58,000 for a program expansion for a STEM-focused education career pipeline        
ENVIRONMENT
Charter Township of Brandon – $29,300 for making the Community Park accessible for more residents of the area
Detroit Future City – $75,000 for research and piloting an Open Space Land Conservancy in Detroit
Industrial Sewing and Innovation Center (ISAIC) – $75,000 Support for implementing a sustainability-focused production model for textile waste
HEALTH 
Alzheimer's Disease and Related Disorders Association, Inc. – Greater Michigan Chapter – $75,000 over two years to expand dementia outreach and services to African American residents in Wayne, Oakland, and Macomb counties
Charter Township of Oxford – $12,645 over two years for a community CPR pilot program
Eastern Market Corporation – $50,000 for its Farm Stand program to bring affordable fresh produce grown by local farmers to neighborhoods throughout Detroit and Wayne County
PACE Southeast Michigan – $75,000 for a strategic marketing campaign to better reach and engage older adults in southeast Michigan.                   
YOUTH
America's Promise – The Alliance for Youth, Inc. – $75,000 for launching Detroit as an Alliance Partner City
Henry Ford Learning Institute – $62,050 Support for a leadership and entrepreneurship program expansion for Detroit youth
The Community Foundation Board of Trustees also announced three awards for community leadership:
"Zaman International, Dean Kubiak and Paul Hillegonds represent exemplary leadership for serving others in our region," DeVore says. "They are to be commended for their innovation, collaboration, compassion and impact – attributes the Community Foundation values in our partnerships."
The Richard Huegli Award for Program Excellence was presented to Zaman International. The award was accepted by Najah Bazzy, founder and CEO, Zaman International. The Richard F. Huegli Award honors a nonprofit that demonstrates high standards in human services programming and belief in human potential. Zaman is a nonprofit organization committed to advancing the lives of marginalized women and children by empowering them to break the cycle of poverty. Founded as a grassroots group of volunteers in 1996, Zaman has grown to a world-class nonprofit organization that has helped more than 3 million people around the world. Zaman's assistance ranges from necessities to life skills, education and vocational training and workforce development programs. Internationally, the organization collaborates with partners to assist those in need of clean water and relief from natural disasters.
The Mariam C. Noland Award was presented to Sheryl Kubiak, PhD. This award recognizes a nonprofit executive in southeast Michigan whose service exemplifies the importance of leadership in their organization and the nonprofit community.
Dean Kubiak leads the Wayne State University School of Social Work and is the Founding Director of the Center for Behavioral Health and Justice (CBHJ). CBHJ works to empower communities to use research, data, and best practices to enhance the well-being of individuals with mental illness and/or substance abuse issues who encounter the criminal legal system.
Dr. Kubiak has been a key partner to the Community Foundation through our Michigan Opioid Partnership and Michigan Justice Fund efforts, both statewide efforts.
Paul Hillegonds was presented with the Allan D. Gilmour Award for Community Leadership.  This award recognizes a member of the Board of Trustees for that person's exemplary volunteerism and philanthropy, both to the Community Foundation and the broader community.
Hillegonds has been a Community Foundation trustee since 2014. He's given countless hours serving on the Executive and Governance committees, as well as on the boards of the DMC and Russell Family Foundations.
Outside of the Community Foundation, throughout his career, Hillegonds demonstrated unparalleled civic leadership in our region and state through his public service and philanthropy. He served in the Michigan House of Representatives from 1979 to 1996, including a term as co-speaker of the state House. He was a member of the Kresge Foundation Board of Trustees from 2004 to 2022. A champion of regional collaboration, Hillegonds was a founding board chair of the Regional Transit Authority of Southeast Michigan.