Community Foundation Awards More Than $26 Million in Grants and Elects 3 New Trustees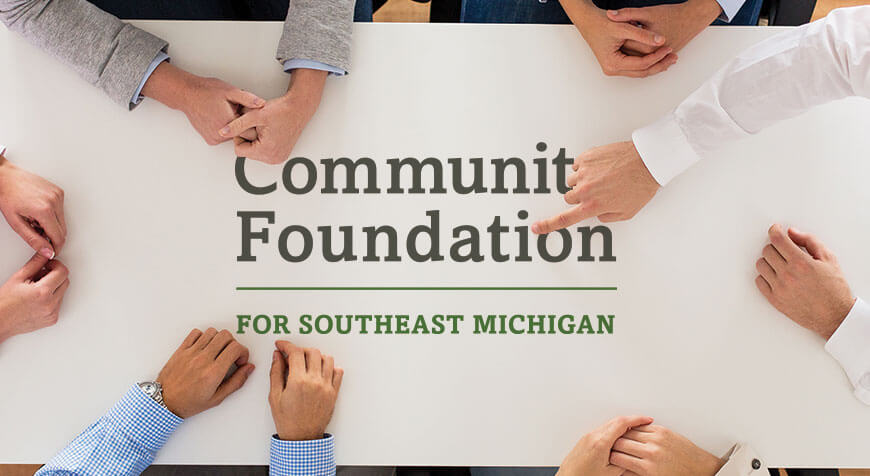 FOR IMMEDIATE RELEASE
DETROIT — At their June 18, 2015 Annual Meeting, the board of trustees of the Community Foundation for Southeast Michigan elected three new members and approved grants totaling more than $26 million.
The board is pleased to welcome the following newly-elected trustees:
Jennifer Fischer, Civic Leader.
Stephen R. Polk, President and CEO, Highgate, LLC.
Judge Gerald E. Rosen, Chief Judge of the U.S. District Court for the Eastern District of Michigan.
The Community Foundation for Southeast Michigan takes a regional approach to community investment. The grants primarily benefit nonprofits across the seven counties of southeast Michigan and support programs ranging from arts and culture, education and health to economic development, the environment and support for youth and the elderly.
Among the grants awarded are:
ARTS AND CULTURE
Arab Community Center for Economic and Social Services (ACCESS), $150,000 over two years for arts classes and tours for older adults living in low-income and assisted living facilities
Detroit Symphony Orchestra, $250,000 summer programming and the development of a long-term summer program strategy
Detroit Zoological Society, $75,000 for designing the interpretive content for the Polk Penguin Conservation Center
CIVIC
Habitat for Humanity of Monroe County, $75,000 over two years for Habitat HOPE, a financial coaching program for low-income apllicants for home ownership
Michigan Community Resources, $50,000 for data gathering, analysis, technical assistance and educational support to develop neighborhood commercial capacity on the Est Side of Detroit
HUMAN SERVICES
Ozone House, $20,000 for determining the feasibility of considering two locations, building additional housing and creating a social enterprise that employs homeless youth
YOUTH
Allied Media Projects, $20,000 over 16 months for capacity building of the Grace Action Youth Media Collective, a youth leadership and economic empowerment project in southwest Detroit
The Community Foundation for Southeast Michigan is a full-service philanthropic organization leading the way to positive change in our region. The Community Foundation is a permanent community endowment established in 1984 and built by gifts from thousands of individuals and organizations committed to the future of southeast Michigan. It supports a wide variety of activities benefiting education, arts and culture, health, human services, community development and civic affairs. Since its inception, the Foundation has distributed nearly $700 million through more than 52,000 grants to nonprofit organizations throughout Wayne, Oakland, Macomb, Monroe, Washtenaw, St. Clair and Livingston counties. For more information about the Community Foundation for Southeast Michigan, its grant making, special projects and initiatives, please visit www.cfsem.org.