Stebbins Family Fund Awards $100K In Matching Grants To St. Clair, Lapeer Based Charities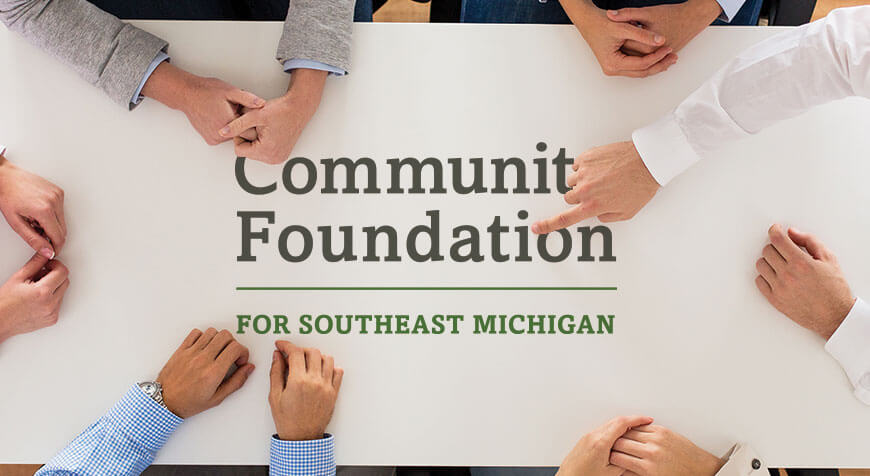 Includes Five Matching Grants of $20,000 Each
FOR IMMEDIATE RELEASE
DETROIT—The Stebbins Family Fund, administered by the Community Foundation for Southeast Michigan, will award $100,000 in five matching grants of $20,000 each to St. Clair and Lapeer County-based charities. Each will have 12 months to raise one-to-one matches from new or increased donor gifts.
To raise the matching funds, the charities will utilize fundraising skills learned at a recent, two-day training provided by the Stebbins Family Fund. The Johnson Center for Philanthropy at Grand Valley State University facilitated the training, as well as provided one-on-one follow-up coaching to the organizations.
With roots in Port Huron, Mich., the Stebbins Family Fund was established at the Community Foundation for Southeast Michigan by the Stebbins Family in 2005 after a family member won the lottery and became commited to giving back to the community. Its mission is to support charitable organizations that improve the quality of life for residents in southeast Michigan, most specifically in St. Clair and Lapeer counties.
The fund, which has made grants of more than $5.5 million since its founding, recognizes that there are many children and families in financial need. As a result, grants are typically made to public charities that benefit children and families with a preference to those of modest means.
Charities selected to receive the grants are:
City of Port Huron Recreation Department, Port Huron
The Port Huron Recreation Department is constantly looking for ways to provide: recreation opportunities that families can participate in and a better quality of life for a low cost. The organization will utilize the matching funds to increase support for Color Craze – a chartitable race geared towards all ages and abilities where participants are doused with color at five stations along the color train. Funds raised from the event help the Department's core programming and supports recreation activities for youths and families.
Kids in Distress Services, St. Clair
Kids in Distress (KIDS) provides free clothing to underprivileged and displaced children. For each child referred to the agency, guardians will receive five sets of clothes, outerware, shoes and additional age-appropriate items such as diapers, baby wipes and hygiene products. In 2010, the organization assisted more than 14,000 children, mostly through the help of volunteers and donations. KIDS will utilize its matching grant to encourage donors to contribute to store operations and purchase greatly needed new shoes, socks and underwear for children in need.
Literacy and Beyond Inc., Port Huron
An education-focused organization, Literacy and Beyond, Inc.'s mission is to improve the reading skills and overall academic achievement of economically disadvantaged students. It addresses its mission primarily through "Reading Pays!," a program that provides free books or cash award incentives for students to read and build home libraries, as well as certified teacher support in local classrooms. With the matching grant, the organization will seek to expand their donor base and awareness of the need for literacy-based educational programs.
Stone Soup Food Pantry, Lapeer
Stone Soup Pantry provides bakery, produce, meat, dairy and non-perishable food to the hungry throughout Lapeer County. It also supports other pantries and kitchens in the county through excess food donation assistance. Stone Soup Pantry will use the matching funds to attract new donors and encourage increased gifts from existing donors.
Paul Mitchell – The School Great Lakes, Port Huron Township
The Paul Mitchell – The School Great Lakes takes part in numerous third-party fundraising initiatives for charities throughout the county. Each year, future professionals and staff donate their time, talent and energy to support charitable causes, such as the Children's Miracle Network and Magic Johnson Foundation, through activities including bake sales, fashion shows, cut-a-thons and grassroots outreach. Paul Mitchell staff will put their new fundraising skills to work by inspiring future professionals to come up with creative ideas for the next campaign that will inspire other donors to give to their effort.
The Community Foundation for Southeast Michigan is a full-service philanthropic organization leading the way to positive change in our region. As a permanent community endowment built by gifts from thousands of individuals and organizations committed to the future of southeast Michigan, the Foundation supports a wide variety of activities benefiting education, arts and culture, health, human services, community development and civic affairs. Since its inception, the Foundation has distributed more than $598 million through more than 47,000 grants to nonprofit organizations throughout Wayne, Oakland, Macomb, Monroe, Washtenaw, St. Clair and Livingston counties.