Community Foundation for Southeast Michigan announces more than $14.5 million in grants, award to honor Allan D. Gilmour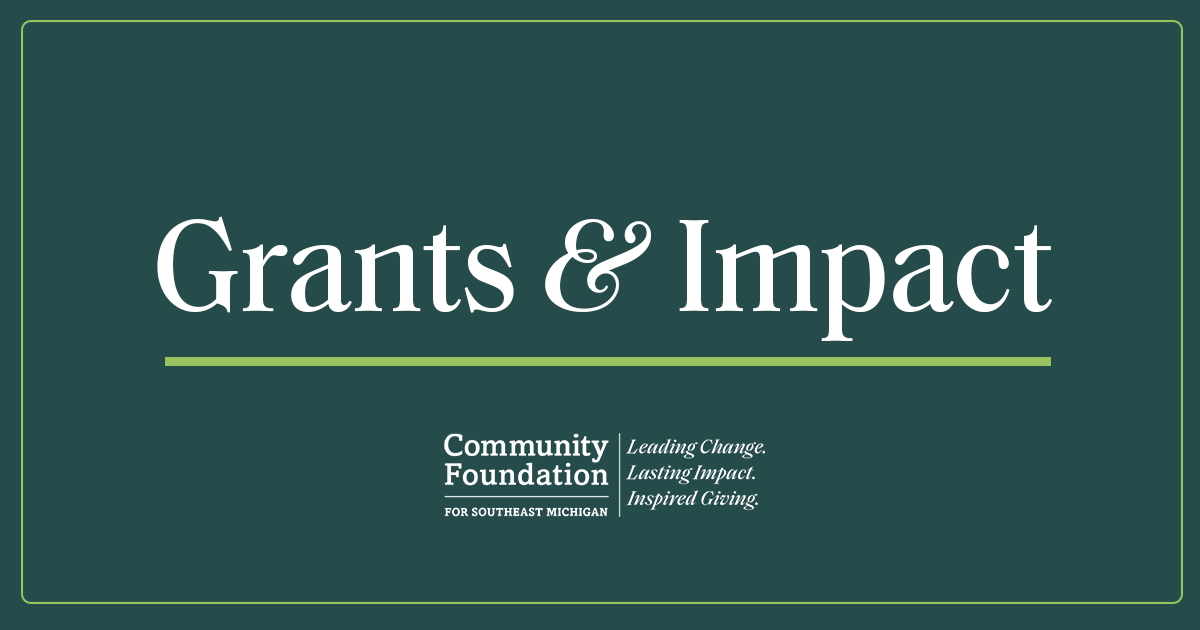 The Community Foundation for Southeast Michigan approved more than $14.5 million of grants in support of nonprofit organizations working to make a positive, permanent impact in our region and announced the creation of the Allan D. Gilmour Award for Community Leadership during its third-quarter Board of Trustees meeting. 
The award will recognize a member of the Board of Trustees for that person's exemplary volunteerism and philanthropy, both at the Community Foundation and within the broader community. A permanent endowment fund will be established at the Community Foundation to support grantmaking associated with the award.  
Gilmour is a current member and former chair of the Board of Trustees and active within the Community Foundation as the founder and president of the Gilmour-Jirgens Fund, a director of the DMC Foundation and the Foundation for Detroit's Future, and a long-standing member of the Investment Committee. Gilmour also led The HOPE Fund Committee at the Community Foundation for the past 25 years. He has moved into an honorary position with that fund, which works to strengthen organizations and projects that support LGBTQ+ individuals and families. HOPE Fund Committee members Sabin Blake and Stacey Cassis will take over as co-chairs. 
"Allan's contributions to the growth, governance, and impact of the Community Foundation are immeasurable," says Community Foundation President Ric DeVore. "In addition, Allan's civic leadership outside his service to the Community Foundation is too vast to detail, but it includes a term as president of Wayne State University and service on many nonprofit boards." 
During the Board of Trustees meeting, the Community Foundation Board of Trustees also approved $14,565,237 million in grants for the third quarter of 2022. The funds will support organizations primarily in southeast Michigan working on issues including arts and culture, community development, education, environment, health and youth.
Grant highlights include the following.
 ARTS/CULTURE  
Allied Media Projects Inc.

– $26,800 for Essay'd in Print LLC for actionable research on the southeastern Michigan art economy to advocate for increased funding in an equitable manner 

 

Arts League of Michigan, Inc.

– $50,000 for introducing audiences to a newly opened performance studio and expanded program offerings 

 

City of Orchard Lake Village

– $9,100 for the Greater West Bloomfield Historical Society to digitize the history of local schools and make the collection accessible both in the museum and online 

 

Detroit Public Theatre

– $50,000 over two years for expanded Shakespeare in Prison programming 

 

Marygrove Conservancy

– $15,000 for Speramus Partners, LLC for a public art project in the Bagley neighborhood of Detroit 

 

Midtown Detroit, Inc.

– $100,000 over two years to develop and deliver collaborative public programming among the arts and cultural institutions of Detroit's Cultural Center 

 
COMMUNITY DEVELOPMENT  
Faith in Action Network

– $75,000 for Force Detroit to train peacemakers using evidence-based community violence intervention strategies  

 
EDUCATION  
Davenport University

– $75,000 to develop Casa Latina, a bilingual, multicultural undergraduate/ graduate academic online curriculum  

 

Girls Group

– $50,000 to expand a college and career prep program for 11th-grade girls in Washtenaw County 

 

Give Merit, Inc.

– $75,000 for organizational capacity building 

 

Wayne State University

– $65,000 to create a professional development model and learning community for social studies curriculum development for K-12 teachers in southeast Michigan 

 
ENVIRONMENT  
Friends of the Rouge

– $65,000 over two years for engaging the community in identifying and addressing environmental justice issues in the River Rouge watershed 

 
HEALTH  
Affirmations Community Center

– $50,000 to expand onsite behavioral health services and increase program sustainability 

 

American Red Cross of Southeast Michigan

– $50,000 to expand community outreach and engagement to triple the blood donor base for Black patients with sickle cell disease 

 

Henry Ford Health System

– $75,000 to expand a perinatal behavioral health services pilot program 

 

Lions of Michigan Service Foundation, Inc.

– $40,000 over two years for a mobile screening pilot in Wayne and Monroe counties to prevent vision loss 

 
YOUTH  
Student Advocacy Center of Michigan, Inc.

– $65,000 for the expansion of a student rights helpline for a no-cost connection to resources