Crain's Detroit Business celebrates Surabhi Pandit among Notable Leaders in DEI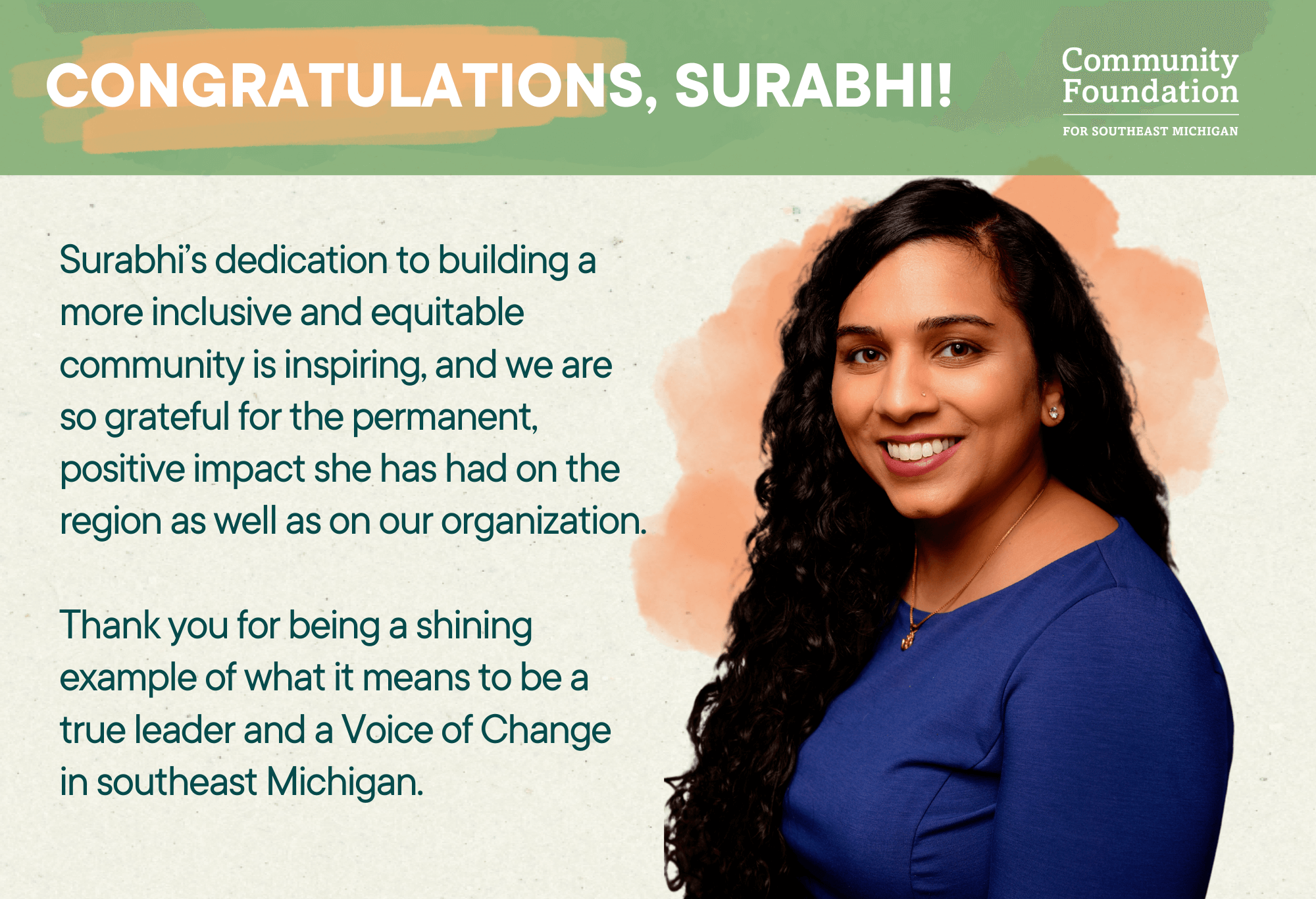 Crain's Detroit Business has selected Surabhi Pandit — the Community Foundation's director of Diversity, Equity and Inclusion & Community Engagement — among this year's cohort of Notable Leaders in DEI.
These esteemed leaders champion diverse workforces, equitable and just ­financing, housing and education, and inclusive, welcoming opportunities. They hold difficult conversations, create innovative opportunities and take training to a higher level.
Peers, colleagues, friends and family nominated this group of Notable Leaders in DEI. Crain's Detroit Business editors selected the leaders based on their career accomplishments, track records of success and impact in their ­fields and communities.
Surabhi led the creation of a DEI strategy at the Community Foundation that includes measurable goals, internal policies to promote staff well-being and inclusion, and education sessions on racial equity, anti-ableism, bias, belonging and inclusion.
She successfully advocated for more inclusive policies, such as a 4 1/2-day work week and increased paid time off and was instrumental in starting more DEI training at the foundation.
Pandit also led the launch of the Southeast Michigan Immigrant & Refugee Funder Collaborative, which supports immigrant and refugee nonprofits in the region and has raised close to $900,000 in grants for housing, health care, legal services and other resources.
Surabhi's dedication to building a more inclusive and equitable community is inspiring, and we are so grateful for the permanent, positive impact she has had on the region as well as on our organization.
Learn more about Surabhi's work and join her in sustaining a legacy of positive change for southeast Michigan here.