First Generation College Students: I can relate.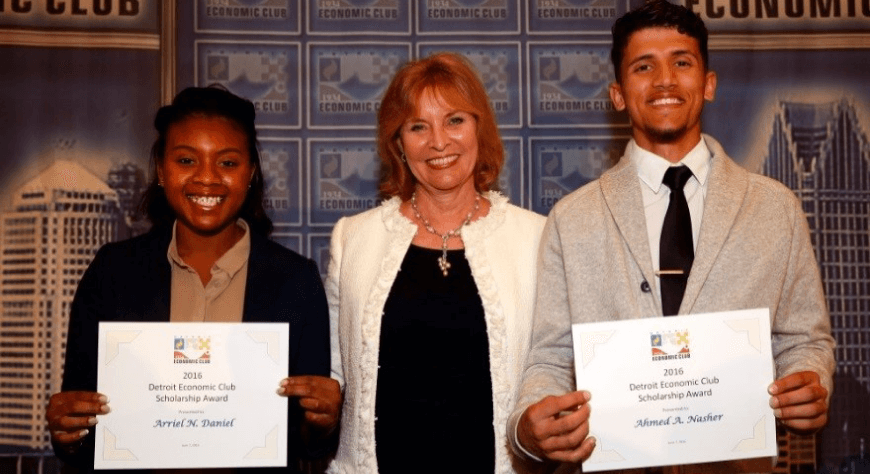 I was the first in my family to go to college. I started at a community college, but wasn't able to afford finishing my bachelor's degree until several years later when I started working for the University of Tampa.
Working with students from all walks of life who applied for scholarships at the Community Foundation for Southeast Michigan this year, I would stop every so-often and think: I can relate. Maybe the scholarship will mean that they will not have to take a few semesters off to earn more money.  Maybe they will be able to cut back to one job instead of two in order to stay in class with their peers. My own experience tells me that scholarship recipients have a better chance of completing their degrees because it makes financing a college education more affordable.  Scholarships allow students to offset the cost of tuition by eliminating or minimizing the burden of future student loan debt.
Knowing where to begin the process of financing a college education can be a daunting prospect for many students and their families. I can relate. Coming from a background that lacked a college-going culture, I found the prospect of attending and financing my college education intimidating and isolating. The Community Foundation recognizes that educational opportunity and attainment are key to sustaining strong and healthy communities, so we partner with schools, community organizations and local college access networks to spread the word about the scholarship opportunities.
There are over 43 scholarships available through the Community Foundation, thanks to generous donors who care about the future of our region and its young people. The Community Foundation manages scholarship funds with varied eligibility criteria such as financial need, merit, geographic area or field of study.  Students submit only one application via our online portal, which confirms the student's scholarship eligibility for all of the competitive scholarship programs that the Community Foundation oversees.
One such program is the Detroit Economic Club Scholarship Program, which awards two renewable scholarships of $2,000 each to students from Detroit and Macomb, Oakland, and Wayne counties entering college as a freshman in the fall. Since 1994, the Community Foundation has awarded 151 Detroit Economic Club Scholarships totaling $291,768.
Hope and perseverance are the two words that best describe Arriel N. Daniel, a 2016 Detroit Economic Club Scholarship recipient, who graduated from West Bloomfield High School this June with a 3.5 grade point average.  Despite being the main caregiver for an ill parent, Arriel stayed focused on her studies and also found time to participate at West Bloomfield High School as a varsity cheerleader and in her community by volunteering at a local daycare center, St. Joseph Mercy Oakland, and McLaren Cancer Institute.
When describing Arriel, her counselor wrote, "despite suffering the loss of both parents, Arriel has somehow managed to not only maintain her level of excellence in the classroom and in her activities, but she has done so with grace, compassion, and love." Arriel attributes the kindness and compassion that she and her late mother received throughout her mother's cancer treatments as the inspiration for her to pursue a career in nursing.  Arriel will attend Western Michigan University in September and major in nursing.  Upon graduation, she plans to pursue a future career as a Nurse Practitioner.
Recently, I received a lovely thank you note from Fatou Sow, a 2015 Donna Adams Scholarship recipient, who wrote to update the Foundation on her progress at school.  She shared that she had completed her freshman year at Howard University with a 3.6 G.P.A., and that she participated in two study abroad trips this summer in Senegal and Egypt.  Her note included a photo of Fatou smiling broadly as she poses in front of pyramids in the Egyptian dessert.
Through my work managing the scholarship process for the Community Foundation, I have the privilege of seeing how scholarship programs impact students like Arriel and Fatou by supporting their educational goals and broadening their horizons. I wish them and rest of the Foundation's scholarship recipients all the best as they continue their studies.