Professional Development Grants Help Increase Capacity of Brightmoor Community Leaders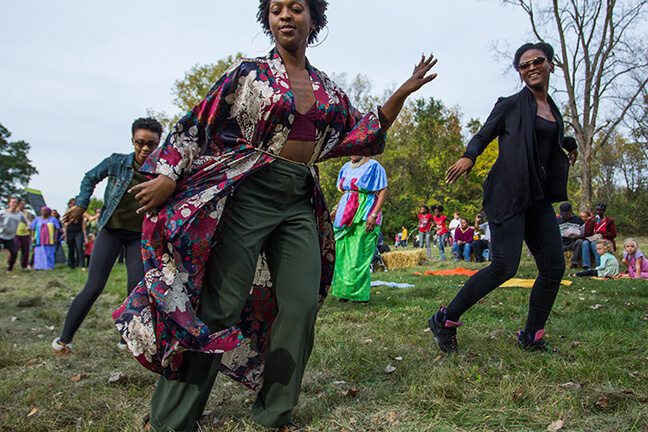 DETROIT, MI – The Community Foundation for Southeast Michigan, with support from the Max M. & Marjorie S. Fisher Foundation, has provided a second year of funding for staff training and professional development for Brightmoor-neighborhood leaders tackling economic and neighborhood revitalization. Through the "Supporting Brightmoor Leaders" program, individuals from 23 social impact organizations are receiving a collective $100,000 to support staff participation in capacity building workshops, trainings, peer exchanges, and conferences.
The 23 Brightmoor neighborhood organizations that are being awarded grants through the program include: Alice in Wonderland, Brightmoor Artisans Collective, Brightmoor Maker Space, Children of the Rising Sun, City Year, Cody Rouge Community Action Alliance, Crystal Swann LLC, Kristy's Development Center, Development Centers Inc., Everybody Ready, Grandparents Parenting Again, Great Ebenezer Child Care Center, Good Grief, Gwen's Heaven's Angels, Jill's Creative Learning Center, Little Scholars, Mission: City, Rainbow Haven, Squiggles & Giggles, Sidewalk Detroit, Urban Link Village, Village of Shiny Stars and Wellspring.
In 2017, the Community Foundation and Fisher Foundation distributed $100,000 to 28 community leaders.
"We have learned so much from the leaders in Brightmoor and are happy to partner with them again on this project," says Meredith Freeman, senior program officer, Max M. & Marjorie S. Fisher Foundation. "The Brightmoor community is a better place because of their commitment."
This funding provides capacity building grants for Brightmoor social impact organizations and individual neighborhood leaders that oversee a myriad of community-focused initiatives, including arts and humanities, economic development, environmental and urban affairs, and early childhood education. The grants are focused on talent development that supports business and leadership training, as well as providing the opportunity to connect and engage with similar civic leaders.
"The grant-supported professional development opportunities for these critical community organizations will equip staff with even more knowledge and training to ensure that their impact is maximized," says Mariam Noland, president, Community Foundation for Southeast Michigan
The Community Foundation for Southeast Michigan is a full-service philanthropic organization leading the way to positive change in our region. As a permanent community endowment built by gifts from thousands of individuals and organizations, the Foundation supports a wide variety of activities benefiting education, arts and culture, health, human services, community development, and civic affairs.  Since its inception, the Foundation has distributed more than $963 million through nearly 63,000 grants to nonprofit organizations throughout Wayne, Oakland, Macomb, Monroe, Washtenaw, St. Clair, and Livingston counties.
Max M. & Marjorie S. Fisher Foundation works to enrich humanity by strengthening and empowering children and families in need. In the Jewish tradition of justice (tzedakah), the Foundation works to repair the world (tikkun olam) in partnership with organizations and volunteers who share our mission. For more information, visit mmfisher.org.
Learn more about the Supporting Brightmoor Leaders Initiative