Sidewalk Detroit Encourages Art in Brightmoor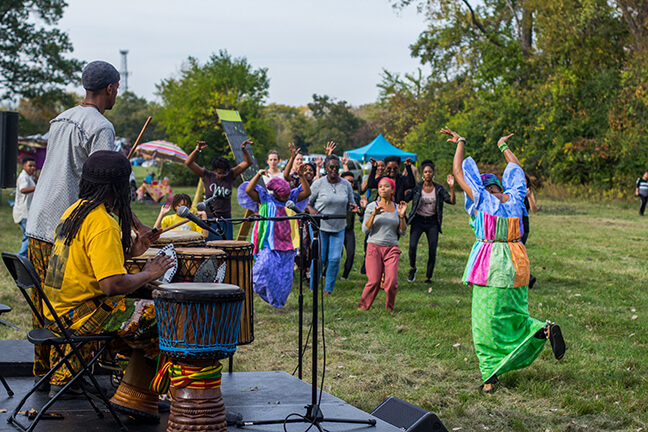 Ryan Myers-Johnson is a force of nature; a native Detroiter, University of Michigan graduate, world-renowned professional dancer, and Assistant Director of Kresge Arts in Detroit. In 2012, Myers-Johnson founded Sidewalk Detroit, a grass-roots, community arts presenting organization, located in Brightmoor. Sidewalk Detroit has ten members of a Community Leadership Team and five part-time employees, as well as a five-member board of directors, and a thirteen-person Curatorial Council.
Through original, place-based performances and installed art, the programmatic elements of Sidewalk Detroit celebrate built and natural environments by repurposing non-traditional spaces.
Sidewalk Detroit has programming in Brightmoor throughout the year, including a fall festival in Eliza Howell Park. The quintessential event is the Sidewalk Festival, where, every August, thousands of residents descend on the neighborhood for an outdoor celebration of performance and installation art.
In 2016, Myers-Johnson applied and received a capacity building and professional training grant through the Supporting Brightmoor Leaders program.
"From all our success in programming and connecting with residents, we, the Sidewalk Detroit team, felt like we could do more," says Myers-Johnson. "In order to take Sidewalk Detroit to the next level, we needed to solicit an expert and build our internal capacity."
Myers-Johnson and the Sidewalk team brought in Lisa Hoffman, Executive Director of the Alliance for Artist Communities, for an intensive 3-day professional development training. Hoffman, an expert on strategic initiatives, community engagement, and artist-residency programs, led the Sidewalk Detroit team, as well as a selection of external partners, through training on a series of program-based skill sets, organizational-based evaluation methods, and team building strategies.
"In our 5-year history, this is the first time we have been able to include a professional evaluation of our organization and take a deep dive into our operating practices, principles, strengths, and weaknesses," says Myers-Johnson. "We have been focusing all our resources on giving and producing, where we've been incredibly productive, but this training was so transformative in that it allowed us to evaluate the deep questions about what it means to work in the community, in Detroit, and specifically, in Brightmoor."
The training helped the Sidewalk Detroit team learn specific strategies on how to work for the Brightmoor community efficiently and effectively, as well as how to empower residents to be an integral part of the creative process. Hoffman's guidance aided Myers-Johnson and her staff in the design of an artist-residency program in Eliza Howell Park and allowed Sidewalk's Community Leadership team to operate in a more professional, clear, and sustainable manner.
Myers-Johnson looks forward to putting that experience, stemming from the Supporting Brightmoor Leaders grant, to work as part of their 2018 programming. The 2018 Sidewalk Festival of Performing Arts will be on August 4 – 5 and is free to the public. There will be ongoing programming in the Eliza Howell Park from April to October, including jazz nights, African dance and drum classes, fitness classes, storytelling, and nature walks.
Learn more about the Supporting Brightmoor Leaders Initiative