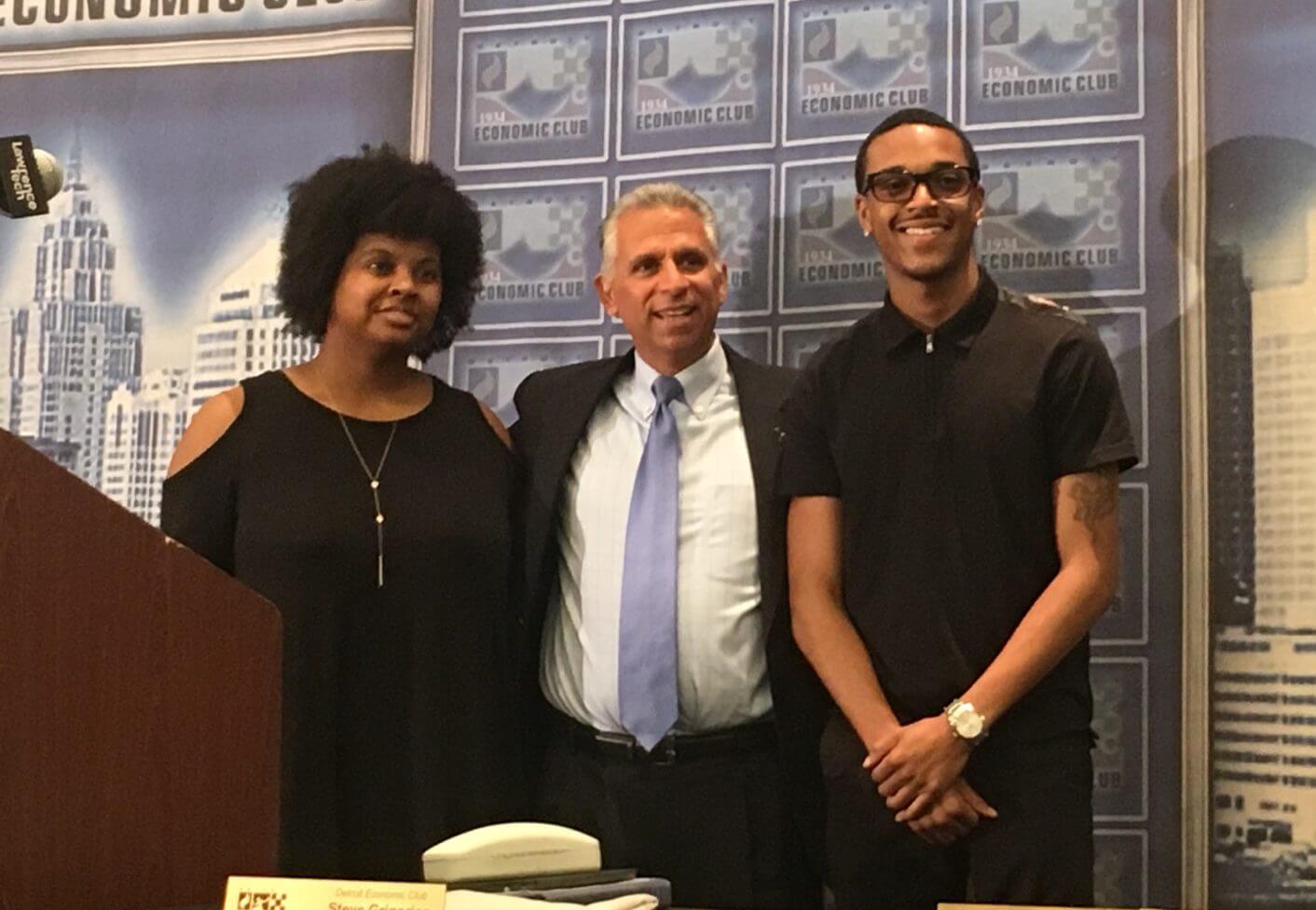 Congratulations to Clabe Hunt and Penny Richards on being the 2018 recipients of the Detroit Economic Club Scholarship!
CLABE A. HUNT
Clabe Hunt will graduate from Renaissance High School in June with a 3.78 grade point average.
Growing up, Clabe witnessed the effects of mental illness, substance abuse and violence, having tragically lost his father when he was young. Despite the hardships, Clabe is determined to turn those experiences into fuel to improve his circumstances, and those of his family. He is active in his school and community, participating in the competitive Midnight Golf program, playing basketball at his school, and serving as a leader on the Renaissance High School baseball team. His baseball coach praised him saying, "He responds with courage when challenged to produce his best."
Clabe and his sisters live with his aunt and moved around throughout much of his schooling. Because of this, he considers himself to be a "young man from every part of Detroit, MI." While the frequent relocation made it challenging for him to have consistent transportation to and from school, he worked hard to find solutions and excel academically. One recommender declares that he "continues to demonstrate he has the fortitude and wisdom to become the brightest and best."
Clabe will attend Michigan State University in September and will major in information technology.
PENNY C. RICHARDS
Penny Richards will graduate from Detroit Collegiate Preparatory High School in June with a 3.62 grade point average.
Penny has endured and persevered through the many challenges thrown her way. She lost her father to a heart attack when she was young. At age 16, she and one of her sisters became responsible for their younger siblings when her mother left her family. At age 17, she became solely responsible for her younger siblings while working and maintaining mostly A's and B's. This ended only when the Department of Human Services found out about her family's living situation, and placed her and her siblings in foster care. Now a legal adult, Penny lives on her own in an apartment, works the front desk at a hotel and bought a car, all while maintaining high grades, taking a challenging course load and being active in her school. As one recommender states, Penny is "a dedicated and enthusiastic individual who has an extraordinary penchant for making IT happen!"
Penny will attend Wayne State University in September and is majoring in social work. Her goal is to earn her Masters of Social Work and use her own experiences to help others in foster care or in the workplace as a human resource manager.