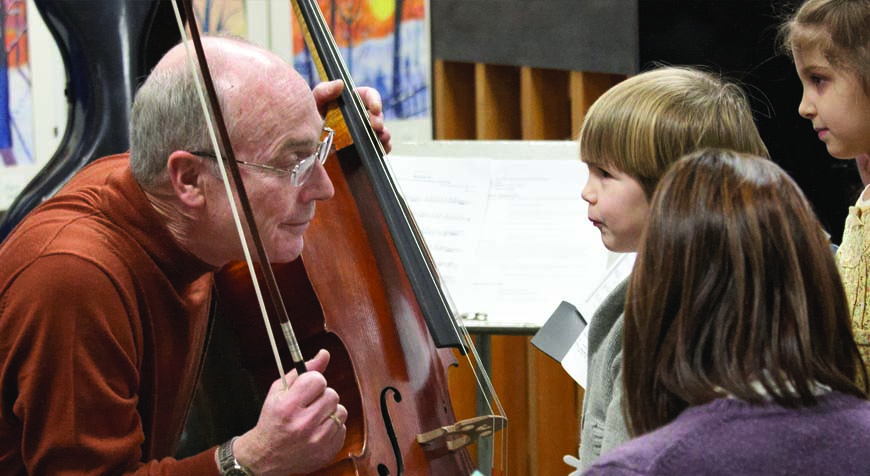 Connecting with New Audiences at Farmers' Markets
Ann Arbor Symphony Orchestra conductor Arie Lipsky takes questions from a recent KinderConcert audience. The 2-6 year olds enjoyed a 30-minute program of music, storytelling and an introduction to the musical instruments. The A2SO presents more than 100 music events in southeast Michigan each year, at schools, libraries and senior centers — as well as traditional venues like Hill Auditorium.
Like marketplaces throughout history, today's farmers' markets are a meeting place for people of all races, cultures and economic backgrounds. Southeast Michigan's farmers' markets are much loved for their bounty of locally-grown fruits and vegetables and good old-fashioned neighborliness and sense of community. They are places people want to be, open to all.
That's why farmers' markets appealed to the Ann Arbor Symphony Orchestra (A2SO) as an exciting place to perform and engage potential supporters and patrons. With support from the Community Foundation, ensembles from the Symphony will play a one-hour concert at each of six farmers' markets in Washtenaw, Wayne and Livingston counties this summer.
On concert days they will also host an "Instrument Petting Zoo," which gives people of all ages the opportunity to try out real musical instruments before hearing the professional musicians work their magic on them. Specially crafted, child-sized instruments ensure than even the smallest children can elicit a note or two.
While the 85-year old Symphony is best known for its main stage concert programs in Hill Auditorium and the Michigan Theater in Ann Arbor, on any given day the musicians are performing somewhere in south-east Michigan. From preschool Kinder Concerts to ensemble performances at schools and senior centers, people at every stage of life had access to more than 100 music events — most of them free — put on by this team of renowned professional musicians.
The farmers' market appearances are a way to let even more people experience the Symphony and learn more about its programs, particularly those new to classical music. By providing a performance in a public setting where people are already relaxed and enjoying themselves, the musicians become more approachable, more like the neighbors they already are.
"We are not just a Saturday night main stage orchestra," said Bob Gates, Ann Arbor Symphony Orchestra Board President. "We're of the community. We're in the schools, retirement centers, day care centers and libraries — and now in farmers' markets." Executive Director Mary Steffek Blaske said, "We want people to know that wherever you are in your life, and wherever you live, there is an A2SO concert for you. Music is for everybody."
The A2SO will also, as part of its community commitment, offer up to 700 complementary concert tickets to up to market customers who are SNAP Bridge Card users, and at participating sites, beneficiaries of the Fair Food Network's Double Up Food Bucks Program, which also receives support from the Community Foundation for Southeast Michigan. Double Up Food Bucks provides incentives to encourage healthier choices for Supplemental Nutrition Assistance Program (SNAP) recipients, directly benefiting low-income families and local farmers.