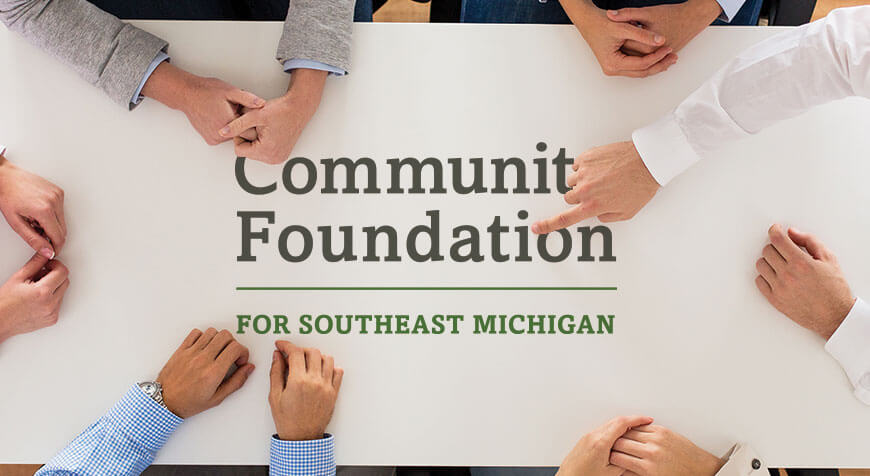 More than $600 Million Granted Over 30 Years
FOR IMMEDIATE RELEASE
DETROIT—The board of trustees of the Community Foundation for Southeast Michigan recently approved grants totaling than $21,716,717 at its quarterly meeting. The grants benefit nonprofits across the seven counties of southeast Michigan and support programs ranging from the arts, education and health to economic development, the environment and support for youth and the elderly. The Community Foundation is on target to exceed its 2013 grantmaking total of $50 million.
Among the nearly 700 organizations receiving grants are:
ARTS AND CULTURE
Arts League of Michigan, $50,000 over three years for internet broadcasting of arts and cultural programming
Detroit Historical Society, $30,000 over three years for digitizing the collections
Southwest Detroit Business Association, $25,000 for programming for Latino youth
CIVIC
Economic Development Corp of the City of Detroit, $200,000 for the Inner Circle Greenway project
Detroit Riverfront Conservancy, $100,000 for an environmentally green parking lot to facilitate access at Gabriel Richard Park
Southwest Solutions, $25,000 for the Veterans Park at Piquette Square in Detroit
Vanguard Community Development Association, $60,000 for a plan for the Brush Greenway, which will connect the Midtown and Inner Circle greenways
Woodward Avenue Action Association, $30,000 for a wayfinding and tour app for the new M-1 Rail Line
EDUCATION
Focus: HOPE, $50,000 for Generation of Promise, a diversity awareness and leadership program
Mercy Education Project, $50,000 for technology training for low-income women
Troy Nature Center, $7,000 for a school-based nature, science and environmental education
University of Michigan, $75,000 for a career awareness program for high school students interested in architecture
HUMAN SERVICES
The Autism Alliance of Michigan, $50,000 for a pilot program to help families of young children with autism to navigate treatment options and support services
Community Housing Network, $50,000 for homlessness prevention and rental assistance in Oakland County
First Step-Western Wayne County Project on Domestic Assault, $25,000 for crisis line and assault response services
Jewish Community Center of Metropolitan Detroit, $40,000 for a health and wellness program for seniors
Mercy Education Project, $50,000 for technology training for low-income women
Planned Parenthood Mid- and South Michigan, $50,000 to upgrade electronic health records and improve patient care
Play-Place for Autistic Children, $50,000 for young adults with autisum
In addition, the Community Foundation for Livingston County, an affiliated foundation that supports charitable giving in Livingston County, made a grant of $15,000 to Cleary University. The grant will be used to develop an art program for foster youth at the Arthur Secunda Museum, the county's largest public art display, located on university grounds.
The Community Foundation for Southeast Michigan takes a regional approach to community investment. It was founded in 1984 to promote and facilitate community philanthropy across all seven counties of southeast Michigan. Although it is among the nation's younger community foundations, it is one of the fastest growing, ranked 23rd nationally with assets of more than $740 million.
The Community Foundation for Southeast Michigan is a full-service philanthropic organization leading the way to positive change in our region. As a permanent community endowment built by gifts from thousands of individuals and organizations committed to the future of southeast Michigan, the Foundation supports a wide variety of activities benefiting education, arts and culture, health, human services, community development and civic affairs. Since its inception, the Foundation has distributed more than $598 million through more than 47,000 grants to nonprofit organizations throughout Wayne, Oakland, Macomb, Monroe, Washtenaw, St. Clair and Livingston counties.