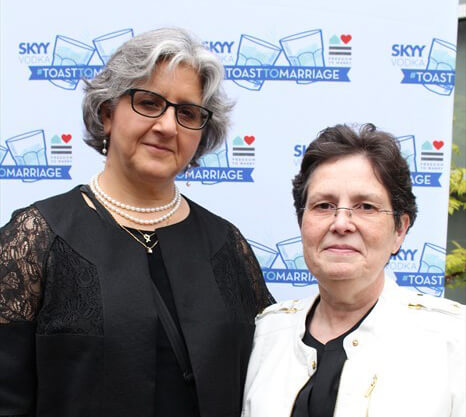 Stacey Cassis and Arianna T. Morales met in 2004 when they both were serving on the board of Affirmations, a metro Detroit nonprofit inclusive to all genders and sexual orientations. "I was on the board first," Arianna said with a laugh.
Around the time they met, Stacey came out. "Arianna is the only person I've ever been with and cared to be with," she said. The couple has been together ever since and married in April 2014 in Boston.
Arianna is from Venezuela and came to the United States to study at Carnegie Mellon. Post-doctoral work brought her to General Motors, where she has been a staff research scientist for 23 years. Stacey is from western Michigan and lived around the United States before returning home and settling in the Detroit suburbs in the 1990s. She is first vice president and wealth management advisor at Merrill Lynch Wealth Management. "I had to keep working after I met Arianna," she joked.
The couple are active volunteers and philanthropists and have made many friends through their work in the community. "When I was coming out, I was looking at how to volunteer and found philanthropy opportunities and people who had an interest in being active," Stacey said. She attended a HOPE Fund event and became more involved, eventually being invited to join the HOPE Fund committee. The couple say they're continually impressed by the Community Foundation staff's commitment and connection. "They make you feel as if what you're doing matters to the organization," Stacey said.
The couple say they were attracted to supporting a community foundation for its longevity and ability to meet many different needs—specifically, through the HOPE Fund, those of the LGBT and ally communities in Michigan. It remains one of the couple's primary philanthropic efforts.
"The money flowing from the HOPE Fund really helped organizations like Affirmations, Ruth Ellis, and ACLU Michigan that were at an important juncture," Stacey said. "The depth and structure of the Community Foundation was a great way to make sure our giving was done in a way that would have some backbone to it." Also important is the endowment. "We were looking for a way to give that, regardless of our time on this earth, our money would be in good hands."
This is a significant moment for continued support, they say. "We thought two or three years ago that we were going to be done with many issues," Arianna said. "Now, I feel very concerned. We want to make sure we support the rights we've already fought for. It's the assault on all civil rights now that worries us, especially for our community, including trans rights."
Stacy agreed. "I think it's really important to understand the courage involved for the Community Foundation to start the HOPE Fund to begin with. It's been integral in the progress we've made in southeast Michigan, and it's held up as a beacon of hope nationally. Unfortunately, we now live in a time when we know nothing is forever. Constant support of whatever is important to you is critical, and the Community Foundation is going to have the longevity to do that in a big way."