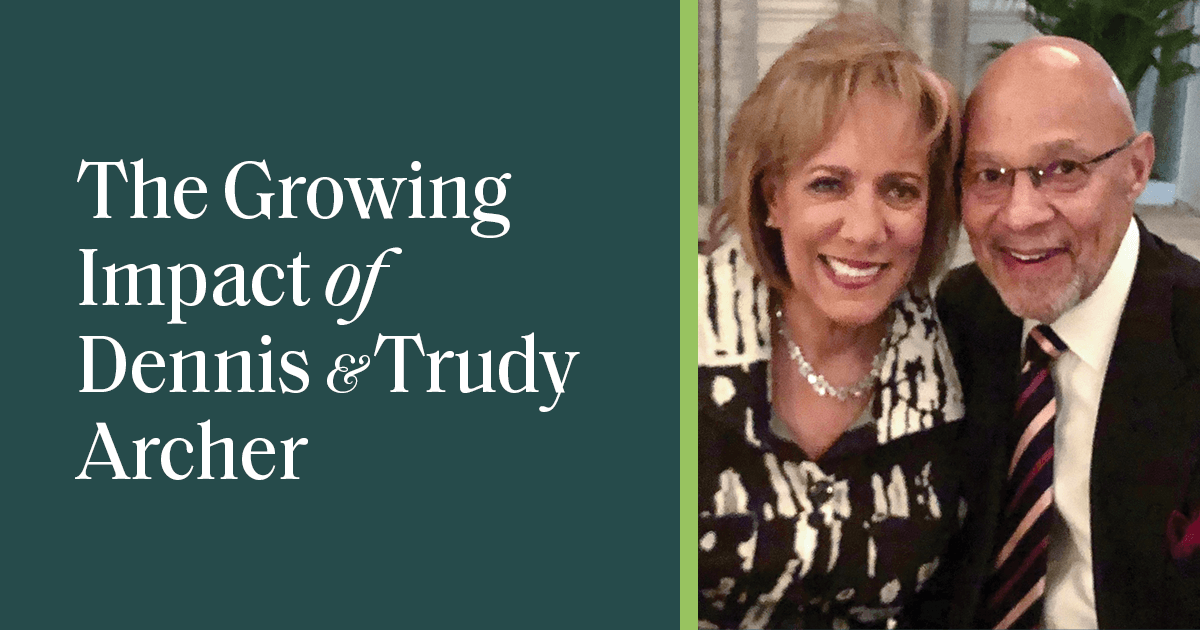 This story was originally published in our Spring 2022 REPORT Newsletter.
This spring marks a major milestone for the former Detroit mayor's Dennis W. Archer Scholarship Fund. Since 2001, nearly $2 million in scholarships have been provided to minority students at Wayne State University and Western Michigan University. For the past 20 years, more than 400 Archer Scholar awards have been granted.
Dennis Archer established the fund because he wanted to help students who were experiencing the same challenges he faced during his college years. Dennis knew it was difficult to balance classes along with work and family and that it was especially daunting for minority and lower-income students.
He wanted his "Archer Scholar" fund to serve as a vital link to assuring academic success by helping to ease the burden on students who might otherwise be forced to drop out of college.
Always a community-focused leader, Dennis in 2001 was a former member of the Community Foundation for Southeast Michigan Board of Trustees. He asked the Foundation president, Mariam Noland, to assist in distributing these funds and they created the Dennis W. Archer Community Development Fund. As a way to build a permanent legacy for his lifelong commitment to the community, the purpose of this endowment fund is to support charitable activities that improve neighborhoods and the lives of those who reside in the city of Detroit.
Since 2003, the Community Development Fund has provided more than $1.3 million in support to local organizations. For example, a recent grant to Detroit Food Commons, a grocery store and food business incubator in Detroit's North End, is supporting a Black-led, community-owned grocery cooperative with the intent of providing healthy food options and food education to Detroit residents. The co-op is slated to open in the summer of 2023.
Such an act of generosity is consistent with how Dennis and his wife Trudy are living their lives. Throughout Dennis' career, his contributions have included teaching disabled students, serving on the Michigan Supreme Court, and serving two terms as mayor of Detroit. He also is a former president of the American Bar Association, National Bar Association, Michigan State Bar, and Wolverine Bar Association, as well as Chair of the Detroit Regional Chamber. Dennis and Trudy have served on numerous boards including the Community Foundation for Southeast Michigan.
In addition to her many community service efforts, Trudy, a retired judge of the District Court, currently sits on the Detroit Automotive Dealers Association (DADA) Fund Advisory Committee. The Archers also have a Donor Advised Fund with the Community Foundation.
The scholarship fund and Community Development Fund are important examples of how establishing an endowment with the Community Foundation can help provide long-term support for youth and the residents in our region.