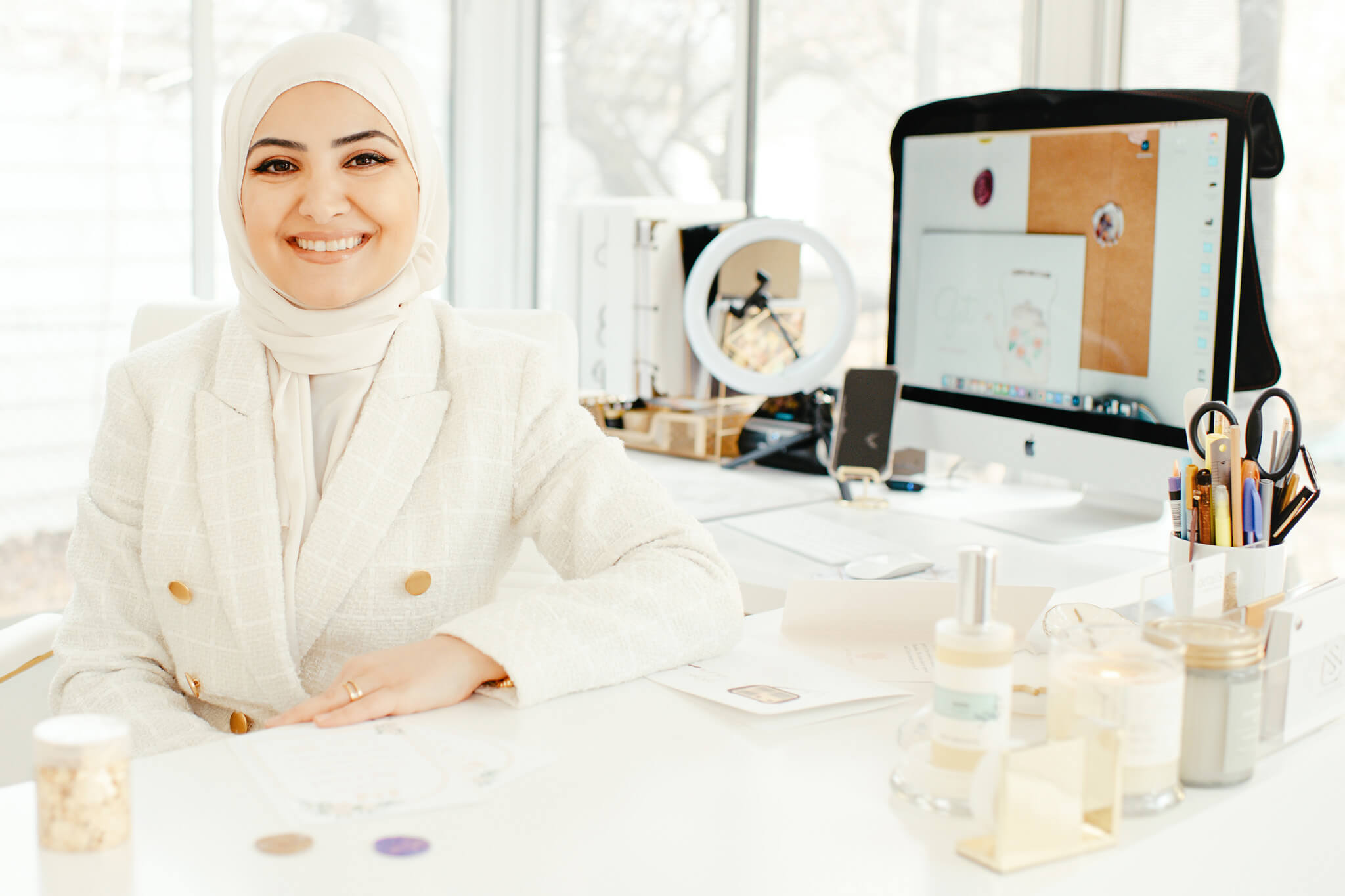 The New Economy Initiative, Community Foundation for Southeast Michigan, provided grant funding to support the Arab Community Center for Economic and Social Services (ACCESS) Business Development Program. Entrepreneur Farah Bazzi has worked with ACCESS and other business support organizations to grow her handmade card business. Photo credit: Andrew Potter
When Farah Bazzi had twin girls in March 2020, the pandemic cast uncertainty everywhere.
As the world grappled with COVID, one piece of clarity emerged for Bazzi: Her salary teaching biology at a Dearborn high school wouldn't cover day care costs, so returning to the classroom was off the table, at least for the first few years of her twins' life.
"Unlike … the vast majority of countries on Earth where women are guaranteed a paid maternity leave, including developing countries, the system in America failed educated, skilled, and hardworking women like myself, and continues to do so every single day," Bazzi blogged.
Pondering her future during the most stressful of times, Bazzi began crafting greeting cards for people in her life — something she'd enjoyed doing previously. What started as a therapeutic escape became Maraseel, a home business producing handcrafted cards, calendars, invitations, and stationery for all aspects of life for Arab and Muslim women.
Along her entrepreneurial journey, Bazzi worked with several nonprofits including the Arab Community Center for Economic and Social Services (ACCESS), which helped plug her into like-minded business owners in the local community and beyond. Through networking events, Bazzi was able to gain exposure and make important connections for her sole-entrepreneur startup business.
In the fall of 2022 the New Economy Initiative, an initiative of the Community Foundation for Southeast Michigan, provided grant funding to support ACCESS' Business Development Program. Small business owners, or those interested in becoming small business owners, are provided with a place where they can obtain business training and technical assistance, peer mentorship and support, low-barrier microloans, and connectivity to resources.
The support was intended to help entrepreneurs convert their ideas into a profitable business, just like Bazzi did with Maraseel.
"You'd go to places like Target and Kroger, and you'd see Christmas cards, or you'd see Valentine's Day cards, but you'd never see any Ramadan cards," says Bazzi, 35, who was born in Lebanon before coming to the U.S. for college. "And I thought, Ramadan is a very exciting time of the year for us, and I want to tell somebody that I love, that I care about, 'Happy Ramadan and I'm thinking about you.' "
The handcrafted products use high-quality paper and materials, giving the cards weight and substance, and can come with a customized wax stamp that many customers personalize with their initials or a logo.
Working out of her home, a sunroom converted into a vibrant studio, Bazzi continues expanding her product lines. She reaches her customers online and through social media, including Facebook, Instagram, YouTube, and Pinterest, and has shipped her cards and invitations to multiple countries including Canada, Denmark, and Australia.
"Everybody took it as a hobby, a side job, a hustle. Well, you know, you can call it whatever you want. I call it my business," Bazzi says proudly.
This story first appeared in the Spring 2023 REPORT Newsletter