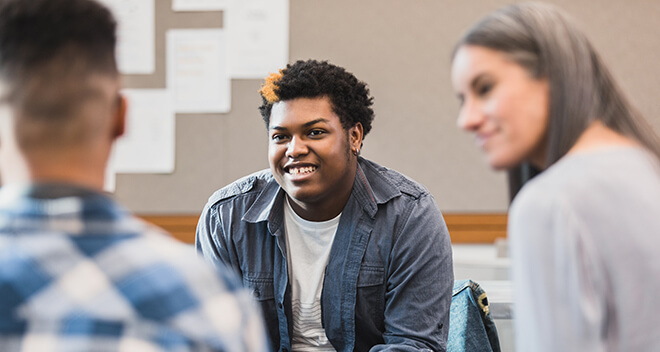 Consistently high rates of opioid-related deaths have led hospitals to search for strategies that offer equitable access to comprehensive, stigma-free healthcare. "We have an epidemic of overdoses in the community and wanted a continuum of care that connected the outpatient and inpatient sides of the hospital's services," says Tracy Hosford, Clinical Nurse Specialist at Corewell Health West Michigan in Grand Rapids. With dollars from a Community Foundation for Southeast Michigan's Michigan Opioid Partnership (MOP) grant, Corewell Health established the Addiction Clinics at Corewell Health, a walk-in service focused on harm reduction. The clinics are an ongoing treatment option for patients seeking assistance for opioid use disorder (OUD) through the health system's emergency departments (ED) and community partners.
The Substance Abuse and Mental Health Services Administration describes harm reduction as an all-inclusive approach to addressing substance use disorders through prevention, treatment, and recovery methods that meet patients where they are.
"If someone walks in seeking treatment for their opioid use disorder, but they are not ready to stop using, that doesn't mean we deny them service," according to Dan Wicklund, Nurse Educator for Addiction Medicine at Corewell Health West Michigan. "It's about keeping them engaged in care, doing what we can, and respecting their readiness and willingness to change."
Emergency Departments as Launchpads for Harm Reduction Initiatives
Before transitioning to nurse educator, Wicklund worked with Dr. Colleen Lane, Medical Director for Addiction Medicine at Corewell and board-certified addiction medicine physician, to develop a process for increasing the number of people battling OUD that pursue treatment. "Through research and feedback from the health department and partners, we learned 60 percent of people don't seek care for OUD because of stigma and fear of walking through the door," Wicklund notes. He and Dr. Lane embarked on a journey to create a model that was welcoming, accessible, and accommodating, making minimal demands on prospective patients and removing treatment barriers.
The clinics were established in partnership with EDs throughout Corewell Health West's system. "The emergency department is a good place to capture patients who might be ready for help to reduce their use of substances, particularly opioids," says Hosford.
"The MOP grant allowed us to see patients in an outpatient setting, same day, or next day so that they could get plugged into treatment for OUD, which was a service gap."
Using a screening tool, ED providers identify patients presenting with overdose or opiate withdrawal symptoms or disclosing concerns about usage patterns and connect them to the Addiction Clinics as a resource for extended treatment. "The linkage to care for patients who are at high risk has been paramount to reducing the number of overdoses we're seeing in our community," exclaims Wicklund.
Increasing Prevention through Education
The walk-in clinics are open Monday through Friday, from 8 a.m. to 4 p.m., and offer a range of services that are hallmarks of harm reduction. Education is a central practice at the patient and community levels. "We teach people how to make safe and informed choices and have specialists on-site to test for and talk about HIV and Hepatitis C. Within the community, we use education to develop partnerships," says Wicklund. He cites relationships with the federal prosecutor's office of the western district and the Kent County Correctional Facility, as examples. Through these connections, the clinics are developing a pipeline for newly returning citizens to access suboxone, Narcan, and other opioid overdose and treatment options.
"We learned many OUD patients have not accessed primary care in several years because of stigma, but they still need cancer screenings or medications to manage hypertension," observed Wicklund. In response, the clinics assembled an extensive referral network that includes primary care physicians. The program teaches internal medicine doctors and specialists how to deliver appropriate care to those using opioids.
Education is also essential within Corewell Health's inpatient care services. Beyond workshops and training for providers and nursing staff, the ED offers guidance to patients on dispensing medications at home that reduce overdose symptoms. "If a patient is actively using but not in the withdrawal phase, we instruct them on administering a home induction of buprenorphine if needed," Hosford said. The ED uses a similar process for those discharged with nasal naloxone. "Connecting these patients to accessible resources is key to the success of our programs."
Challenges Resulting in Wins
Collaboration is essential to operating the walk-in clinics and MOUD program at Corewell Health West Michigan. Emergency care providers, social workers, pharmacists, information systems specialists, and representatives from community organizations create the web of expertise necessary to deliver effective services. While this level of partnership guarantees buy-in and championship, it also requires deft coordination.
"Multi-level collaboration to ensure we have the resources at all the steps of patient care is a challenge," says Hosford.
"These patients often have many barriers regarding living situations, transportation, and mental health, so we need to involve several groups to meet their needs." At the same time, she believes these professionals' ability to come together for the patient's goals exemplifies commitment. "We didn't encounter any barriers we couldn't move past because everybody wants what's best for the patient, and that is to help them get treatment as soon as they're ready and prevent future withdrawal or overdose."
Wicklund acknowledges the impact DARE and other "drugs are bad" initiatives made on cultural views of substance use.
"We continue to do a lot of work around changing the narrative regarding people who use drugs and drugs themselves," says Wicklund. "I think it's been a huge win because we've been able to de-emphasize 'drugs are bad' and emphasize that this person is dealing with their condition and the hospital has the tools to help."
This shift has helped achieve buy-in from those in leadership positions. In addition to advocating among Corewell Health providers, Wicklund and Dr. Lane have been the focus of news pieces and conducted a podcast to open lines of communication around OUD.
Success and Growth
The Addiction Clinics at Corewell Health recently celebrated serving 500 OUD patients since opening two years ago. "I've wanted to give back since losing my brother to an overdose event. While I couldn't save him, I can save others," Wicklund recalls. "It's hard to say that the ED bridge clinics and walk-in hours are the sole cause, but we have seen the numbers go down as of 2022. I'm excited by the number of people we've helped!"
Data from the Centers for Disease Control and Prevention (CDC) affirm Wicklund's statement. Michigan saw an estimated 6.2% decrease in overdose deaths in the 12 months through September 2022. In May 2023, the agency announced another 4% decline. Experts say harm reduction programs, such as making naloxone readily available through various community settings, are among the strategies helping to cut overdose deaths.
On the inpatient care side, Hosford says hundreds of OUD patients visited the Addiction Clinics the same or the following day for ongoing care. "If our ED can identify at-risk patients and then ensure they receive naloxone to help reduce deaths by overdose, there is a chance for those people to get further help and even treatment ," she says.
Though the Addiction Clinics intended to prioritize patients from Corewell Health's EDs, the number of community referrals suggests it is establishing credibility among people outside of the hospital. "OUD sufferers are subverting the emergency department for treatment. Our data shows word of mouth—or I trust my friend, my friend went to your clinic, and now I'm here—to be a greater percentage of our total walk-in numbers than the emergency department referrals," according to Wicklund.
The clinics could see an increase in referrals from the ED as it develops a global process for identifying OUD patients.
"Currently, screenings respond to chief complaints typically associated with higher-risk patients, but we're moving toward a universal model to capture a less high-risk population that is still susceptible to using opioids outside of the prescribed manner," says Hosford.
She and her colleagues recognize that this patient group's front door to healthcare is often through the ED. Hosford also points to automation as the growth mechanism for linking OUD patients to continuous care. "My role is to ensure we capture the right patients and connect them to appropriate resources. One of the ways we do that is through our electronic health system, which helps providers identify and connect patients with ongoing care needs when they are ready, including those offered by the Addiction Clinics."