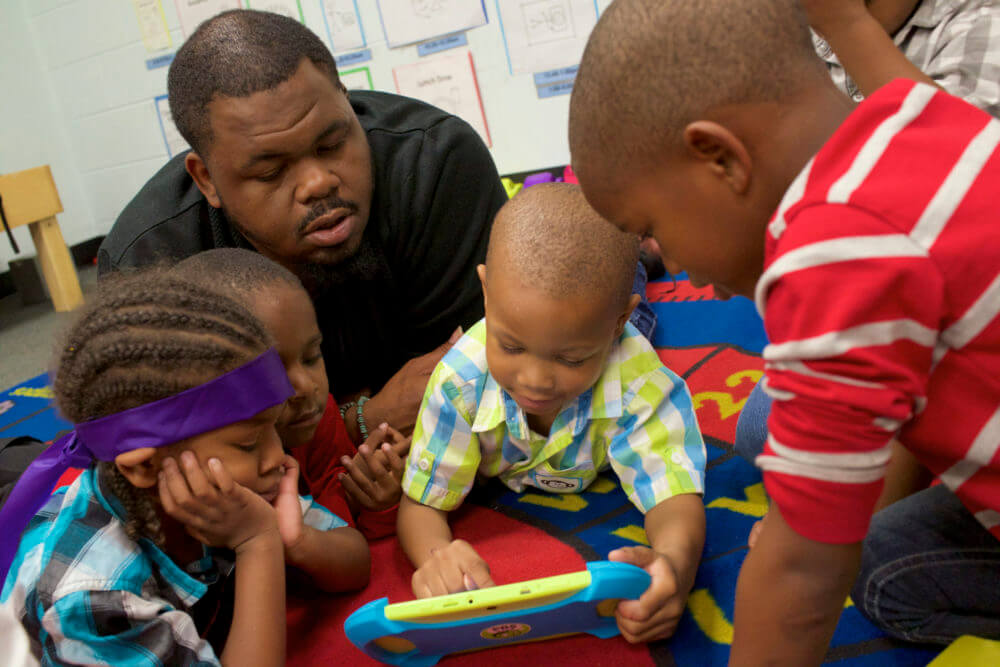 One target population for the Head Start Innovation Fund's talent recruitment efforts has been men. While men have not traditionally been encouraged to pursue careers in early childhood education, they have the potential to make great impacts on the lives of children. Here is just one story that has resulted from a Head Start Innovation Fund investment.
Quevie Wells never saw himself as a superhero. Not as a boy when he got in fights and sassed. Not when he earned only Cs. Not when his grandma and his mom told him they expected more of him.
But he turned. His heart and his head turned. And now, at 25, he wears Superman, Batman and Ghost Busters T-shirts to his Head Start classroom, where he inspires 15 little boys taking what he calls "their first steps in life."
In his cozy classroom at Focus: Hope, they call him Mr. Quevie (pronounced KEE-vee). He's been told it refers to a Nigerian prince.
The men he looked up to most as a boy were the Power Rangers. His mother and grandmother raised him, an only child. In high school he began to know the satisfaction of doing well, making those women smile. But suddenly his grandma died, in his senior year. "I had to stay home for almost two weeks," he remembers, "to get myself back. My grandma was my best friend."
At Henry Ford Community College, he stumbled into the theater program, shyly working far from the flood lights. At six-foot-two and almost 300 pounds, he dared to take a role in "Snow White," playing a dwarf named Tiny. "After that," he says, "I felt I could do anything." He collected two associates degrees, in theater and liberal arts.
But no career called his name, until his mother suggested Head Start. Her own career had led her from cooking for seniors at nursing homes to nourishing kids and staff at Head Start, most recently at Focus:Hope, a Head Start agency in the Thrive by Five Collaborative.
A job offer as a classroom aide surprised Quevie, and he surprised himself by how much he loved working with kids. "I'm a grown-up child myself," he says. At lunchtime, for example, right down the hall from his mom, Mr. Quevie's boys sit on tiny chairs at a low table as he hunches among them, teaching them about their food. Milk, for example, makes your bones strong. And If you pick at your food, how do you expect to grow up like John Cena? (He's a wrestler, rapper and actor one of the boys admires.)
After a promotion to assistant teacher, Quevie aimed for more. He achieved his Child Development Associate credential, studying and passing an exam that costs $425. "I couldn't have afforded it," he admits, but funds granted by the Head Start Innovation Fund allowed Focus:Hope to cover that expense. In September, he will start at the University of Michigan-Dearborn, studying early childhood development.
He is one of only two male teachers on a staff of 29. Waymond Hayes, who runs the program, thinks young men have too long been teased for wanting to join what's seen as a female profession. Says Hayes: "It's got to be a calling."
Says Quevie: "All children are innocent souls. What we put into them is what they'll put out." And sometimes they surprise you: One of his boys shouted at him. Another boy spoke up. "Don't talk to my teacher like that! I love Mr. Quevie." The first boy said "I'm sorry," and hugged him.
It was a superhero moment.
The Head Start Innovation Fund is an $11 million effort, launched in 2013, aimed at improving the quality of Head Start services and outcomes for children and their families in Detroit and the tri-county region of Wayne, Oakland and Macomb counties. Collectively, this geographic area serves nearly 9,000 children through Head Start and Early Head Start. The Innovation Fund is supported by a group of 10 regional and national foundations.