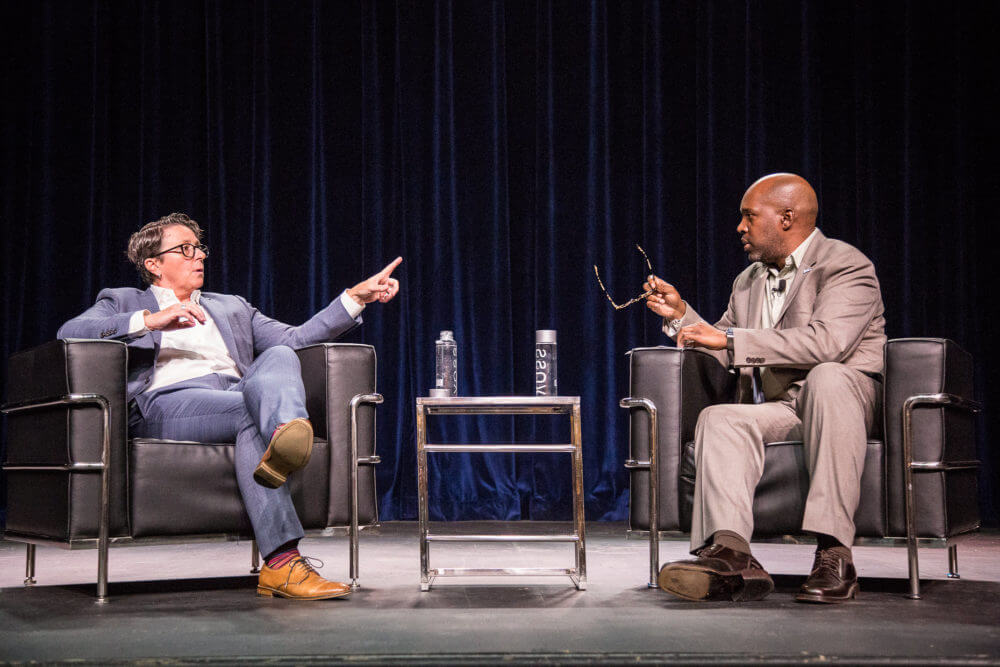 Based on information gathered through conversations with focus groups, key stakeholders, funders, and local/national nonprofit leaders in the LGBT community local and nationally, The HOPE Fund Advisory decided to better educate and engage nonprofit organizations, community members, and donors surrounding current issues facing the LGBT community. While we will continue our work through grantmaking and donor engagement, we look to fill a unique role as a resource in providing educational opportunities to the community at large on relevant and timely topics.
On October 18, The HOPE Fund hosted Kris Hermanns, CEO of the Pride Foundation at an event at the Garden Theater. She discussed the national state of LGBT affairs with an emphasis on lessons for our work in southeast Michigan. The conversation was moderated by local leader, Curtis Lipscomb, executive director of LGBT Detroit.
Throughout the evening, we learned about current challenges in the LGBT community, trends in LGBT nonprofit organizations, and the role of philanthropy in supporting LGBT causes. Questions from the audience allowed for us to think about how a macro perspective could be applied to supporting the LGBT community in southeast Michigan.
"I now understand better the differences between identity issues and content issues," said one attendee. "I understand better that LGBT issues are also embedded in major social and economic issues — income inequality, racial inequalities, homelessness, sexual and reproductive health, senior health, etc. This was a marvelous conversation."