More Than $17M In Grants Awarded To Area Nonprofits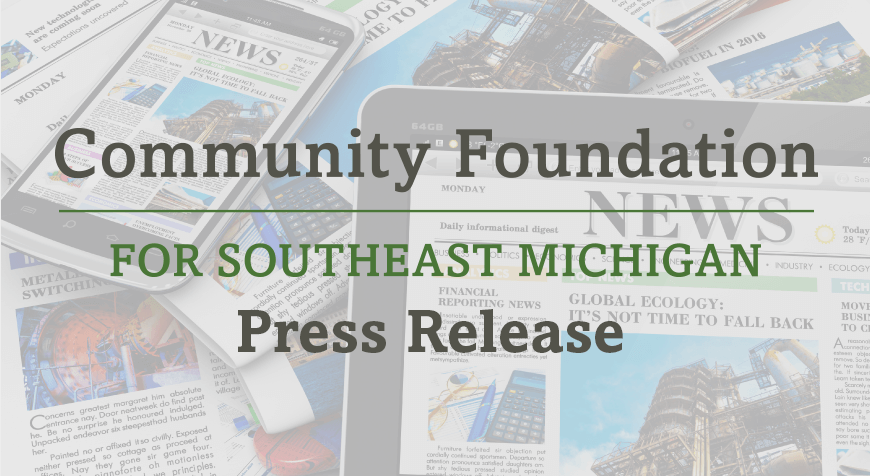 DETROIT—The Community Foundation for Southeast Michigan announced that more than $17 million in grants were approved to nonprofit organizations during the fourth quarter of 2013. The projects supported cover a wide range of program areas from economic development, education, and health and human services, to arts, culture and recreation.
"At the Community Foundation for Southeast Michigan we strive to build a stronger future for our community," said Mariam Noland, president of the Community Foundation.
Among the organizations that received grants from the Community Foundation for Southeast Michigan are the following:
ARTS
Ann Arbor Symphony Orchestra, Ann Arbor, $50,000 over three years for an audience development and donor engagement program via local farmers' markets.
Heidelberg Project, Detroit, $50,000 over two years to implement a strategic plan to strengthen and expand the organization's outreach to children and schools.
InsideOut Literary Arts Project, Detroit, $50,000 to strengthen the organization and support professional writers teaching creative writing in Detroit Public Schools.
Michigan Science Center, Detroit, $75,000 for a science education program for children to be held in partnership with area libraries in summer 2014.
Michigan State University, East Lansing, $50,000 over two years to support a music education program for middle and high school students in Detroit.
CIVIC
ACLU Fund of Michigan, Detroit, $35,000 for outreach activities and research to ensure equitable treatment for Detroit students with special needs.
Detroit Eastside Community Collaborative, Detroit, $50,000 to provide low-income Detroit youth with an opportunity to earn a bicycle by completing maintenance, safety and repair training.
Entrepreneurs Give Innovation Fund, Ann Arbor and Detroit, $75,000 over three years to engage young entrepreneurs in charitable giving and grantmaking.
Forgotten Harvest, Oak Park, $50,000 to expand programs that improve food rescue and delivery and provide marketable job skills in food processing and distribution.
Genesis Harbor of Opportunities Promoting Excellence (Genesis HOPE), Detroit, $30,000 to support urban agribusinesses and food producers and processors in creating a more sustainable community food system.
Michigan State University, East Lansing, $77,755 over 18 months to conduct a needs assessment of Latinos in southeast Michigan.
New Detroit Inc., Detroit, $150,000 for a capacity-building program for minority-owned small businesses and early childhood education providers.
DISABILITIES
Madonna University, Livonia, $30,000 to develop and implement a master's level degree in teaching for the hearing impaired to improve the educational attainment of deaf children.
GREENWAYS
Detroit Riverfront Conservancy, Detroit, $50,000 for public engagement strategy for I-375.
Economic Development Corporation of the City of Detroit, Detroit, $150,000 for the construction of a visitor pavilion at Dequindre Cut North.
Huron River Watershed Council, Ann Arbor, $25,000 for the RiverUp! Huron River Trail Towns Project.
Jefferson East, Inc., Detroit, $60,000 for professional support for Villages and Jefferson East.
Jefferson East, Inc., Detroit, $30,000 for a placemaking and economic development initiative for the Jefferson Corridor.
HUMAN SERVICES
Crossroads of Michigan, Detroit, $20,000 for a collaborative tri-country volunteer and staff training program of emergency service providers to support self-sufficiency and well being of clients.
Humble Design, Inc., Troy, $10,000 to provide home furnishings for families emerging from homeless and domestic abuse shelters.
YOUTH LEADERSHIP
Museum of Contemporary Art and Design, Detroit, $11,584 for the development of a teen council.
Student Conservation Association, Detroit, $19,200 for the expansion of a youth employment and career readiness training program for Detroit youth.
The Community Foundation for Southeast Michigan is a full-service philanthropic organization leading the way to positive change in our region. As a permanent community endowment built by gifts from thousands of individuals and organizations committed to the future of southeast Michigan, the Foundation supports a wide variety of activities benefiting education, arts and culture, health, human services, community development and civic affairs. Since its inception, the Foundation has distributed more than $598 million through more than 47,000 grants to nonprofit organizations throughout Wayne, Oakland, Macomb, Monroe, Washtenaw, St. Clair and Livingston counties.