Auto Dealers Grant $240,000 To Fund Youth Services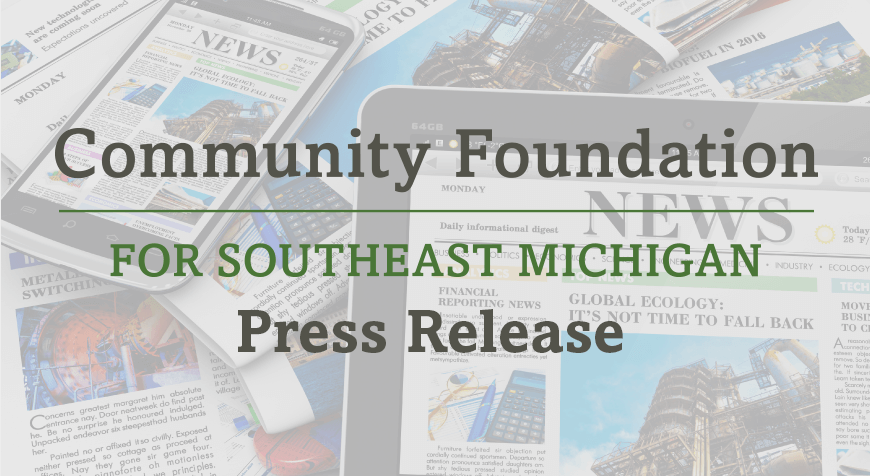 Funds Focus on Services to Region's Youth in Seven-County Area
For Immediate Release
DETROIT — The Community Foundation for Southeast Michigan, with support from the Detroit Auto Dealers Association Charitable Foundation Fund, awarded five grants, totaling $240,000, to organizations that provide services to youth in the region.
Programs and organizations that received recent grants include:
Communities in Schools of Detroit Inc., Detroit, $50,000, for support for after-school enrichment programming in Mount Clemens
Detroit Area Pre-College Engineering Program, Detroit, $50,000, for support for science and technology enrichment programs
MINDS Program Inc., Southfield, $40,000, for support for a program to educate adolescents about mental illness
Starfish Family Services, Inkster, $50,000 (over 2 years), for support for a program for families experiencing poverty
Wellspring, Detroit, $50,000, for support for the expansion of a math and reading skills program
Created as a permanent endowment, the DADA Charitable Foundation Fund provides support to nonprofit organizations in the seven-county southeast Michigan region, with a primary focus on charitable organizations and activities that assist in improving the lives of children and youth.
The fund represents a significant, lasting legacy to the DADA's charitable commitment to southeast Michigan and has made more than 100 grants totaling more than $3.1 million since its inception in 1998.
The DADA was founded in 1907 by a group of five Detroit-area auto dealers after they hosted the very first Detroit Auto Show in the same year.  Today, the DADA membership includes more than 215 new-vehicle dealers who own 215 dealership selling 40 different vehicle lines in 64 cities throughout the metropolitan Detroit area.  The dealers are affiliated with the DADA through one or more of 14 vehicle line groups, or through individual membership.
The Community Foundation for Southeast Michigan is a permanent community endowment built by gifts from thousands of individuals and organizations committed to the future of southeast Michigan. The Foundation works to improve the region's quality of life by connecting those who care with causes that matter. The Foundation supports a wide variety of activities benefiting education, arts and culture, health, human services, community development and civic affairs.  Since its inception, the Foundation has distributed more than $523 million through more than 41,000 grants to nonprofit organizations throughout Wayne, Oakland, Macomb, Monroe, Washtenaw, St. Clair and Livingston counties.