Foundation Grant Benefits People With Disabilities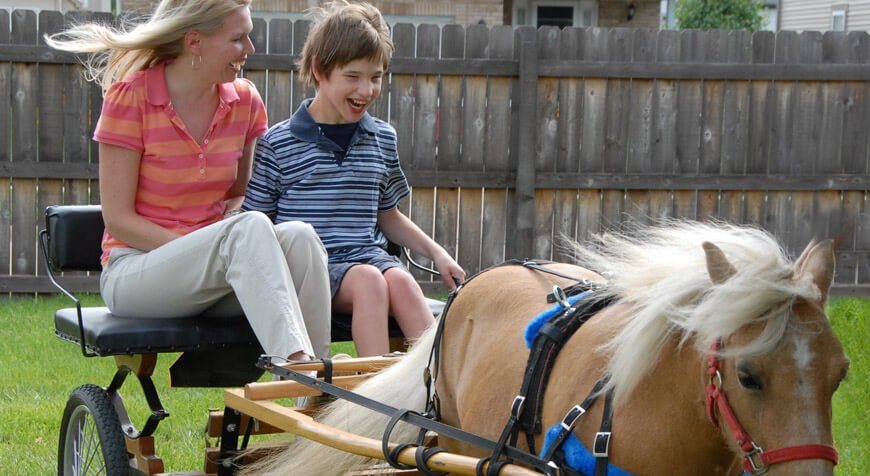 $125,000 Awarded to Organizations Serving the Physically Disabled
For Immediate Release
DETROIT—The Community Foundation for Southeast Michigan today awarded grants totaling $125,000 to 50 nonprofit organizations that serve people with disabilities throughout the region. This special program is part of the Community Foundation's 25th anniversary celebration.
The organizations, which serve individuals with hearing, vision, developmental and other physical disabilities, each received a grant of $2,500 for operating support.
"There are many organizations in our region that provide essential and critical services daily to people with disabilities," said Community Foundation President, Mariam C. Noland. "The 50 organizations that the Community Foundation is recognizing today with grants are examples of the diversity of quality providers that serve the more than 800,000 individuals with disabilities in our region."
The Community Foundation holds several endowment funds which are dedicated to improving the lives of persons with disabilities.
"Endowment is critically important for our region. They carry out the charitable interests of our donors and provide needed charitable support in perpetuity," said Allan D. Gilmour, chair of the Community Foundation's Board of Trustees.
The Community Foundation is marking its 25th anniversary by bringing visibility to the hundreds of organizations that are important to the quality of life of all residents in southeast Michigan.
To date, during its anniversary year, the Community Foundation has made twenty-five $25,000 grants to provide needed operating support to a wide range of organizations and helped secure more than $5 million for 75 arts and cultural organizations through the Community Foundation Challenge – Arts & Culture.
The 50 grants awarded today to the organizations serving individuals with disabilities highlight the importance of services to an under-recognized part of our community.
Following are comments from several of the organizations that received grants:
KURT SEBALY, EXECUTIVE DIRECTOR, PENRICKTON CENTER FOR BLIND CHILDREN
"The children at Penrickton Center for Blind Children are challenged each and every day to develop and become as independent as possible. This unexpected, and much appreciated, gift provides encouragement and hope for our children and families."
KAREN SCHROCK, PRESIDENT AND CEO, ADULT WELL-BEING SERVICES
"For the past 56 years, Adult Well-Being Services has focused on helping people live as independently as possible, regardless of their ability. We are proud to serve the growing number of people with developmental, mental and physical disabilities in southeastern Michigan."
MIKE WOOLEY, PRESIDENT AND CEO, DETROIT INSTITUTE FOR CHILDREN
"In this current economic environment, this support will directly impact the lives of low income and underinsured children facing numerous special needs by providing much-needed therapeutic services. This grant means that each of our kids can reach their fullest potential, and, on their behalf, I could not be
more grateful."
RICHARD LOEWENSTEIN, CHIEF EXECUTIVE OFFICER, JARC
"JARC is an integral part of the community. We provide a lifelong relationship for people with developmental disabilities. I think it is very important for the general public to get a better understanding of the disability community. I think that it adds to the lives of the people with disabilities, but more importantly it adds to our own lives when we reach out and include people with disabilities in our daily lives."
The Community Foundation recognized organizations throughout its seven-county region that provide essential services to people who have disabilities. Additional organizations that received $2,500 grants include:
Angels' Place, Southfield
Birmingham Public Schools, Birmingham
Cass Community Social Services, Detroit
Children With Hair Loss, Inc., South Rockwood
Children's Center of Wayne County, Detroit
Children's Hospital of Michigan, Detroit
Deaf and Hearing Impaired Services, Farmington Hills
Deaf Community Advocacy Network Inc., Sylvan Lake
Deaf Options, Inc., Redford
Dearborn Public Schools, Dearborn
Detroit Public Schools–Detroit Day School for the Deaf, Detroit
Detroit Receiving Hospital, Detroit
Huron Valley Schools, Highland
Judson Center, Royal Oak
Latino Family Services, Detroit
Livonia Public Schools, Livonia
Macomb Intermediate School District, Clinton Township
Macomb-Oakland Regional Center, Clinton Township
Northville Public Schools, Northville
Oakland University-OU CARES, Rochester
On My Own of Michigan, Troy
Optometric Institute and Clinic of Metro Detroit, Detroit
Seedlings Braille Books for Children, Livonia
Services to Enhance Potential, Dearborn
Special Olympics Michigan, Mount Pleasant
St. John Health-Holley Institute, Detroit
StageCrafters, Royal Oak
The Arc of Dearborn/Dearborn Heights, Dearborn Heights
The Arc of Detroit, Detroit
The Arc of Livingston, Howell
The Arc of Macomb, Clinton Township
The Arc of Downriver, Wyandotte
The Arc of Northwest Wayne County, Redford
The Arc of Western Wayne County, Westland
The Guidance Center, Southgate
Wayne Center, Detroit
Wild Swan Theater, Ann Arbor
Wyandotte Public Schools-The Lincoln Center, Wyandotte
ABOUT THE COMMUNITY FOUNDATION
The Community Foundation for Southeast Michigan is a permanent community endowment built by gifts from thousands of individuals and organizations committed to the future of southeast Michigan. The Foundation works to improve the region's quality of life by connecting those who care with causes that matter.  The Foundation supports a wide variety of activities benefiting education, arts and culture, health, human services, community development and civic affairs.  Since its inception, the Foundation has distributed more than $390 million through more than 34,000 grants to nonprofit organizations throughout Wayne, Oakland, Macomb, Monroe, Washtenaw, St. Clair and Livingston counties.