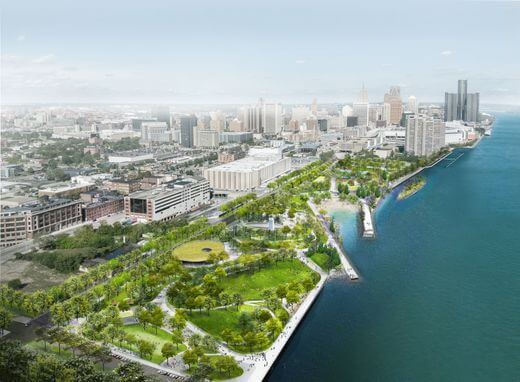 The $100 million endowment from the Ralph C. Wilson Jr. Foundation that is expected to bring new life along the west riverfront was heralded Wednesday as an investment that will have an impact for generations.
Executives, city and state leaders, board and community members gathered to celebrate the gift that in part will fund a west riverfront park commissioned by the Detroit Riverfront Conservancy, a centerpiece of the neighborhood along Jefferson Avenue
Altogether, the foundation will invest $200 million in parks and trail initiatives totaling 250 miles, and each will be named "Ralph C. Wilson Jr. Centennial Park."
Under the grant, the Detroit Riverfront Conservancy will get $40 million toward redeveloping the 22-acre park site that intersects at the city's Mexicantown, Corktown and its southwest Detroit neighborhoods.
Another $10 million will be granted to the Community Foundation for Southeast Michigan to fund the park's sustainability.
Read the full story on Detroit News