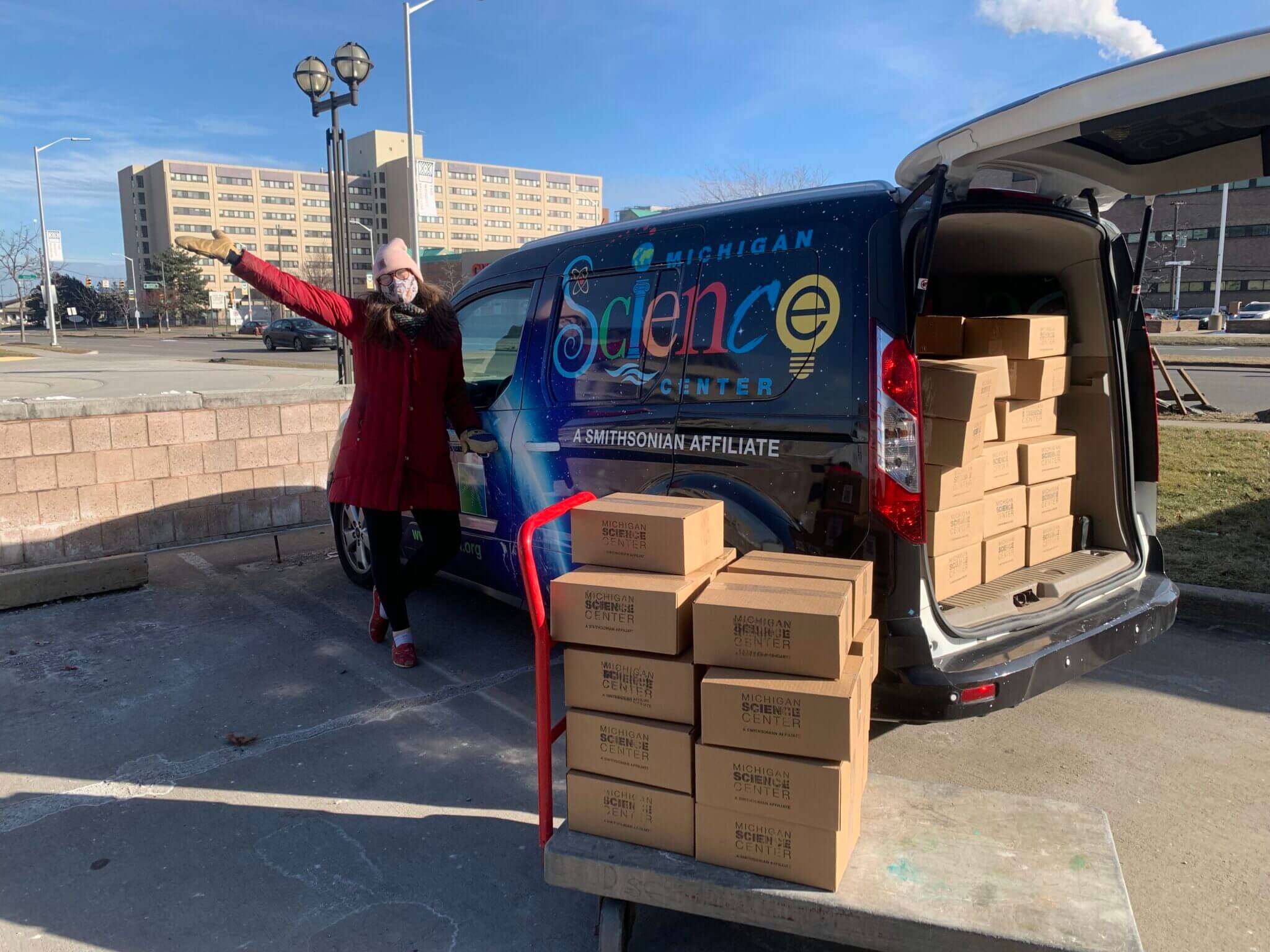 Hundreds of students throughout southeast Michigan became rocket scientists, sports managers and environmentalists with the new "STEM in a Box" program from the Michigan Science Center.
Supported by a grant from the Community Foundation for Southeast Michigan, the program distributed 450 kits containing all the necessary materials to perform safe, virtually guided science experiments from home to students throughout the foundation's seven-county service area.  
The grant exemplifies the Community Foundation's commitment to STEM education, access for under-resourced students, and not letting advancements in either area recede because of the isolation COVID-19 imposed. 
The "STEM in a Box" kits were delivered via the Michigan Science Center's Traveling Science outreach initiative to libraries, where students were able to pick them up as easily as they would a library book.  
"It was awesome for us," said Anna Sterner, Director of Programs at the Michigan Science Center. "It was something we hadn't done before and we learned a lot through this process. I think the students learned a lot and we learned along with them."
Rockets, Sports, and Beekeeping
Three separate experiments were circulated with the kits between July 2021 and August 2022. 
The first kit held an experiment in which students created their own rocket and observed the physics of flight. Another connected math to real world applications like sports and other industries of interest. The final experiment focused on nature in which students created their own bee house. 
Each kit was paired with a live-streamed episode of Mi-Sci's "ECHO Live!" virtual STEM show, where a majority of participating students were led through the activities live on YouTube.  
Designed to equitably impact as many students as possible, the kits offered options for participants whether or not they had internet access. 
Stoking STEM Interest During COVID-19 Pandemic
An online survey found that 100 percent of students who participated in the program reported increased engagement and interest in STEM and were excited to learn more about the topics covered in the activities following their experience. 
Finding innovative ways to keep students engaged in STEM projects is crucial, especially after years of isolation and a lack of in-person learning due to the COVID-19 pandemic. 
According to a recent national assessment, data shows the performance of 9-year-olds in math and reading across the nation dropped to levels from two decades ago. A report from Michigan State University revealed that the pandemic had a devastating impact on Michigan's schools and students, but the impact was far greater for underserved students. 
"Museums and cultural institutions like us suffered a lot of attendance loss," Sterner said. "But we were really excited that we were able to still connect and have an impact on students even when many of them couldn't visit us in-person."