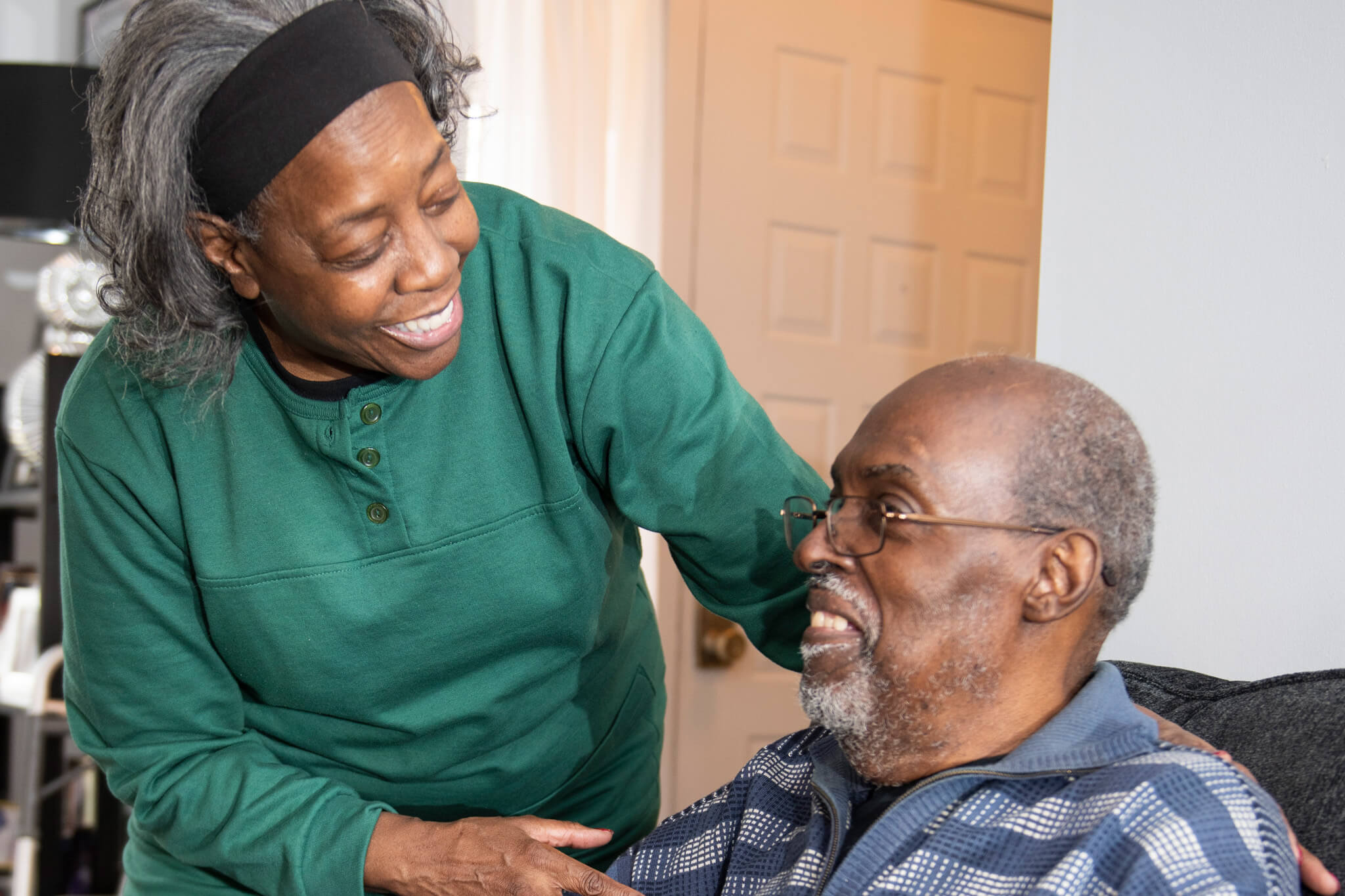 Valerie (Val) Chapman-Henley cares for her husband, Kurt Henley, who was diagnosed with Lewy body dementia and Parkinson's disease in 2019. Chapman-Henley attends a monthly caregiver support group hosted by Community Foundation for Southeast Michigan grantee Universal Dementia Caregivers. Photo credit: Courtesy of Universal Dementia Caregivers
More than three in five of the 53 million adult caregivers in the United States are women.
That's according to a 2020 report by the American Association of Retired Persons and National Alliance for Caregiving that forecasts a looming shortage of caregivers as baby boomers age, low-paying jobs in the health care sector go unfilled, and states encourage home- and community-based services. Without public policy interventions, family members — mostly women – are likely to fill the care gap at their own expense.
Caregivers typically spend $7,242 on the unpaid role each year, according to the AARP's 2021 Caregiving Out-of-Pocket Costs Study. The researchers note that, on average, family caregivers spend 26% of their income on caregiving activities.
The strain is even greater on Latinos and African-Americans, and on younger caregivers, who have had less time to work and build up resources, according to the AARP study. The study also notes that women, on average, spend more hours a week caregiving and have lower incomes.
Women also more often feel stress, experience health declines and financial instability, and lack a choice when it comes to taking on the role than men, according to the 2020 AARP study.
The data also suggest many caregivers may be taking on this role without adequate and affordable services and supports in place.
Honoring Ralph C. Wilson, Jr.'s legacy
The Community Foundation for Southeast Michigan is working to address this issue. It manages the Ralph C. Wilson, Jr. Legacy Fund for Caregivers, which supports projects in southeastern Michigan that assist caregivers in underserved communities, with a preference for supporting caregivers of older adults. The endowed fund has awarded 87.
An endowed fund at the Community Foundation grows over time and provides funding in perpetuity for charitable causes, according to a donor's wishes.
The caregivers fund at the Community Foundation was established in honor of the late Ralph C. Wilson, Jr., who was a Detroit native and the founder and longtime owner of the Buffalo Bills football team.
"Caregivers are heroes and silent warriors, often helping their loved ones in isolation. Many of their duties are physically, mentally and emotionally exhausting," says Dr. Mary Clark, who serves as the senior advisor of Caregiving at the Community Foundation. "We're honored to collaborate with organizations throughout southeastern Michigan that support caregivers of older adults on behalf of the Community Foundation, and with the generous support of the Ralph C. Wilson, Jr. Foundation. We have an opportunity to uplift and support the field of family caregiving, having an important and lasting impact on our region."
'A safe space with knowledge'
In 2022, the Legacy Fund for Caregivers at the Community Foundation granted $284,838 to 14 organizations throughout southeastern Michigan. One of them was Universal Dementia Caregivers, a nonprofit that helps families cope with dementia and Alzheimer's disease. The organization is an excellent example of grantmaking from the Caregivers Fund that directly impacts caregivers.
Dr. Paula Duren, a psychologist, founded Universal Dementia Caregivers after caring for her parents, who both passed away due to dementia-related causes.
Her nonprofit provides caregivers with culturally sensitive coaching and family mediation, evidence-based education and training workshops, lunch and learns, self-care practices, and a monthly support group. The offerings are available online or in person, and participants are welcome to bring their ward if they can't find care coverage.
"We're human and you have to have a space to be angry, to cry, to be excited with people who understand," Duren says. "That's what I hope I provide — a safe space with knowledge."
Grantmaking with direct impact
Universal Dementia Caregivers client Valerie (Val) Chapman-Henley says she hasn't missed the nonprofit's monthly support group once since she started attending in February of 2021.
Chapman-Henley cares for her husband, Kurt Henley, who was diagnosed with degenerative, incurable Lewy body dementia and Parkinson's disease in 2019. Before his diagnosis, the adventurous, social couple loved to attend parties with friends and family, enjoyed concerts, participated in church life and traveled.
Now, they're on a different kind of journey together.
Chapman-Henley first noticed changes in her husband in 2017. He was more argumentative. His handwriting was different. He began to bounce checks. He stopped driving, which she found concerning since he was a retired bus driver. His 2019 diagnosis helped the couple understand and adapt to what was happening to him and, soon after, Chapman-Henley joined the Universal Dementia Caregivers support group.
Chapman-Henley says Duren and Universal Dementia Caregivers, with support from the Community Foundation, provide her invaluable insights into Henley's evolving condition and how to navigate his health care and other practical matters, resources for coping, and kinship with other caregivers.
After a fall and subsequent hospitalization in October, Henley requires 24/7 care. He sleeps more and takes longer to do things he used to do in a flash, his wife says. She helps him with showering and dressing, serves as his medical advocate, manages his finances and legal affairs, runs all of their errands, gives him massages and keeps him active, and ensures he doesn't wander away.
"It's a privilege taking care of him," Chapman-Henley says. "He's my husband and I love him."
This story first appeared in the Spring 2023 REPORT Newsletter