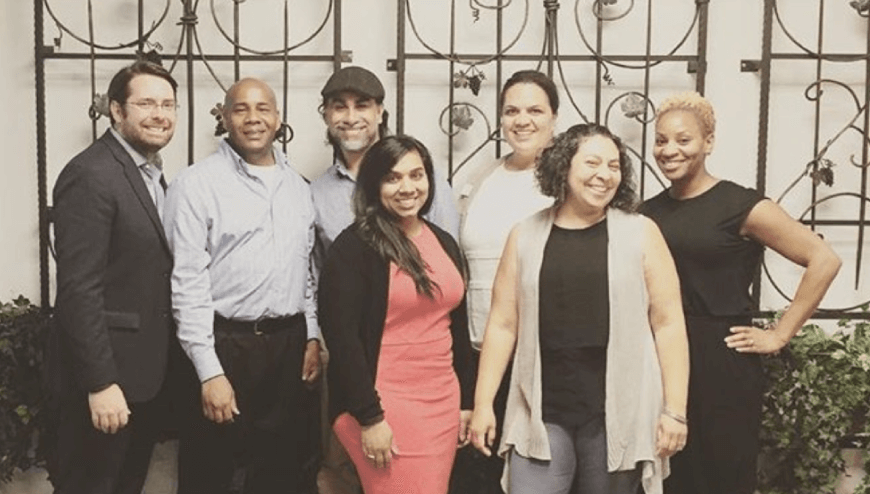 The Funders Network for Smart Growth is an organization that works with grantmakers to advance strategies that make regions and communities fairer and more sustainable, offering everyone the chance for a good life. Their first philanthropic leadership development initiative is called PLACES (Professionals Learning About Community, Equity and Smart Growth). PLACES is a year-long fellowship program that offers tools, knowledge, and best practices to enhance funder grantmaking decisions in ways that are responsive to the needs and assets of low-income neighborhoods and communities of color. The learning takes place among a cohort of approximately 15 people and within four site visits in urban, suburban and rural communities across the country. More than 80 individuals representing various philanthropic institutions are a part of this network.
A few weeks ago the Community Foundation hosted a group of PLACES alumni for site visits in Detroit & Flint. Ten participants from foundations in Louisiana, California, Colorado, Ohio, Missouri and Michigan met with leaders from various nonprofit organizations and philanthropic institutions to discuss current issues through a lens of racial and social equity. Our particular focus was on the role of philanthropy in strengthening communities. We covered topics ranging from economic development to arts and culture, green infrastructure and public/private partnerships, and we discussed some particularly tough issues, such as Detroit's bankruptcy and the Flint water crisis.
Special thanks to our friends at the C.S. Mott Foundation and The Kresge Foundation for joining us in sponsoring the program. To learn more about PLACES, click here. I look forward to sharing more about my experience in the fellowship throughout the year.
Surabhi Pandit
Program Officer
313.961.6675, ext. 123