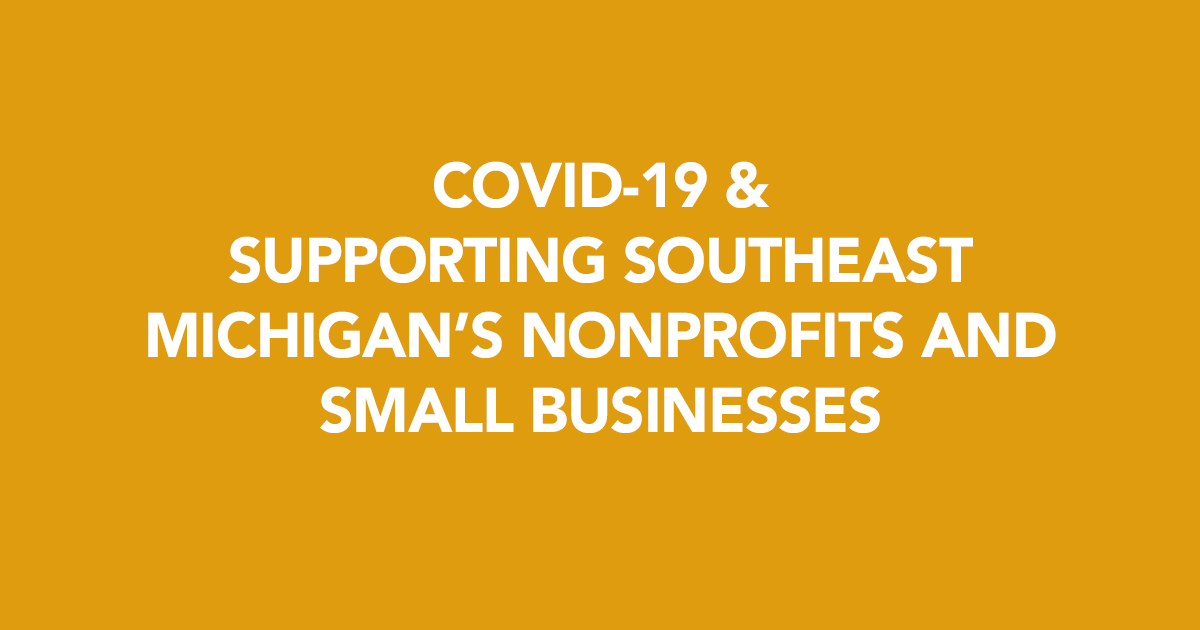 Like many of you, the Community Foundation is working with community partners to defeat the spread of this disease and minimize the impacts it is having on residents of southeast Michigan.
Recently, we announced $700,000 in immediate grants for testing and other frontline health needs. We are glad those funds were quickly deployed and have assisted in getting hundreds of tests for first responders and many people experiencing homelessness, as well. But much more testing is needed, and we are quickly working to deploy additional health funds in this area for targeted populations.
Beyond health needs, some other key areas have emerged that we felt the Community Foundation could assist with, while complementing other activities in the community. Some highlights include the following:
Arts & Culture Sector
We are partnering with CultureSource and several area foundations concerned about the impacts of COVID on the arts and culture sector to launch the COVID-19 Arts and Creative Community Assistance Fund. The fund has already embarked on a couple of activities designed to immediately assist the sector while watching out for needs that will emerge in the coming months. This includes:
Payroll Protection Plan Program Online Clinic – Earlier this week, we were able to provide the 160 CultureSource member organizations with the opportunity to participate in a tailored online clinic about the unique needs of nonprofit organizations in applying for the Payroll Protection Program. The national presenting partner, FMA Associates, has a PPP toolkit for nonprofit organizations publicly available here.
Data to Inform Strategic Investments – Together with CultureSource, we also commissioned the national arts research and consulting firm, WolfBrown, to undertake a rapid and thorough analysis of the regional arts and culture sector. They are collecting data to help arts/culture nonprofit organizations make strategic business decisions and guide stakeholder investments in their work.
Small Business Community
The New Economy Initiative, a special project of the Community Foundation, has launched a rapid response for the local small business community. Out of the gate, the NEI team put together a helpful, comprehensive website of COVID-related resources for small businesses. The NEI team is also offering Payroll Protection Play Online Clinics for its nonprofit grantees. A COVID-19 Small Business Relief Fund has also been established. More information on that in the days ahead.
Donors
The Community Foundation team has seen a high level of activity in grants from our Donor Advised Funds over the last couple of weeks. While many of these donors are providing immediate support of nonprofits they maintain relationships with, for operational needs in this time, there are also a number of donors stretching beyond their typical grantmaking areas to provide the unique needs of this moment.
A couple of examples to share:
Emily Angyal from our Philanthropic Services team and I were delighted to talk with the Leinweber Foundation. Our team provided them updates on all we have heard and by day end we helped them put grants in motion to support the United Way of Southeast Michigan's COVID Fund with a $100,000 gift, and additional, significant support to some of the health issues, small business needs and arts/culture needs described above. Our team was truly moved, knowing donors like this were willing to be flexible at this time and donate across issue areas.
Similarly, the Stebbins Family, for whom we have provided grantmaking support through a Donor Advised Fund for many years, immediately deployed $75,000 in emergency grants to support the United Ways of St. Clair and Lapeer, and the Food Bank of Eastern Michigan for its work in St. Clair and Lapeer counties, where the family resides. Their support was immediate and flexible for human service needs.
These are just two of many more stories to come. And as we move forward in addressing this crisis, donor by donor, fund by fund, the Community Foundation staff is working to direct support where it is needed. The needs are great, and your continued communication with us is what is driving us in our efforts.
Lastly, in financially challenging times like these, the power of agency endowment can enable organizations to manage a more stable cash flow. For the 200+ nonprofit organizations that are building endowments with us, we moved up payments to them from June to April to help meet their obligations during this crisis.
If you have any new information to share, we are keeping our three question survey open and ask you to keep telling us about emerging needs you are seeing. The list of needs we are hearing about continues to evolve.
Know that we value our nonprofit partners, and we know many of you are struggling. We will keep putting one foot in front of the other, pushing all we can day-to-day, and will look forward to seeing many of you again in person when we get to the other side of this.
More updates to come next week.