Support for Our Youth: A Regional Response to the Oxford Tragedy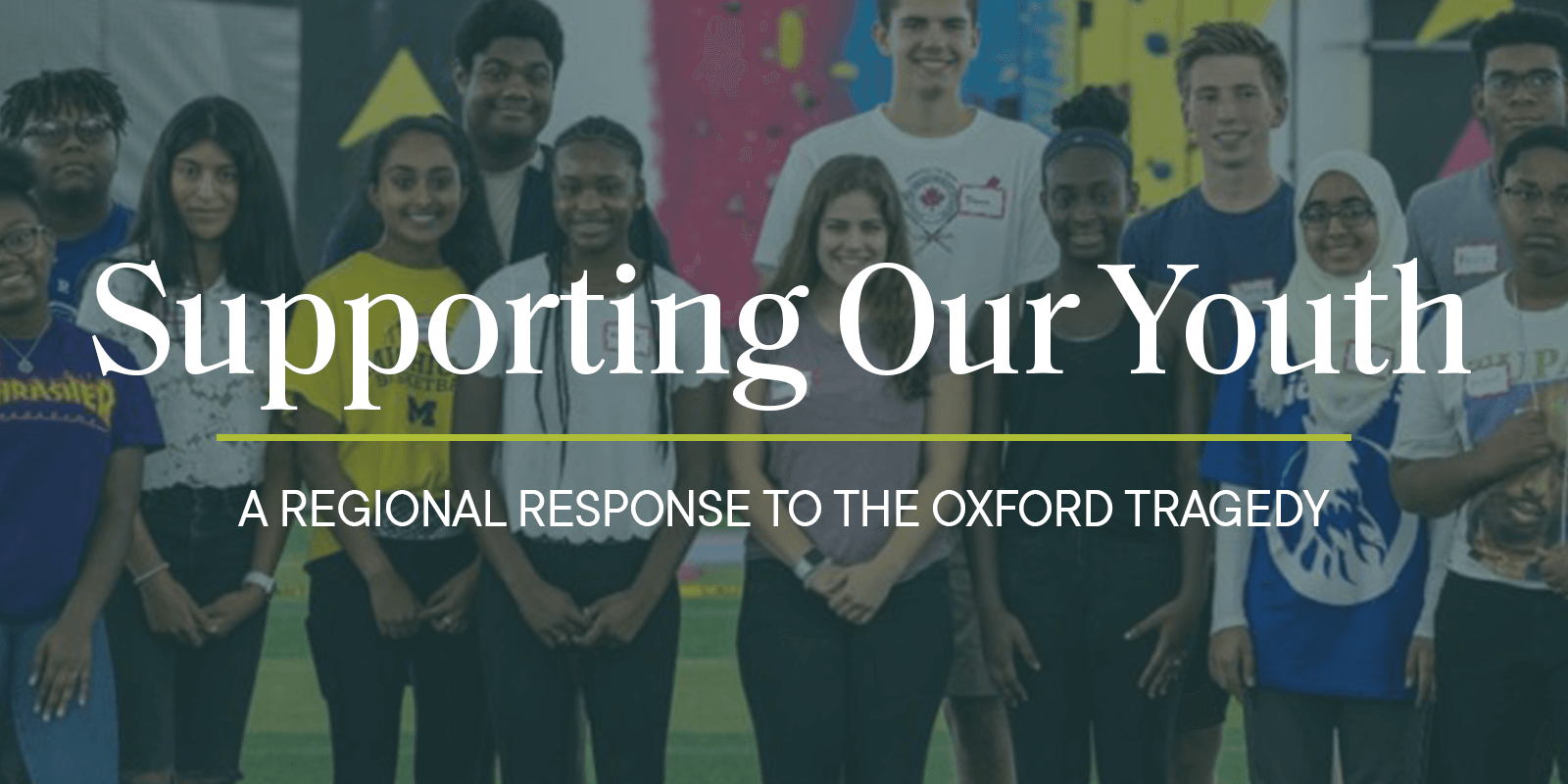 In light of the devastating tragedy at Oxford High School last week, many members of our community are reflecting on what they can do to support area youth. Even before this horrific incidence of violence, many youth in our region were already experiencing high levels of stress and anxiety.
The pandemic has now disrupted three separate school years. Impacts of COVID have put enormous strain on teachers, students, parents and support networks, causing mental health needs to be at an all-time high. Furthermore, we recognize that youth violence is not new to the region, with disproportionate impacts in communities of color. Youth across our region fear for their safety every day.
As the community foundation for the region, we wanted to have an immediate but thoughtful response to current reality for our youth. Our trustees approved the following three grants at their December 2021 meeting:
First, we are providing support specifically for the community of Oxford. Our community foundation manages a scholarship fund for Oxford students, so we have a relationship with the district. We want the staff and students to know that our thoughts are with you. So, the trustees approved an immediate grant of $5,000 to Oxford Community Schools for priority needs for student well-being. This will allow the school flexibility to use the funds where they are most helpful.
Second, recognizing that youth across our seven-county region are facing social and emotional needs, the trustees approved a grant of $50,000 grant to the TRAILS program for mental health support. TRAILS (Transforming Research into Action to Improve the Lives of Students) is a proven school-based program that is working to make effective mental health services accessible to all students in our region and across the state.
Finally, and perhaps most important, the trustees approved a $100,000 program to provide youth a platform for their voice and ideas to address all that is happening. The Community Foundation has a long, rich history of supporting youth-led efforts and activity. Since the 1980's we have had a Youth Advisory Committee (YAC) consisting of youth from across the region that reviews and recommends grants for youth-led projects from our Youth Leadership Fund. As such, we think it is a good time to lean on our current YAC to open the door for youth-led ideas in this time. Ideas to address violence, mental health and other impacts of the pandemic.
We know that this is not work to be done overnight as we seek to achieve systemic change. So we have asked our YAC to launch and oversee a grant program in 2022, where youth in the region will be invited to apply for grants to address these issues from their perspective. Our YAC did an amazing job earlier this year with a round of grants for youth-led racial justice efforts and we know they will rise to the occasion for this newest opportunity as well.
If you know of teens who may be interested in applying for a grant when we launch the youth leadership fund in 2022, please ask them to sign up here to get more information.
Our hearts are heavy both for the youth of Oxford and for all youth in our region who have experienced so much over the last few years. We must be diligent in our efforts to provide supports, but also in listening to youth for solutions too. I am grateful to our YAC for their leadership, and look forward to hearing from youth in the community over the next year.
Katie Brisson
Vice President, Program
Community Foundation for Southeast Michigan